Obama Says Police Killings of Two Black Men Should Trouble All Americans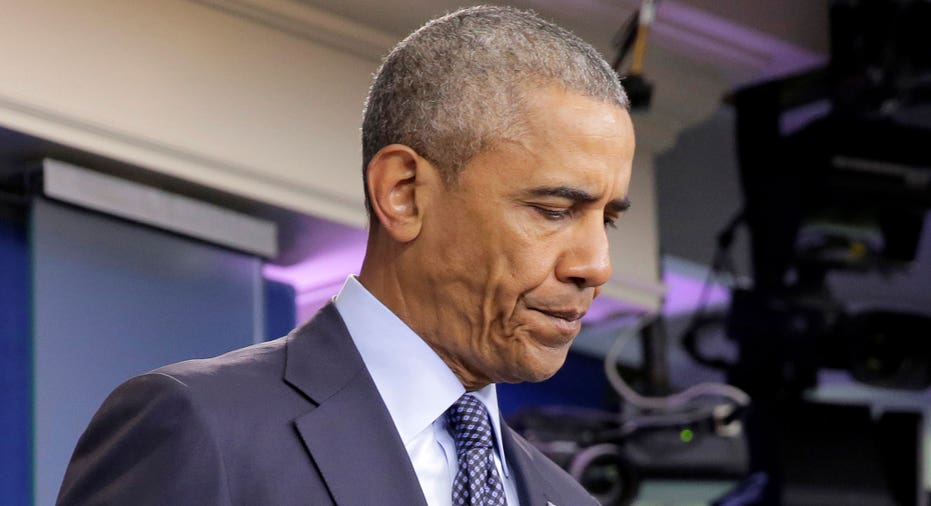 President Barack Obama said early Friday morning that the police shooting deaths of two black men in Louisiana and Minnesota should trouble all Americans and reflect deep-seated racial disparities in the U.S. criminal justice system.
"The data shows black folks are more vulnerable to these kinds of incidents," Mr. Obama said in remarks from the Warsaw Marriott after arriving in Poland for a North Atlantic Treaty Organization summit. "We have seen tragedies like this too many times."
"There's a big chunk of our fellow citizenry that feels as if because the color of their skin they're not being treated the same," he added. "And that hurts. And that should trouble all of us."
It was a rare scene for the president. He arrived in a foreign country after midnight, scheduled only to rest at his hotel, and instead delivered an unplanned public statement on two shooting deaths of black men in two days that have once again sparked protests about racial inequities.
Mr. Obama spoke publicly on the shootings for the first time as video of the incidents spread across social media and cable television. He sought to balance the concerns on both sides, saying police officers play a critical role in communities while African-Americans have legitimate reasons to distrust law enforcement.
He used the moment to call on Congress to adopt changes to the criminal justice system, citing a series of statistics showing African-Americans and Latinos are more likely than whites to be questioned by police and incarcerated.
Mr. Obama said criminal justice legislation is necessary to address racial biases "that have to be rooted out" but has stalled amid election-year politics.
"This should be a spur to action to get that done," Mr. Obama said.
The president began his remarks by offering his condolences to the families of the victims, Alton Sterling and Philando Castile.
Mr. Sterling was fatally shot Tuesday by police in Baton Rouge, La., after officers responded to a 911 call about a man with a gun. Cellphone video of the incident shows officers restraining Mr. Sterling on the ground before firing at him.
On Wednesday, Mr. Castile was fatally shot after police in Falcon Heights, Minn., a suburb of Minneapolis and St. Paul, stopped him for a broken taillight on his vehicle. His girlfriend, Diamond Reynolds, was in the car with him and said Mr. Castile had informed police officers that he was legally carrying a weapon and was reaching for his wallet. Ms. Reynolds posted a video on Facebook of the immediate aftermath of the shooting.
Police said both men were armed at the time they were killed.
Mr. Obama had a message for police officers: "We know you have a tough job."
But, he said, if there is distrust among those they are policing, law-enforcement jobs are only made harder.
"All of us as Americans should be troubled by these shootings because these are not isolated incidents," he said. "They're symptomatic of a broader set of racial disparities that exist in our criminal justice system."
The president has waded more deeply into race issues during his second term. In the last several years he has added his voice to the debates following a series of shootings that killed black men.
On Thursday, he posted on Facebook about the shootings in Louisiana and Minnesota, before deciding during his flight to Poland that he wanted to speak about the issues at greater length from the presidential podium.
"I actually genuinely truly believe that the vast majority of the American people see this as a problem that we should all care about," Mr. Obama said. "To be concerned about these issues is not political correctness."
He also tried Friday to play down the Black Lives Matter movement, saying all lives matter, as if to suggest the narrower focus isn't the sort of unifying dialogue in which he believes the country needs to engage.
Mr. Obama said the Justice Department would thoroughly investigate Mr. Sterling's death. Earlier Thursday, Minnesota Gov. Mark Dayton, a Democrat, said he had asked the Justice Department to conduct an independent investigation of Mr. Castile's death.
He ended his remarks with a plea for understanding from all sides. "What if this happened to somebody in your family?" he asked. "How would you feel?"
Write to Carol E. Lee at carol.lee@wsj.com