Cancer looms as reason behind NYC's latest ban
Cash register receipts coated with controversial chemicals may be out in the Big Apple
The ubiquitous rolls of paper that expel from cash registers could soon be banned from New York City.
Last week, the city council announced it will hold hearings on a package of bills aimed at cracking down on paper receipts. "Nobody needs foot-long receipts," said Council Speaker Corey Johnson, a Democrat. "We will work with businesses and consumers to cut out paper receipt waste and protect the planet. Let's not print receipts when they aren't wanted, especially when we have technology to issue environmentally friendly alternatives."
JOHNSON & JOHNSON SLAMMED BY REPORT THAT CLAIMS IT KNEW OF ASBESTOS IN BABY POWDER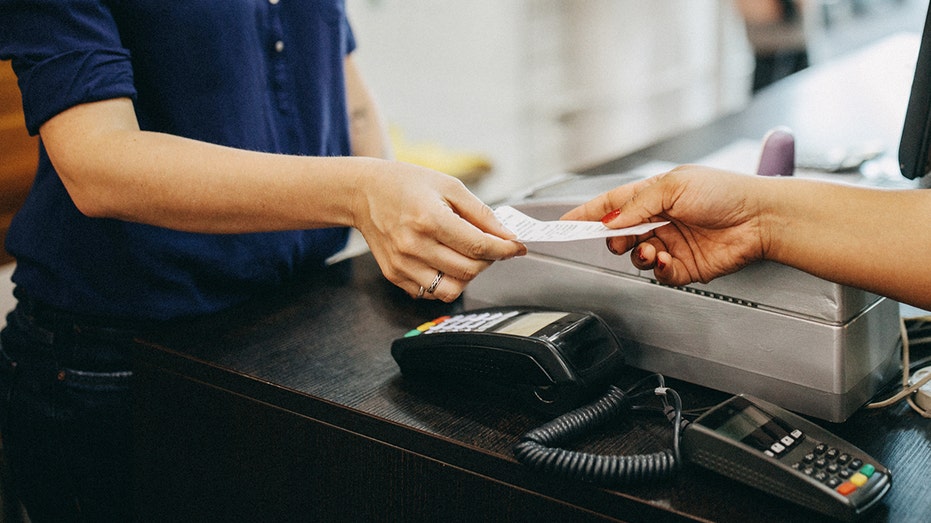 Lawmakers are considering a ban on paper receipts coated with the chemical BPA and a requirement that retailers offer emailed receipts instead of paper ones. Most cash register receipts are coated with bisphenol A, known as BPA, or the related chemical BPS.
BPA can also be found in everyday plastics such as water bottles, compact discs, plastic dinnerware, and toys, according to the Centers for Disease Control and Prevention, which added that BPA epoxy resins, which are adhesions and sealants, are used in the protective linings of food cans, among other products.
BREAST CANCER MAY BE LINKED TO PERMANENT HAIR DYE, CHEMICAL STRAIGHTENERS, STUDY SAYS
People can be exposed to BPA at low levels from eating food or drinking water stored in containers that have chemical but health impacts from low-level exposure are still unknown, according to the CDC.
However, one recent study determined high levels of the chemicals lead to hormone-dependent cancers. Other studies on the subject have indicated the chemical has been linked to infertility, autism, ADHD, obesity, type 2 diabetes, premature births and early onset of puberty.
The city council will consider bills in the next few months to restrict the use of BPA-coated paper, to require stores to offer e-receipts, to require that receipts be printed on recyclable paper and to require businesses to recycle receipts.
GET FOX BUSINESS ON THE GO BY CLICKING HERE
The Associated Press contributed to this report.