NXP Semiconductors NV: Where Did the Bluebox Autonomous Driving Kit Come From?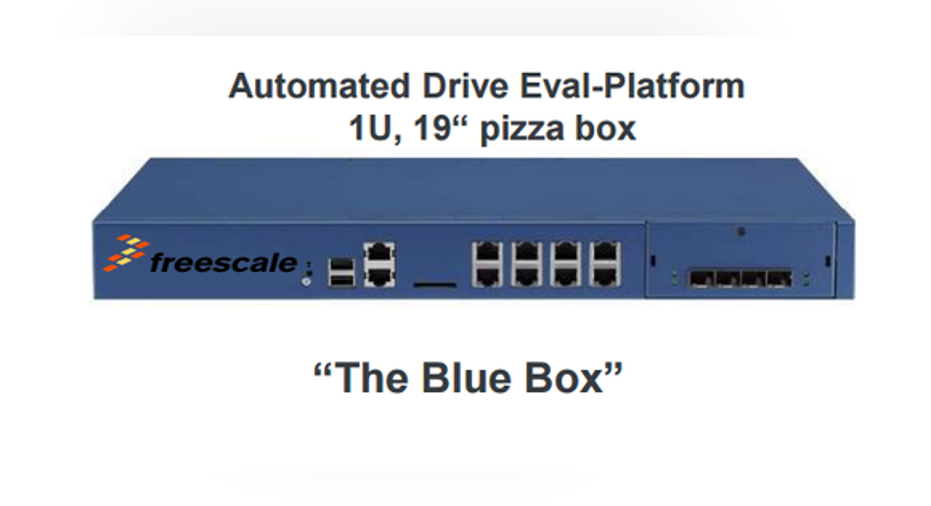 Image source: NXP.
NXP Semiconductors unveiled a development kit for self-driving cars on Monday. Investors immediately took notice, bidding NXP shares up by as much as 3.4%, easily beating the market on an already sunny day.
While the market has plenty of reason to get excited about the new Bluebox kit, investors really should have seen this product coming from a mile away. You see, this package was included when NXP bought Freescale in a block-busting $11.8 billion deal.
Why is Bluebox a big deal?
Many companies are making microprocessors and sensor chips for the upcoming self-driving car revolution. NXP happens to be a leader in this space, commanding an industry-high 14.2% market share. The second largest provider stops short of 11%, giving NXP a nearly 40% leg up on the closest competition. But there's still a big difference between a large market share and a completely unique solution.
That's where Bluebox comes in.
This is a turnkey platform, ready to be plugged into your favorite automaker's next new model. The toolkit matches a central processing engine with a grid of sensors and other components, creating a top-to-bottom solution that's built on nothing but NXP's silicon. You get a complete solution with high performance and tight security. Four of the world's five largest car makers are already working with this system, according to NXP's press materials.
This is not a field where NXP is butting heads with tons of rival suppliers. The only comparable platform comes from NVIDIA , whose Drive PX platform serves many of the same purposes. Others may pop up over time, of course, but that's all we have at the moment. The start of the self-driving era seems destined to be built around these two toolkits, which should lead to a couple of spacious business moats growing around NVIDIA and NXP.
Of course, NXP would argue that not even NVIDIA Drive PX truly competes with its own product. Drive PX may come with a muscular core, but NXP's automotive microcontroller chief Bob Conrad says the supporting cast falls short.
"We already build processors for radar, vision, and LIDAR, and we see these systems now being combined," Conrad told IEEE Spectrum. "They have no intermediate processors, and that's not the way people do it today, not how they bundle options on cars."
Where did this toolkit get started?
Eight months ago, with the then-pending NXP merger hovering on the immediate horizon, Freescale presented a development sandbox for self-driving vehicles. The central hardware for this project looks a little something like this:
Image source: Freescale/NXP.
Yep, it's a blue box aptly known as "The Blue Box." Inside, you'll find all of the number-crunching power needed to make sense of a full-car sensor setup, making the Freescale Blue Box roughly comparable to NVIDIA's entire Drive PX solution.
The project has seen further development after the merger, but that pizza box is still essentially the same, and Freescale's early adopters should feel right at home. And NXP stands ready to supply all of the radar chips, motion sensors, and other environment-reading technology you need.
In short, this week's market-moving presentation wasn't really news. It's more of a fresh spotlight on an existing solution, whipping up some media interest and customer awareness in the process.
What's next for NXP Bluebox?
NXP hopes that industry adoption of this development platform will set the stage for even deeper market domination in the future. The company wants to be a one-stop shop for every in-car computing need, which is a more ambitious target than NVIDIA's focus on entertainment and central processing tools.
Over the next several years, we'll see Bluebox and Drive PX growing up, defining their respective market niches more clearly, and fending off new challengers along the way. Both toolkits are off to a strong start, and I can't wait to see how this rivalry develops.
I don't think you can go wrong with either one of these exciting automotive chip suppliers in the long run. For now, NXP's more complete solution seems to have the upper hand.
The article NXP Semiconductors NV: Where Did the Bluebox Autonomous Driving Kit Come From? originally appeared on Fool.com.
Anders Bylund has no position in any stocks mentioned. The Motley Fool owns shares of and recommends both NVIDIA and NXP Semiconductors. Try any of our Foolish newsletter services free for 30 days. We Fools may not all hold the same opinions, but we all believe that considering a diverse range of insights makes us better investors. The Motley Fool has a disclosure policy.
Copyright 1995 - 2016 The Motley Fool, LLC. All rights reserved. The Motley Fool has a disclosure policy.