NVIDIA's Stock Is Up 182% in 2016 -- Is There Still More Room to Grow?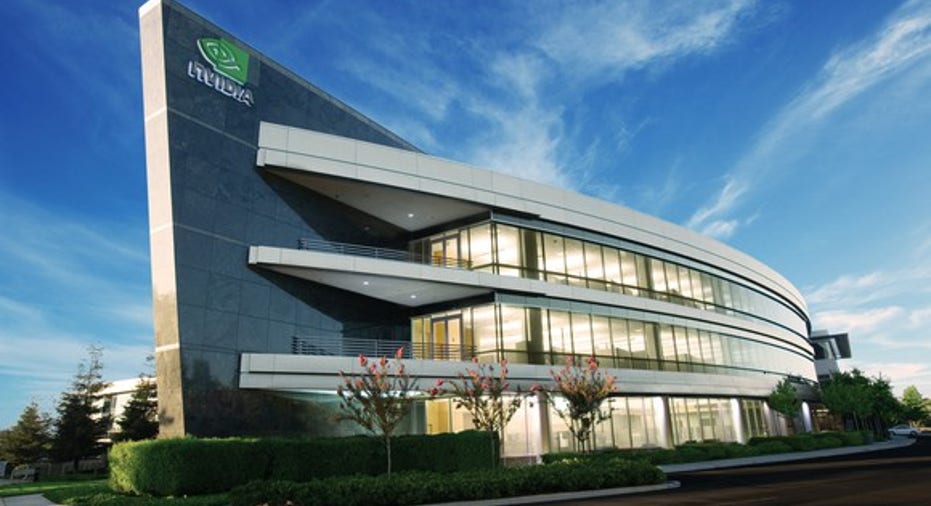 Image source: NVIDIA.
There's no mistaking NVIDIA's (NASDAQ: NVDA) success this year. The company has seen its revenue continue to grow in nearly all of its business segments and has managed to develop its key gaming segment while expanding into new markets like self-driving cars, virtual reality, and artificial intelligence.
All of that helped push the company's stock price up more than 182% since the beginning of 2016. But with those huge gains some investors may be left wondering if NVIDIA's winning streak is over.
Let's take a look at the company's current strengths, what rising competition from Advanced Micro Devices (NASDAQ: AMD) and Qualcomm (NASDAQ: QCOM) means for the company, and why NVIDIA still looks like a good long-term buy.
What NVIDIA is doing right
NVIDIA's key strength is in the company's core gaming business, which brought in 62% of its total revenue in fiscal Q3 2017. Gaming revenue increased 63% year over year in the quarter, which was a result of the company's new Pascal chip architecture and strong demand for its notebook and desktop gaming cards.
NVIDIA currently holds about 70% of the discrete desktop GPU market share and its rival, AMD, holds the rest. NVIDIA's dominant position should continue to come in handy as the global gaming market is expected to grow 4.8% annually until 2020, and PC gaming will grow at 6.3% over the same period.
But NVIDIA is doing much more with its GPUs than just gaming. The company is also setting itself up to benefit from driverless cars and virtual reality.
The driverless car market is still in its infancy, but is expected to reach $77 billion by 2035. NVIDIA's already taking the lead by creating an artificially intelligent supercomputer, called Drive PX 2, that can process visual information and give cars situational awareness -- and automakers have already taken notice.
NVIDIA already has 80 automakers and Tier 1 suppliers using its Drive PX 2 semi-autonous driving supercomputer, and Tesla recently said it'll use the artificial intelligence platform from Drive PX 2 for new versions of its Model S and Model X, as well as the upcoming Model 3.
NVIDIA makes just 6% of its total revenue from its automotive segment right now, but investors should remember that this segment is growing quickly, with NVIDIA's automotive revenue spiking 60% year over year in Q3.
If all that weren't enough, NVIDIA will likely benefit from growth in the virtual reality market as well. The amount of virtual reality (VR) gamers is expected to jump from 43 million right now to 171 million in 2018, and NVIDIA is already tapping into the market.
The company introduced several new notebook graphics cards earlier this year that were aimed squarely at the VR market. And its 70% discrete GPU market share means NVIDIA will likely be the go-to graphics card company as more gamers adopt VR technology.
What NVIDIA investors should keep an eye on
As with any company, there are a few areas that NVIDIA investors would be wise to watch. The first is the rise of AMD's market share in the discrete desktop segment. AMD's market share was just 18% in mid-2015, but that's jumped up to about 30% right now.
This isn't exactly something to worry about at the moment, but NVIDIA needs to maintain its dominance in this space in order to keep gaming revenue up and create a strong position in the growing VR market. Any more substantial growth from AMD could start eating into NVIDIA's gaming revenue.
Another area investors should keep an eye on is Qualcomm's recent purchase of NXP Semiconductors (NASDAQ: NXPI). NXP is already a leader in the automotive chip market and Qualcomm's pending purchase of the company could create problems for NVIDIA.
NXP debuted a semi-autonomous driving system earlier this year, called BlueBox, which combines sensors, cameras, processors, and software into an easily implemented off-the-shelf driving system. NXP says BlueBox will bring Level 4 (nearly autonomous) driving to cars by 2020. When Qualcomm closes on its purchase of NXP (likely early next year) it'll combine NXP's automotive chip know-how with Qualcomm's long history of chip innovation and cellular connectivity. That pairing could make Qualcomm an easy choice for automakers looking for one company to supply them with nearly all of their automotive technology needs.
There's still lots of long-term potential
Despite the competition, NVIDIA is still in a great position to grow over the long term. The company's stock price may be a bit more expensive than some investors would like -- it currently trades at about 47 times its trailing 12 months earnings, compared to the tech industry average of 25 -- but NVIDIA is still expecting more growth in the coming quarter.
Management anticipates revenue to be $2.1 billion in fiscal Q4, which would represent a 50% increase year over year. That's just one quarter, of course, but investors should remember that NVIDIA has a dominant position in the gaming market and already has a jump on the VR and self-driving markets. As long as the company can maintain strong gaming revenue and continue expanding into these new markets, I think the company still looks like a good buy heading into the new year.
Find out why Nvidia is one of the 10 best stocks to buy now
Motley Fool co-founders Tom and David Gardner have spent more than a decade beating the market. (In fact, the newsletter they run, Motley Fool Stock Advisor, has tripled the market!*)
Tom and David just revealed their ten top stock picks for investors to buy right now. Nvidia is on the list -- but there are nine others you may be overlooking.
Click here to get access to the full list!
*Stock Advisor returns as of November 7, 2016
Chris Neiger has no position in any stocks mentioned. The Motley Fool owns shares of and recommends Nvidia, Qualcomm, and Tesla Motors. The Motley Fool recommends NXP Semiconductors. Try any of our Foolish newsletter services free for 30 days. We Fools may not all hold the same opinions, but we all believe that considering a diverse range of insights makes us better investors. The Motley Fool has a disclosure policy.