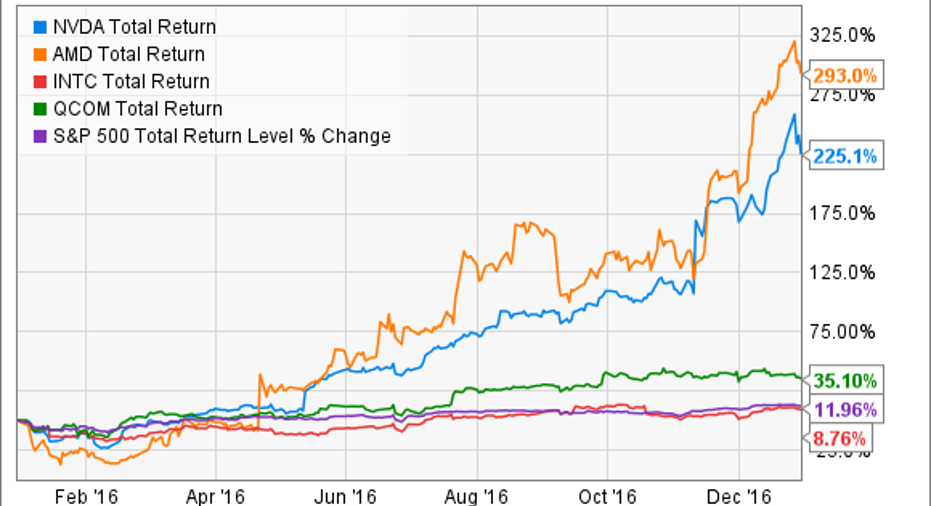 Graphics and mobile computing specialist NVIDIA Corporation's (NASDAQ: NVDA)stock has been red-hot in 2016. The stock's scorching 225% total return in 2016 made it the best-performing stock in the S&P 500 for the year.
You might be wondering if it's too late to invest in NVIDIA. These six charts should help you make investing decisions by giving you a broad overview of NVIDIA's business and its stock.
NVIDIA Founder, President, and CEO Jen-Hsun Huang. Image source: NVIDIA.
Stock performance
One of the first things a potential investor in NVIDIA probably wants to know is how the stock has performed absolutely, and how it has performed relative to its main competitors/closest peers and the broader market.
The following chart shows the 2016 performances of the stocks of NVIDIA and fellow chipmakers Advanced Micro Devices, Intel, and Qualcomm.While NVIDIA had a terrific 2016, AMD had an even better one, gaining 293%. Qualcomm's 35.1% return comfortably beat the S&P 500's return by nearly a factor of three, while Intel was the laggard of the bunch.
While AMD's stock turned in a great performance in 2016, unlike NVIDIA, AMD is not profitable on a trailing-12-month basis, nor was it profitable in its most recently reported quarter.
Data source: YCharts.
The following chart gives you a 10-year view of these same stocks. While past performance isn't necessarily indicative of future performance, past long-term performance often gives investors insight into a company's sustainable competitive advantage.Moreover, chipmakers in general tend to be cyclical -- a factor that can be seen in a longer term chart.
Data source: YCharts.
While NVIDIA's 10-year performance is very strong, it delivered the majority of its gains in 2016. NVIDIA was underperforming the S&P 500 (purple line) until 2016. This isn't necessarily a sign of a bad stock, but this past underperformance and overall volatility is something potential investors should be aware of.
NVIDIA'S business and growth dynamics
NVIDIA, which was founded in 1993 and went public in 1999, is a visual computing company that operates in two main segments, graphic processing units (GPU) and Tegra processors, both of which have been growing nicely.
The GPU business' main products include the GeForce line for gaming, Quadro for design professionals, and Tesla for artificial intelligence (AI) and other applications. TheTegra segment provides processors that integrate a computer onto a single chip; end markets include a variety of things that are mobile -- mobile devices to cars to drones.
NVIDIA is thedominant player in its flagship business of selling discrete GPUs for computer gaming, with this core business continuing to grow robustly. In Q3 of fiscal 2017, ended on Oct. 30, gaming revenue soared 63% year over year to $1.2 billion, accounting for 62% of the NVIDIA's total revenue. Professional visualization revenue increased 9% to $207 million, data center revenue jumped 193% to $240 million, and automotive revenue rose 61% to $127 million.For the quarter in general, revenue shot up 54% to $2.0 billion, net income soared 120% to $542 million, and earnings per share jumped 89% to $0.83.
Here's how the four core platforms, or end markets, have performed through the first nine months of fiscal 2017.
Image source: NVIDIA.
Investors have poured money into NVIDIA stock because the company has the potential to capture solid market share in several relatively nascent, but fast-growing, technologies that have humongous growth potential -- such as self-driving cars, AI, and virtual reality (VR).
Notably, NVIDIA announced in Q3 thatits DRIVE PX 2 platform will power a new Autopilot system in all of Tesla Motors'factory-produced vehicles -- the Model S, Model X, and upcoming Model 3.
NVIDIA stock's risks
Investors shouldn't give too much power to short-sellers. After all, it's in their best interests to talk down a stock they're shorting. However, well-known short-sellers, such as Citron Research, have the power to move markets, at least in the short term -- as happened last week with NVIDIA stock -- so this topic deserves mention.
Last Wednesday, Dec. 28, Citron, run by Andrew Left, tweeted that NVIDIA's stock had run-up too fast, was overvalued, and belonged at $90 per share. (The stock closed at $117.8 per share the day before.) Since that tweet, NVIDIA's stock has fallen by more than 9% to its closing price of $106.7 per share on Friday, Dec. 30.
Here's the tweet listing the six risks to NVIDIA's stock that Citron believes investors are discounting.
Image source: Citron Research via Twitter.
Citron brings up some solid points, which deserve exploring by investors. Fellow Fool Evan Niu addressedCitron's points, concluding that some of Citron's concerns are probably already priced into the stock, while some are worth acknowledging, most notably the point about the sustainability of gross margins:
I don't disagree with Evan, though I'd like to add that long-term investors who are bullish on NVIDIA should thank Citron. NVIDIA's prospects haven't changed since the tweet, but its stock is now less pricey, giving investors a chance to buy the stock at a valuation that's more attractive.
NVIDIA's absolute valuations are high
NVIDIA's stock is pricey -- it's trading at 55.4 times trailing-12-month earnings and 36.4 times projected forward earnings.
However, the stock is somewhat less pricey from a cash valuation basis -- it's trading at 49.6 trailing free cash flow (FCF). Investors should put more stock (no pun intended) into valuations based on cash flows, since cash is a better indicator of how well a company's business is performing than is net income, or earnings, which is just an accounting measure.
Data by YCharts.
NVIDIA's relative (to growth) valuations are more palatable
Common valuation metrics -- such as the price-to-earnings (PE) -- look at valuations in a vacuum. Metrics that take growth into account can be more helpful. The PEG (P/E to trailing or future projected growth) is one such metric. As a rough rule of thumb -- there are many factors that come into play -- a PEG of 1.0 implies that a stock is fairly valued. So NVIDIA's stock doesn't seem overvalued if we factor in earnings.
Data by YCharts.
The million-dollar question, of course, is whether NVIDIA can continue to churn out strong earnings growth. Wall Street projects thecompany will grow EPS at an average annual rate of 28.6% over the next five years. However, given that NVIDIA routinely beats analysts' estimates -- it crushed them by 46% in Q3 -- there's reason to believe long-term growth expectations will prove too conservative.
Even if Citron is right and the stock falls to about $90 per share, if NVIDIA's promise comes to fruition, the difference in five or ten years between the stock's current share price of about $106 and $90 will be insignificant.
10 stocks we like better than Nvidia When investing geniuses David and Tom Gardner have a stock tip, it can pay to listen. After all, the newsletter they have run for over a decade, Motley Fool Stock Advisor, has tripled the market.*
David and Tom just revealed what they believe are the 10 best stocks for investors to buy right now... and Nvidia wasn't one of them! That's right -- they think these 10 stocks are even better buys.
Click here to learn about these picks!
*Stock Advisor returns as of Nov. 7, 2016
Beth McKenna has no position in any stocks mentioned. The Motley Fool owns shares of and recommends Nvidia, Qualcomm, and Tesla Motors. The Motley Fool recommends Intel. The Motley Fool has a disclosure policy.