NVIDIA Corporation's GeForce GTX 1070 Could Be a Huge Hit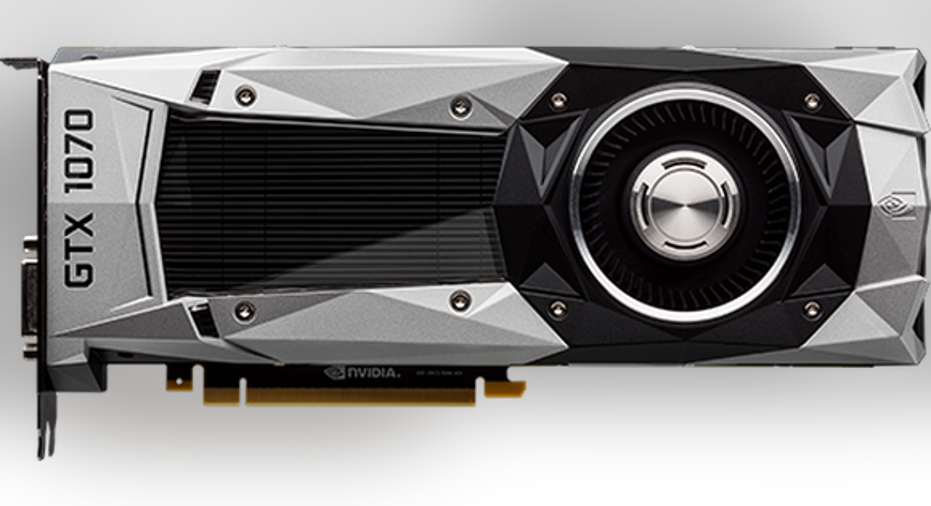 Image source: NVIDIA.
At an event hosted on May 6, NVIDIA unveiled two new graphics cards: GeForce GTX 1070, and its more powerful sibling, the GeForce GTX 1080. Reviews of the 1080 published on the Web clearly show it trampling every other graphics processor currently available while offering extremely good performance per watt (thanks to a robust physical design and a move to TSMC's 16-nanometer FinFET manufacturing process).
However, the GTX 1080 is, at minimum, going to be a $600 card. Although I'm sure the 1080 will do well and ultimately help to boost NVIDIA's average selling prices, the 1070 is likely to sell in much greater quantities. Here's why.
The 1070 hits all the right marketing points
The GTX 1070 is expected to have roughly the performance of the company's prior-generation GTX 980 Ti -- a $650 graphics card. I can imagine that bringing this level of performance down to the $379 (MSRP)/$449 (Founders) price point will entice a lot of gamers to upgrade, particularly ones who wanted GTX 980 Ti-class performance but were unwilling or unable to shell out the $650 needed to get it.
Also, the GTX 1070 comes with 8 gigabytes of memory. NVIDIA's prior-generation GTX 970 and 980 cards came with just 4 gigabytes of memory. Even the flagship 980 Ti packed "just" 6 gigabytes of memory.
Although the additional memory probably won't make too much of a difference in most real-world gaming scenarios today, it's an interesting marketing point that should appeal particularly to less tech-savvy buyers.
A solid upgrade for much of the NVIDIA installed base
If the GTX 1070 offers 980 Ti-class performance, then it should offer a significant upgrade for the majority of NVIDIA's installed base.
At the company's most recent analyst day, NVIDIA said that about 30% of its installed base is on graphics cards based on the Maxwell architecture; 70% is on older NVIDIA graphics architectures.
The 1070 should offer a large boost in performance (and power efficiency) relative to the entirety of the pre-Maxwell installed base. The card should even serve as a very compelling upgrade to most Maxwell architecture owners as well.
Expect Pascal to be another good architecture for NVIDIA
With the GTX 1070 and GTX 1080, NVIDIA has delivered some very impressive products that I think will do well in their respective categories. The GTX 1070, in particular, looks as though it could spark some significant upgrade activity.
With that in mind, NVIDIA's work is far from done. The company still needs to bring Pascal to lower price points on the desktop. In fact, with the 1070/1080 announced, consumers are likely to be less interested in the Maxwell-based cards at lower price points since it stands to reason that Pascal-based replacements are coming soon.
Furthermore, given the significant power efficiency benefits of the Pascal architecture over Maxwell, NVIDIA shouldn't wait too long to bring this architecture to the fast-growing gaming notebook market.
I suspect that NVIDIA is staying quiet about the notebook versions of Pascal in order to allow its notebook partners to clear existing stock of Maxwell-based gaming notebooks. Once the channel is largely drained of these older Maxwell-based notebooks, I expect NVIDIA to announce the mobile variants of its Pascal products (with notebook partners announcing system designs using the GPUs).
The article NVIDIA Corporation's GeForce GTX 1070 Could Be a Huge Hit originally appeared on Fool.com.
Ashraf Eassa has no position in any stocks mentioned. The Motley Fool owns shares of and recommends NVIDIA. Try any of our Foolish newsletter services free for 30 days. We Fools may not all hold the same opinions, but we all believe that considering a diverse range of insights makes us better investors. The Motley Fool has a disclosure policy.
Copyright 1995 - 2016 The Motley Fool, LLC. All rights reserved. The Motley Fool has a disclosure policy.