NVIDIA Aims to Expand PC Gaming Market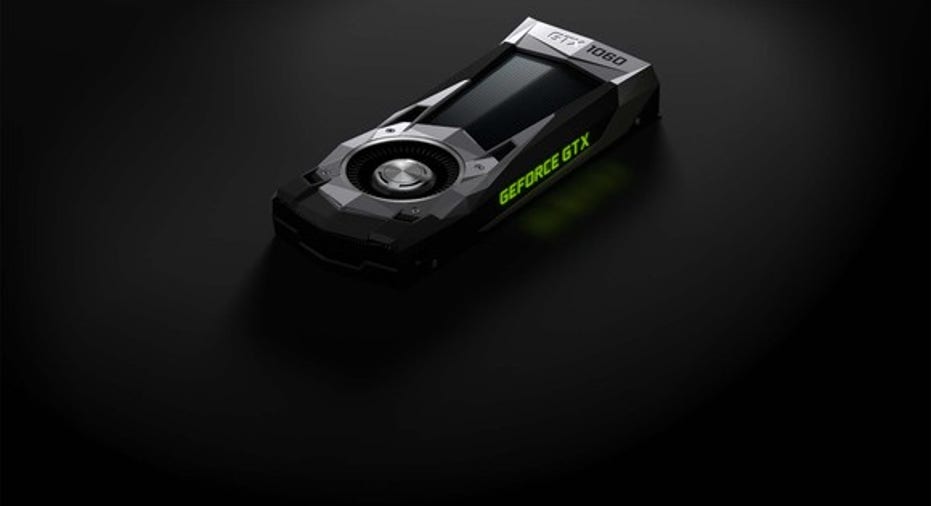 According to NVIDIA(NASDAQ: NVDA) CEO Jen-Hsun Huang, there are about 1 billion PCs around the world that aren't "game-ready." A PC that is not game-ready usually has an older graphics processing unit (GPU) or an integrated GPU. An integrated GPU is a central processing unit (CPU) that has its own built-in graphics capability, and these are less powerful than a stand-alone GPU.
NVIDIA has recently tried to bring these non-game-ready PC owners in to the gaming fold with its PC revival kit. These kits provided everything needed to upgrade an out-of-date PC to power the latest games.
The PC revival kit and NVIDIA's game streaming service, GeForce NOW, target the millions of potential PC gamers who play infrequently, or haven't played PC games at all. In order to get the most out of new blockbuster games, a PC needs to be equipped with a powerful GPU, such as NVIDIA's GeForce GTX 1060 or GTX 1080.
Image source: NVIDIA.
With GeForce NOW, NVIDIA has essentially created a high-end gaming PC in the cloud that can be accessed by anyone with a high-speed internet connection in the continental United States. NVIDIA calls GeForce NOW a supercomputer in the cloud. It gives gamers, who don't have a game-ready PC, the ability to play their library of games on a GeForce GTX virtual gaming PC.
If NVIDIA can make it more convenient and economical to bring high-performance PC gaming to the PC owners with outdated hardware, NVIDIA could potentially expand its 200 million base of existing GeForce users.
GeForce NOW
To reach these potential PC gamers, NVIDIA is expanding its GeForce NOW service. Currently, GeForce NOW is a streaming service limited to its Shield TV device. Shield TV is a media streamer, similar to AppleTV and AmazonFire TV, that lets users play games or stream video content to their TVs from Netflix, Amazon, and other content providers. GeForce NOW for Shield allows PC gamers to stream games to their TV through the Shield TV device.
Image source: NVIDIA.
NVIDIA announced at the 2017 Consumer Electronics Show that GeForce NOW will be available separately from Shield for both PC and Mac users.
Here's how it works
After signing up for the service and downloading an app, gamers will have eight free hours to stream games from a virtual GTX 1060 PC, or four free hours to stream games from a more powerful GTX 1080 PC. To play longer, it costs $25 for 20 hours on a GTX 1060, or $25 for 10 hours on a GTX 1080.
To put this cost in perspective, a GTX 1080 graphics card costs about $700 at retail, while a GTX 1060 graphics card costs about $265. For someone who wants to play the latest, cutting-edge games, upgrading the GPU every year or two is essential. There's also the cost of buying new games. As you can imagine, PC gaming can easily become a very expensive hobby.
GeForce NOW will appeal to those PC gamers who dream of playing on a state-of-the-art gaming PC, but don't possess the funds or don't have the technical experience to install a GPU in a computer (not to mention the hassle that is involved). It offers a crucial element to any successful subscription service: convenience.
It also offers certain players value. The service will be very economical for infrequent players. Hardcore players who play for hours every week will likely spend more money on GeForce NOW than the cost to buy a late-model GPU on their own. However, NVIDIA's long-term goal, I believe, is to use GeForce NOW as a stepping stone for infrequent players to become frequent players. If these casual gamers become frequent players, NVIDIA has created a new set of loyal customers for its GeForce GTX GPUs.
The downside
One potential hurdle to this service gaining wide appeal is the internet connection requirement and the geographic limitation. The minimum requirement to use the service is an internet connection speed of at least 25 megabits per second (Mbps) -- the current broadband standard -- and you have to be a resident of the continental United States.
While most Americans have access to this internet speed, in order to get the most out of GeForce NOW, players will need an internet connection of at least 50 Mbps, especially if they desire to play games in crystal-clear, 1080p resolution. Reliable internet connections are also very important when streaming games, since disruptions in internet speed can cause gameplay to pause or cause the game to stream at a lower resolution, something that can be irritating for gamers.
A tool to assist NVIDIA's growth in gaming
Leaving connection issues aside, GeForce NOW is a clever way to attract more PC owners to a growing PC gaming market; a market expected to grow by 50 million to 400 million in 2017.
NVIDIA has enjoyed strong momentum in its gaming segment. Gaming revenue increased 35% year over year to $2.7 billion through the first nine months of fiscal 2017. NVIDIA's total revenue year to date is $4.7 billion, so gaming is still very important to NVIDIA's growth. The more gaming grows, the more cash becomes available for R&D, benefiting other fast-growing initiatives -- artificial intelligence and self-driving cars -- that could become key drivers to NVIDIA's future growth.
10 stocks we like better than Nvidia When investing geniuses David and Tom Gardner have a stock tip, it can pay to listen. After all, the newsletter they have run for over a decade, Motley Fool Stock Advisor, has tripled the market.*
David and Tom just revealed what they believe are the 10 best stocks for investors to buy right now...and Nvidia wasn't one of them! That's right -- they think these 10 stocks are even better buys.
Click here to learn about these picks!
*Stock Advisor returns as of January 4, 2017.
John Ballard owns shares of Nvidia. The Motley Fool owns shares of and recommends Amazon.com, Apple, Netflix, and Nvidia. The Motley Fool has the following options: long January 2018 $90 calls on Apple and short January 2018 $95 calls on Apple. The Motley Fool has a disclosure policy.