Nucor Corporation Reports Biggest Profit in 8 Years: Key Takeaways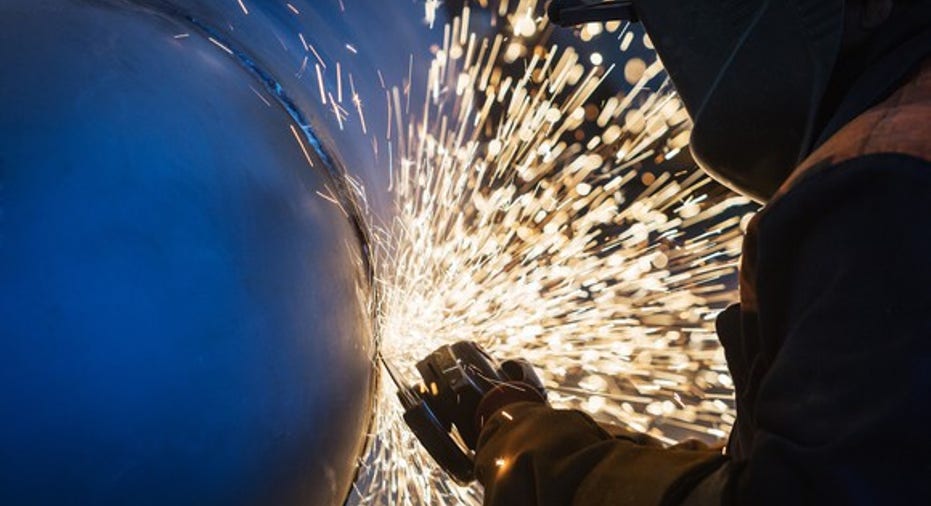 Nucor Corporation(NYSE: NUE) has long been one of the best-run and lowest-cost steelmakers in North America, and that advantage has allowed it to be steadily profitable and to generate positive cash flows in recent years, as a flood of illegally subsidized imports have wreaked havoc on the North American steel market.
But a steadfast approach by Nucor's management, including keeping costs low and prioritizing a strong balance sheet and timely acquisitions, is starting to pay off in a big way. Government actions to halt illegal imports is starting to level the playing field, boosting steel prices and helping Nucor and its U.S.-based peers take back market share. For Nucor, it meant the company reported its biggest quarterly profit since 2008.
Nucor's increased tube capacity and capabilities are one reason its profits are up. Image source: Getty Images.
Let's take a closer look at how Nucor generated a fourfold profit increase in the quarter, as well as what to expect going forward.
Nucor improved results nearly across the board
Nucor's financial results and key operating metrics:
| Metric | Q1 2017 | Q1 2016 | Change (YoY) |
| --- | --- | --- | --- |
| Revenue | $4,815.2 | $3,715.6 | 29.6% |
| Net income | $377.6 | $122.5 | 308.3% |
| Earnings per share | $1.11 | $0.27 | 411.1% |
| Operating rate | 89% | 80% | +90 BPS |
| Steel mill total shipments (tons) | 6,147 | 5,647 | 8.9% |
| Sales to outside customers (tons) | 6,584 | 6,148 | 7.1% |
Revenue and net income in millions. Data source: Nucor Corporation.
Nucor benefited from several key things in the first quarter. As a result of the added steel production, the company's operating rate -- the percentage of its production capacity being used -- increased sharply, and this additional operating leverage played a role in driving profit higher. Paired with the higher realized prices the company saw in the quarter, Nucor delivered profit growth much higher than the amount revenues increased.
Recent acquisitions are paying off
A big part of Nucor's long-term strategy is acquisitions. But instead of simply buying market share, management targets companies that bring new capabilities to Nucor and help it grow market share in product lines it typically doesn't already participate in. Management has also done a wonderful job of making many of its acquisitions during a downturn in the steel market, and the current downturn has been no exception.
On the earnings call, CEO John Ferriola highlighted several recent acquisitions, which have expanded Nucor's business in steel plate (including much larger and thicker plate than it could make before), tubular, hollow structural, electrical conduit, and others. Ferriola pointed out that not only are these high-demand, high-value products, but they are somewhat less exposed to imports. Combined, Nucor's recent acquisitions and expansions into new products give the company more than 1 million tons of new steel production capacity, and in higher-margin products.
Imports are down but remain a significant piece of the pie
The implementation of multiple tariffs and duties over the past couple of years has started taking a bite out of the illegally subsidized products showing up on U.S. shores. According to the American Iron and Steel Institute, imports commanded 25% of U.S. market share through April, still a significant amount but well down from 29% in 2016.
Nucor and its American peers continue to fight back against illegal dumping and subsidized imported steel, and there are a number of trade cases working through the system right now. On the earnings call, Ferriola said there's plenty of reason to expect favorable rulings later this year, which should help reduce imports even further by placing tariffs on subsidized foreign products.
Looking ahead: Nucor is set to roll
The irony of the U.S. steel market over the past several years is that demand has been very high, which should correspond to a great time for steelmakers. But the impact of illegally subsidized imports has weighed heavily on prices and also cut into volumes, a double-whammy that's caused many steelmakers to struggle.
While Nucor has felt the impact on its profit, the company has remained steadily profitable throughout the downturn, using its very strong balance sheet and liquidity to acquire "bolt-on" companies to further strengthen its business. This situation has the company positioned to profit in a big way as prices recover and volumes grow. So far, Nucor has spent more than $7 billion in acquisitions since the downturn started during the financial crisis.
The company hasn't released its financial guidance for the upcoming quarter yet, but on the earnings call, Ferriola and CFO James Frias both said they expect to see the results continue to improve. At this writing, Wall Street seems to agree, with analysts calling for $1.18 in earnings per share, which would be both a year-over-year and sequential improvement.
Add it all up, and Nucor's approach continues to pay off. It's taken a lot longer for the steel market to turn than most expected, but Nucor is already profiting from the recovery and set to see the profits continue to roll in.
10 stocks we like better than NucorWhen investing geniuses David and Tom Gardner have a stock tip, it can pay to listen. After all, the newsletter they have run for over a decade, Motley Fool Stock Advisor, has tripled the market.*
David and Tom just revealed what they believe are the 10 best stocks for investors to buy right now... and Nucor wasn't one of them! That's right -- they think these 10 stocks are even better buys.
Click here to learn about these picks!
*Stock Advisor returns as of April 3, 2017
Jason Hall has no position in any stocks mentioned. The Motley Fool recommends Nucor. The Motley Fool has a disclosure policy.