Nucor, AK Steel, and Steel Dynamics Downgraded: Is the Trump Rally Over?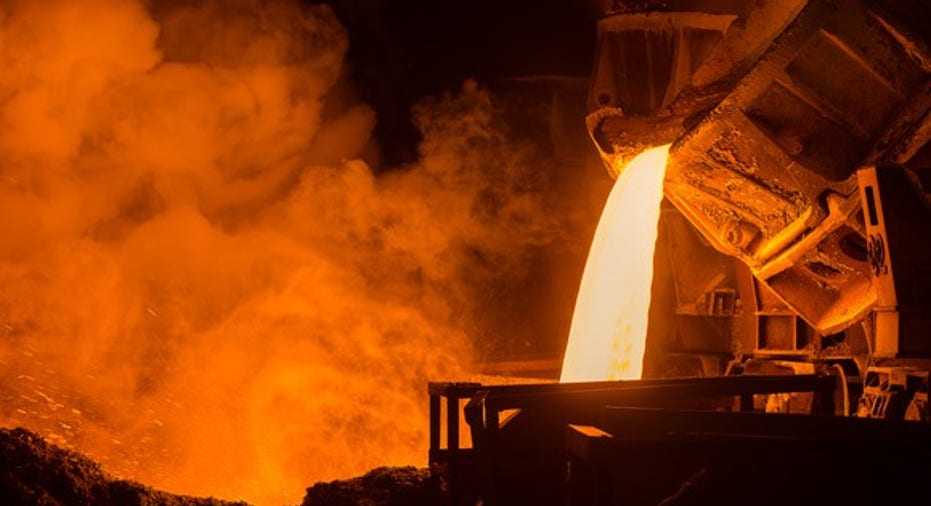 Donald Trump won the U.S. presidential election on Nov. 8, and steel stocks went on a tear. Then, as shares of big-name steelmakers like U.S. Steel (NYSE: X) and AK Steel (NYSE: AKS) soared, Wall Street began taking notice (and awarding upgrades), adding to the upwards momentum.
But all good things must come to an end, and according to one banker at least, the Trump rally in steel stocks has reached its conclusion. Steel stock prices have soared too high, and must now come right back down.
This morning, analysts from investment bank Macquarie announced downgrades for a whole series of American steel stocks. U.S. Steel wasn't among them (instead, it was Argus Researchthat downgraded U.S. Steel). For its part, Macquarie downgraded AK Steel instead -- and Steel Dynamics (NASDAQ: STLD) and Nucor (NYSE: NUE) along with it.
Here's what you need to know about these downgrades.
Steel stocks (were) red hot. Image source: Getty Images.
1. President-elect Trump is huge news for big steel
Trump has proposed as much as a $1 trillion dollar investmentin rebuilding American infrastructure -- everything from roads and bridges to airports. Now, $1 trillion will buy a lot of steel (and a lot of cement, rock, and other raw materials as well). But it's still a finite sum, and implies only finite good news for steel stocks. The question is how much of this good news is baked into the prices of American steel stocks already.
2. How far has the rally progressed?
Over the three weeks since Trump's victory was announced, shares of AK Steel have risen 48% in price -- more than 3% per trading day. Steel Dynamics stock is up half that -- 24%. By comparison, Nucor stock has gained "only" 20%.
True, all of these gains are pretty amazing in the short period of time that's elapsed, and in the absence of any actual confirmation that the infrastructure investment will happen. What's truly curious about Macquarie's new ratings today, though, is that while the analyst downgraded AK Steel stock and Steel Dynamics stock to neutral, it reduced its rating on Nucor all the way to underperform (i.e., sell).
Why?
3. Why Macquarie hates Nucor more than the rest
Steel prices in the U.S. have spiked to about $560 per ton since the election, with beneficial effects for the stocks that make the steel. But as explained in a write-up on TheFly.com earlier today, Macquarie believes that $560 a ton is about as high as steel prices can go in the current economic environment.
The rising value of the U.S. dollar means U.S. steelmakers will struggle to export their products (which look relatively more expensive to buyers outside the U.S.), while at the same time, imports from foreign steelmakers will look cheaper and cheaper the more the dollar rises in value. Additionally, China's weakening economy decreases demand for steel globally, putting a lid on how high a price U.S. steelmakers can demand for their product.
As Macquarie figures it, current stock prices for the companies it is downgrading assume an average go-forward price of $600 a ton for steel -- and if $560 is as good as things get, this means the stocks are overpriced.
The most important thing: Predicting the future is hard
When you get right down to it, then, Macquarie's downgrades -- of AK Steel, Steel Dynamics, and especially Nucor -- all depend on just one thing: Its assumption that it is right about steel prices not going above $560 a ton, and that everyone else is wrong to think steel prices will rise to $600 or more. Knowing how the future will actually play out, however, is hard. Here's what we do know:
Relatively speaking, Nucor -- the stock Macquarie recommends selling -- is actually the cheapest of the three steel stocks downgraded today. At a trailing P/E ratio of 39, it's not "cheap" exactly, but it's much cheaper than Steel Dynamics at 80 times earnings, and much, much cheaper than AK Steel -- which is unprofitable on a trailing basis, and so has no P/E. Additionally, according to data from S&P Global Market Intelligence, Nucor is also generating significantly more free cash flow from its business than is Steel Dynamics (and even more significantly more cash than AK Steel), and carries the smallest debt load of the three (relative to its market capitalization).
Thus, while I agree in general with Macquarie's argument that steel stocks have risen "too far, too fast," I personally would flip the analyst's recommendations on their head. Seems to me that while Nucor stock is expensive, it's run up slower than the rest, and is less expensive than any of the alternatives as a result.
If were looking to cash-out of the steel stocks rally, therefore, I'd put Nucor last on my list of steel stocks to sell --not first.
10 stocks we like better than Nucor When investing geniuses David and Tom Gardner have a stock tip, it can pay to listen. After all, the newsletter they have run for over a decade, Motley Fool Stock Advisor, has tripled the market.*
David and Tom just revealed what they believe are the 10 best stocks for investors to buy right now... and Nucor wasn't one of them! That's right -- they think these 10 stocks are even better buys.
Click here to learn about these picks!
*Stock Advisor returns as of November 7, 2016
Fool contributorRich Smithdoes not own shares of, nor is he short, any company named above. You can find him onMotley Fool CAPS, publicly pontificating under the handleTMFDitty, where he currently ranks No. 336 out of more than 75,000 rated members.
The Motley Fool recommends Nucor. Try any of our Foolish newsletter services free for 30 days. We Fools may not all hold the same opinions, but we all believe that considering a diverse range of insights makes us better investors. The Motley Fool has a disclosure policy.