NOW Inc.'s Shares Saw a Welcome Surge in November Thanks to Resilient Earnings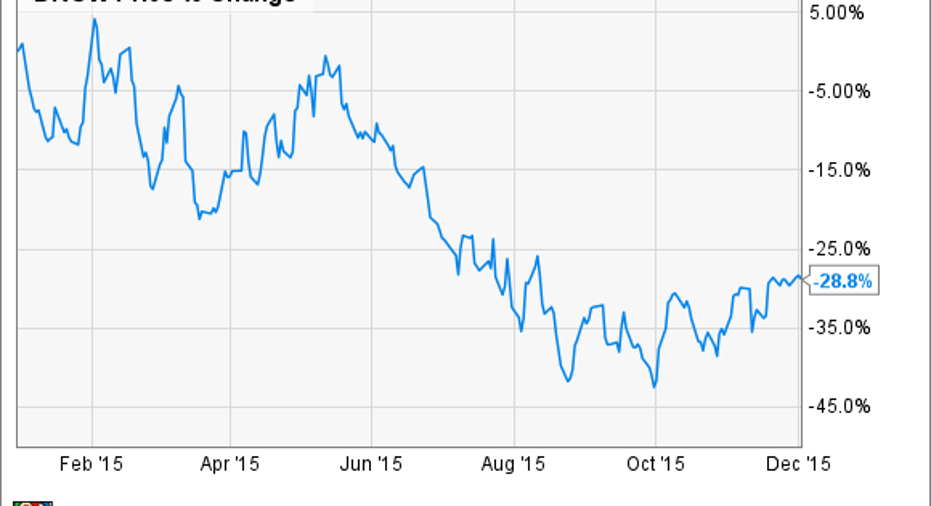 What: Shares of NOW -- or DisrtributionNOW, depending on whom you ask -- increased more than 11% in November. While the headline numbers weren't great, the company's earnings were resilient enough in a rough energy market to give shares a boost.
So what: As a supplier and distributor of parts and equipment to the oil and gas industry, DistributionNOW has a revenue stream that will wax and wane with oil and gas drilling and production activity. Since there isn't much of that going on right now, the company's revenue numbers are going to obviously suffer. We saw this last quarter, as revenue declined more than 29% year over year.
Despite that decline, though, the company was able to report only a minor loss when you exclude non-cash impairments and writedowns. More promising was that DistributionNOW was able to generate free cash flow from those diminished revenue numbers. Since the company was able to show some levels of cash profits during these weak market conditions, it appears that investors gave the company a vote of confidence that it has the potential to do much better when the market turns.
Now what: As a distributor and supplier to the energy industry, DistributionNOW will be one of the first comapnies to feel the impact of higher oil prices. Once prices start to rise, many producers and oil service contractors will need to get their equipment back into working condition, which will be a boom for DistriubtionNOW. When that actually happens, though, is anyone's guess. In the meantime, the company is doing a commendable job of maintaining a level of cash profit during this downturn and is keeping its balance sheet in top shape. For investors, you can't ask for much more from a company in the energy business.
The article NOW Inc.'s Shares Saw a Welcome Surge in November Thanks to Resilient Earnings originally appeared on Fool.com.
Tyler Crowe owns shares of NOW.You can follow him at Fool.comor on Twitter@TylerCroweFool. The Motley Fool owns shares of and recommends NOW. Try any of our Foolish newsletter services free for 30 days. We Fools may not all hold the same opinions, but we all believe that considering a diverse range of insights makes us better investors. The Motley Fool has a disclosure policy.
Copyright 1995 - 2015 The Motley Fool, LLC. All rights reserved. The Motley Fool has a disclosure policy.