November's Best Healthcare ETF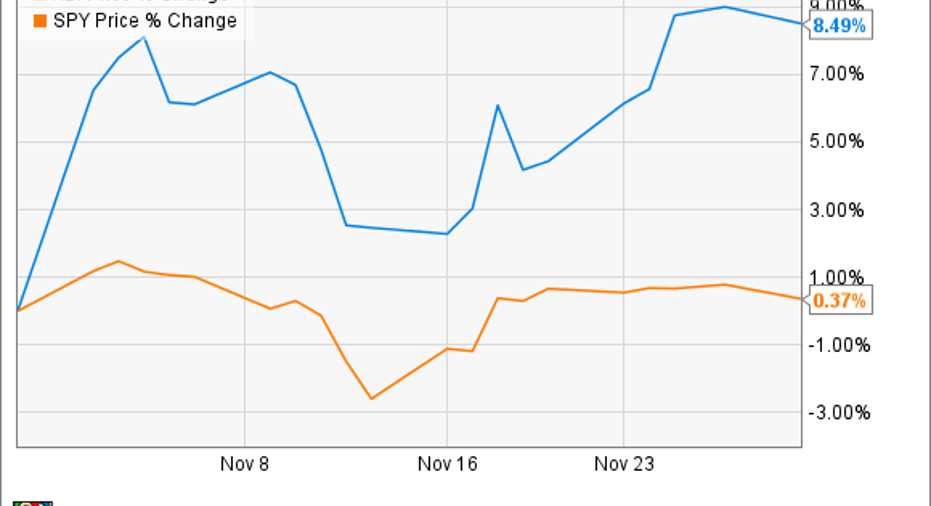 Image source: TBIT via pixabay.
November was a great month to have money invested in the healthcare sector, as several popularexchange-traded funds that only invest in healthcare related stocks put up great returns during the month. One ETF in particular, theSPDR S&P Biotech ETF performed extraordinarily well during the period. It posted a huge 8.5% gain, crushing a comparable investment in theS&P 500.
As its name implies, the SPDR S&P Biotech ETFinvests its assets ina diverse group of biotech stocks, which tends to make it a bit more volatile than many other funds. This ETF follows an equal-weight strategy that is primarily focused on investing in biotech companies with small market caps. The average company in this ETF has a market valuation of only $2 billion. These attributes tend to make the XBI very volatile, which works in investors' favor when stocks in the biotech sector perform well, as they did last month.
What went rightWhile several of the XBI's top holdings rocketed higher during the month, two stocks in particular put up stellar performances that helped to drive the entire exchange skyward. Those two stocks were Geron , a clinical stage biopharmaceutical company with a focus on cancer, and Genomic Health , agenetic testing company.
Both of these companies saw their stocksscream more than 40% higher in November.
Genomic Health shares jumped after investors cheered the company's third-quarter earnings report. Genomic Health reported a strong 17% growth in the number of genetic tests performed, with the bulk of that growth coming from overseas markets. The good times should continue to roll for Genomic Health as Medicare coverage for its Oncotype DX prostate cancer test went into effect on October 13. Management believes the company will be able to grow its revenue by double-digits in the current quarter.
Geron's stock was on a tear in November in anticipation of the company's presentation at this week's annual American Society of Hematology meeting. Geron's lead compound, imetelstat, is currently being tested as a treatment for myelofibroris, a rare form of bone cancer that causes scarring of the bone marrow. Early clinical results for imetelstat showed that the compound could offer a chance at curing some patients of disease. The FDA has already granted imetelstat orphan-drug status, and the company's partner,Johnson & Johnson,is expecting big results from this compound, which could indicate that there could still be huge upside left in this stock if all goes well from here.
What's next for the XBI?While it's great to see the XBI put up such a stellar performance in November, investors in this ETF should keep in mind that volatility can cut both ways. Biotech stock prices are highly sensitive to investor opinion, and they can often fall hard for reasons that have nothing to do with their underlying clinical performance.
Still, the XBI has proven itself to be a successful ETF for a long time period, so I continue to believe this ETF is a solid way for investors to play the biotech market.
The article November's Best Healthcare ETF originally appeared on Fool.com.
Brian Feroldi has no position in any stocks mentioned. The Motley Fool owns shares of and recommends Genomic Health. The Motley Fool recommends Johnson & Johnson. Try any of our Foolish newsletter services free for 30 days. We Fools may not all hold the same opinions, but we all believe that considering a diverse range of insights makes us better investors. The Motley Fool has a disclosure policy.
Copyright 1995 - 2015 The Motley Fool, LLC. All rights reserved. The Motley Fool has a disclosure policy.