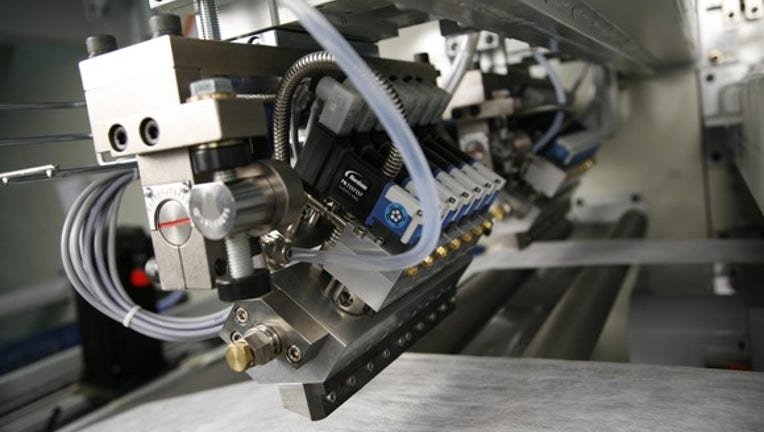 Nordson Corporation(NASDAQ: NDSN)released another better-than-expected quarter Tuesday after the market closed, and shares of the adhesive dispensing equipment specialist are up more than 7% in after-hours trading as of this writing. Let's take a closer look at what drove Nordson's business over the past three months.
IMAGE SOURCE: NORDSON
Nordson results: The raw numbers
Data source: Nordson, Inc.
What happened with Nordson this quarter?
Top-line growth included 13% organic volume growth, and a 1% increase related to Nordson's acquisition of LinkTech Quick Couplings in September. The affects of currency translation were immaterial this quarter.
Quarterly operating margin expanded five percentage points year over year, to 22%.
On an adjusted (non-GAAP) basis, which excludes one-time items like severance and restructuring charges, earnings per diluted share grew 46.3% year over year, to $1.39.
By comparison, Nordson's guidance provided last quarter called for more modest revenue growth of 6% to 10%, including organic volume growth of 5% to 9% and 1% contribution from acquisitions. Guidance also called for operating margin of 22%, with diluted earnings per share of $1.15 to $1.27.
Revenue by segment included:
3% sales volume growth at adhesive dispensing systems, led by strength in general product assembly, rigid packaging, and non-wovens. Segment operating margin was 24%, or 26% excluding restructuring charges.
32% sales volume growth at advanced technology systems, including 30% organic volume growth and 2% from LinkTech. Segment operating margin improved nine percentage points year over year, to 26%, driven by higher volume and favorable product mix.
12% organic sales growth at industrial coating systems, driven by demand for cold material dispensing product lines in automotive and other durable-goods markets. Segment operating margin for industrial expanded 4 percentage points year over year, to 23%.
Revenue by geography included:
7% year-over-year growth in the U.S., to $147.4 million.
a 3.6% decline (down 2.8% at constant currency) from the rest of the Americas segment, to $33.8 million.
1% growth (3.1% at constant currency) in Europe, to $129.6 million.
23.6% growth (4.9% at constant currency) in Japan, to $38.5 million.
40.4% growth (41.5% at constant currency) in the Asia-Pacific region, to $159.9 million.
What management had to say
Nordson CEO Michael Hilton stated:
Looking forward
For the current fiscal first quarter of 2017, Nordson expects revenue to increase in the range of 4% to 8%, which equates to an approximate range of $387.1 million to $402 million. This assumes organic volume growth of 6% to 10%, and a 2% headwind from foreign currency translation. Trending toward the bottom line, the midpoint of that revenue range should result in operating margin of 18%, while reported earnings per diluted share should be in the range of $0.74 to $0.84.
By comparison -- and though we typically don't pay close attention to Wall Street's near-term demands -- analysts' consensus estimates called fiscal first-quarter earnings of just $0.73 per share on revenue near the low end of Nordson's guidance.
"Our first-quarter outlook is very positive," added Hilton, "reflecting our improved backlog, current 12-week order rates, typical seasonality, and comparisons to the prior year where organic growth was modest. Order rates are strong in all three segments, particularly in Advanced Technology, where customers in electronics and medical end markets continue to respond to our technology and application expertise."
In the end, this is a straightforward case of Nordson once again outperforming expectations and delivering guidance that leaves investors rightly excited for what's to come. And it's no surprise to see shares climbing higher once again today.
10 stocks we like better than Nordson When investing geniuses David and Tom Gardner have a stock tip, it can pay to listen. After all, the newsletter they have run for over a decade, Motley Fool Stock Advisor, has tripled the market.*
David and Tom just revealed what they believe are the 10 best stocks for investors to buy right now... and Nordson wasn't one of them! That's right -- they think these 10 stocks are even better buys.
Click here to learn about these picks!
*Stock Advisor returns as of Nov. 7, 2016
Steve Symington has no position in any stocks mentioned. The Motley Fool owns shares of Nordson. Try any of our Foolish newsletter services free for 30 days. We Fools may not all hold the same opinions, but we all believe that considering a diverse range of insights makes us better investors. The Motley Fool has a disclosure policy.