Nope, This Company Isn't the "Next Apple"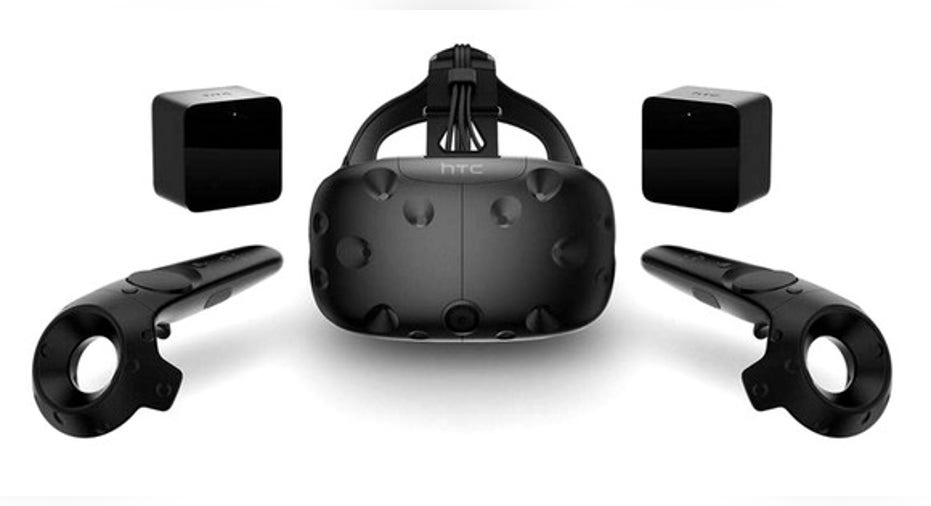 Could Taiwanese smartphone maker HTC become the next Apple ? Goldman Sachs analyst Wei Chen, who claims that the stock has over 40% upside from current levels, believes that it could happen.
Chen attributes HTC's "short-lived success in the smartphone business" to "operational issues" and its lack of a "proprietary platform in the smartphone era." Since most HTC devices run on Android, they couldn't stand out against higher-end Android devices from Samsung and lower-end ones from Xiaomi.
HTC's Vive. Image source: HTC.
Chen believes that HTC won't have the same problem with Vive, the VR headset it co-developed with Valve. By building a VR software ecosystem, HTC's VR headsets could generate sales from both hardware and software, similar to Apple's approach with iOS devices and the App Store. Chen estimates that software sales at Viveport, HTC's VR app store, will have a 70% to 100% gross margin, while the headsets could have a gross margin of 20% to 25%.
Chen believes that Vive's hardware and software sales could generate 60% of HTC's top line by 2020, offsetting its softness in smartphones and making it a major force in the VR market. Unfortunately, some major headwinds could prevent that from ever happening.
What about other ecosystem rivals?
The biggest problem with Chen's thesis is that it assumes HTC's Viveport will become a major proprietary ecosystem like Apple's App Store. However, Facebook's Oculus Home has already emerged as a major app ecosystem for the Oculus Rift and Samsung's Gear VR headsets.
Alphabet's recently unveiled Daydream, a next-gen mobile headset and software push to evolve the Google Play Store into a VR storefront. Several major smartphone makers -- including Samsung, Xiaomi, Huawei, LG, and even HTC -- already signed up to create "Daydream-ready" mobile devices for that effort. Daydream and Viveport address two different markets, but tethering its mobile devices to Daydream could hurt HTC's ability to straddle PCs and smartphones with a single VR ecosystem.
HTC's relationship with Valve also isn't exclusive, since the latter's Steam VR Store offers both Vive and Oculus titles. HTC previously stated that Viveport is an "option for people who can't use Steam," like Chinese gamers. Therefore, HTC will likely share the 30% cut of software sales on Steam with Valve in most countries, with Viveport simply being a backup option.
Image source: HTC.
Many VR developers and customers also believe that exclusive platforms could fragment the fledgling VR market and prevent apps from reaching a wider audience of cross-platform gamers. That's probably why Oculus recently removed a controversial DRM feature which blocked its "exclusive" titles from being played on rival devices like the Vive.
Winning the hardware battle could be tough
Since borders between VR ecosystems will likely remain permeable for now, the near-term battle will be fought over hardware and platforms. On PCs, HTC and Oculus VR will clash. On mobile devices, Facebook and Google will respectively expand their Oculus Home and Daydream platforms to more OEMs. On consoles, Sony's PlayStation VR should enjoy a comfortable first-mover's advantage as Microsoftand Nintendo try to catch up.
Piper Jaffray believes thatHTC will sell 2.1 million Vives this year. That's less than 5 million Gear VRs from Samsung and 3.6 million Rifts from Facebook, and only slightly more than 1.4 million PSVRs from Sony. The Vive's $799 price tag makes it much pricier than the $599 Oculus Rift, and both devices require a $1,000 PC. That's why the $99 Gear VR, which is paired with Samsung's high-end smartphones ($400 to $500), could reach the most mainstream users this year.
Winning the hardware battle could be especially tough for HTC, which has been bleeding market share and branding power over the past few years. Between 2011 and 2015, HTC's market share in smartphones plunged from 11% to less than 2%. HTC will likely struggle to challenge the brand strength of Oculus -- which is mentioned in nearly every VR discussion -- with a higher-priced headset. Without sufficient hardware sales, HTC can't build a revenue generating software ecosystem on the Vive.
The key takeaway
Chen's thesis depends on HTC selling lots of headsets and locking in users with a first party software ecosystem. But that won't work if HTC is selling the priciest headset on the market, its software partner isn't offering an exclusive relationship, and developers are frowning on platform-exclusive titles. Therefore, the Vive will likely remain a niche device that will attract hardcore gamers, but it won't overtake smartphones as the company's primary source of revenue anytime soon.
The article Nope, This Company Isn't the "Next Apple" originally appeared on Fool.com.
Suzanne Frey, an executive at Alphabet, is a member of The Motley Fool's board of directors. Leo Sun has no position in any stocks mentioned. The Motley Fool owns shares of and recommends Alphabet (A shares), Alphabet (C shares), Apple, and Facebook. The Motley Fool owns shares of Microsoft and has the following options: long January 2018 $90 calls on Apple and short January 2018 $95 calls on Apple. Try any of our Foolish newsletter services free for 30 days. We Fools may not all hold the same opinions, but we all believe that considering a diverse range of insights makes us better investors. The Motley Fool has a disclosure policy.
Copyright 1995 - 2016 The Motley Fool, LLC. All rights reserved. The Motley Fool has a disclosure policy.