Nokia sales tumble overshadows Lumia pick-up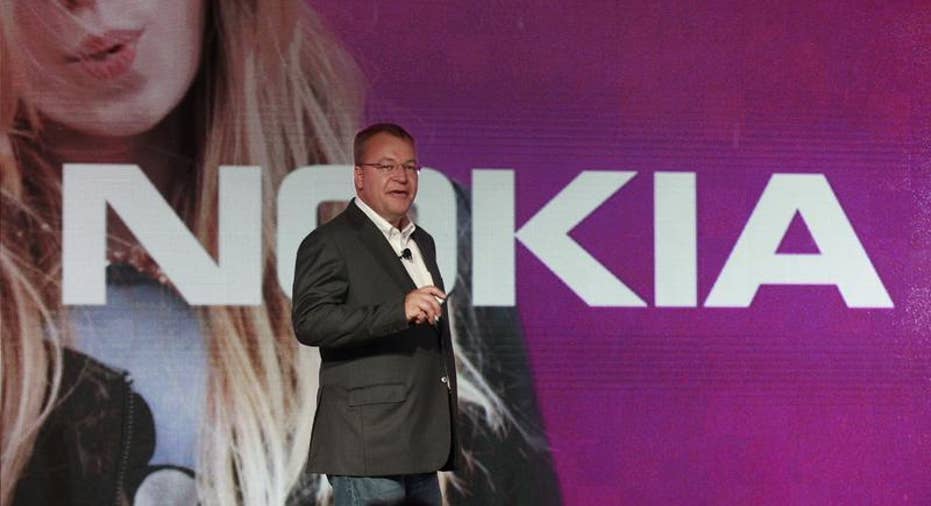 A sharp fall in sales of Nokia's basic phones overshadowed a stronger performance from its Lumia smartphones in the first quarter, rekindling fears over its future and sending its shares tumbling to year lows.
The results renewed pressure on Chief Executive Stephen Elop, who was hired in 2010 to turn the Finnish mobile phone maker around after it fell behind rivals Samsung and Apple in the smartphone race.
He made the controversial decision to switch to Microsoft's untried Windows Phone software in early 2011 and had said the transition would take two years, a period that's now over. Analysts said he was running out of time.
"Basically, he has only the second quarter," said Mikko Ervasti at Finnish investment banking and wealth management group Evli.
Nokia said it sold 5.6 million units of Lumia handsets in the first quarter, up from 4.4 million in the previous quarter, and forecast stronger growth in the current quarter.
But shipments of mobile phones slumped 21 percent to 55.8 units, a far steeper decline than the 8 percent fall that markets expected, with unit sales down in every region.
As a result, overall net sales fell 20 percent to 5.9 billion euros from a year earlier, far short of the 6.5 billion euros forecast by analysts in a Reuters poll.
STAYING RELEVANT
Nokia's future is seen depending on higher-margin smartphones as a growing number of global consumers want access to apps such as Twitter from their handsets.
But it still sells more regular mobile phones than smartphones, and needs to protect its position in the basic handset market so buyers of its cheaper handsets don't defect to other brands when they eventually upgrade to smartphones.
In markets such as China, Nokia faces strong competition not only from rivals such as Samsung but also from emerging, cut-price competitors.
"The fall in numbers for the low-end devices is quite alarming," said Nordea analyst Sami Sarkamies. "Even with Lumia doing better, we still care about those. Nokia is still a second-tier player in smartphones, and it's only because of its position in mobile phones that it's still relevant."
Elop told reporters that the main reason for the fall in mobile phone sales was tougher competition and the company would fight back by launching more innovative, cheaper products.
Nokia recently launched a 15 euro phone in an effort to boost its share in emerging markets, and Elop said it would also revamp its Asha range of mid-tier feature phones this year.
Analysts also said that while the pick-up in Lumia was encouraging, rivals weren't standing still either.
Samsung's Galaxy S4 is set to go on sale later this month and is expected to outsell its predecessors with monthly sales of around 10 million.
NSN LIFTING CASH POSITION
In addition to Lumia sales, first-quarter results showed a few bright spots. Its underlying loss, which excludes special items, shrank to 0.02 euros per share from 0.08 euros a year earlier. Markets had expected a 0.04 per share loss, according to a Reuters poll.
That was mostly helped by its equipment venture Nokia Siemens Networks (NSN), once a cash drain for co-parents Nokia and Siemens but now profitable after massive cost cuts and as its focus on fourth-generation (4G) Long Term Evolution (LTE) networks has begun to pay off.
While NSN's quarterly sales were slightly weaker than analysts had forecast, its underlying profit, or adjusted earnings before interest and taxes (EBIT), of 196 million euros was higher than the 121 million euros that markets expected.
Nokia has said it wants NSN to be sold or publicly listed, and on Thursday said the strong results showed it was closer to becoming independent.
The joint venture agreement lapsed earlier this month, freeing both parties to sell their stakes without consulting each other, although sources have said no deals are imminent. Some analysts questioned why Nokia would let go of NSN now.
"We remain surprised that given that NSN generates all the EBIT and the cash flow of Nokia that Nokia keeps talking about NSN becoming independent," said J.P. Morgan analyst Rod Hall.
Nokia's shares briefly fell 12.7 percent to a year-low of 2.30 euros. At 1420 GMT the shares were down 8.7 percent at 2.40 euros, above the all-time low of 1.33 hit last year, but a far cry from their 65-euro peak in 2000.
Nordea's Sarkamies said the weak results in mobile phones may force analysts to reconsider what they see as the sum value of the company's parts, which include its handset business, Navteq mapping unit and stake in NSN. Many analysts had estimated that to be around 4-5 euros before Thursday.
"Worries about the mobile phone business are now greater," he said.
(Additional reporting by Jussi Rosendahl and Terhi Kinnunen, Editing by Will Waterman)