No Recovery Yet For Macau's Gaming Market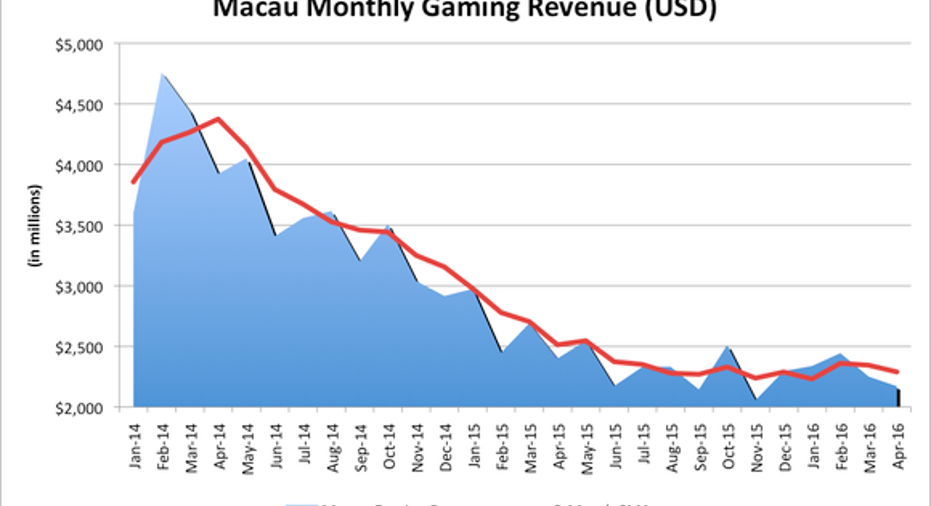 City of Dreams. Image source: Melco Crown.
The narrative of Macau's recovery has taken a beating the last couple of months as the region's gaming revenue decline has continued. April showed a 9.5% drop in gaming revenue year over year to $2.17 billion, which isn't as big a big drop considering that in recent quarter 40%+ revenue declines were not unheard of. But it's also not proof of a bottom in the market, something Wynn Resorts and Las Vegas Sands have both alluded to recently.
Data source: Macau Gaming Inspection and Coordination Bureau. Chart by the author.
Is Macau hitting a bottom? The decline in gaming started when the Chinese government began cracking down on corruption and money laundering out of the country, something that often took place through Macau. Then junkets, which provided loans to high rollers, felt a new level of scrutiny and some went out of business, hitting the Macau market especially hard.
Eventually, this slowdown in gaming should stop. What will emerge will be a more sustainable market built on millions of annual visitors in its place. But no one quite knows when the fall in gaming is going to stop, or where Macau's gaming revenue will be at that point. And for Wynn Resorts, Las Vegas Sands, Melco Crown , and MGM Resorts there's now some real urgency in getting growth back to Macau.
The building boom is almost here Last year, Melco Crown opened Studio City, a new resort on Cotai, but that's just the beginning of the building boom. Wynn Resorts will open Wynn Palace this summer, Las Vegas Sands hopes to open The Parisian late in the year, and MGM Resorts is working to complete MGM Cotai next year. That's on top of new resorts or expansion from Galaxy and SJM as well.
The result is a massive increase in supply for Macau by the end of 2017. And if gaming revenue is declining as the building boom is taking place, it will inevitably cannibalize existing resorts as well as being less profitable than expected for new properties.
How to look at gaming stocks now Despite the drop in gaming revenue, Macau will still be a highly profitable region. The Venetian Macau, for example, has generated $1.1 billion in EBITDA, a proxy for cash flow, over the past year.
Investors will want to look for companies either taking market share with new resorts in Macau or who have a diverse set of properties across the globe. MGM Resorts generates more of its revenue in Las Vegas and MGM Cotai will double the number of properties it has in Macau. Las Vegas Sands also has a diverse enough business in Las Vegas and Singapore to withstand a continued drop in gaming.
Eventually, Macau's gaming market will turn around. But until it does the pressure will be on for gaming companies. Investors shouldn't bet too big on a recovery there.
The article No Recovery Yet For Macau's Gaming Market originally appeared on Fool.com.
Travis Hoium owns shares of Wynn Resorts, Limited. The Motley Fool owns shares of Wynn Resorts, Limited. Try any of our Foolish newsletter services free for 30 days. We Fools may not all hold the same opinions, but we all believe that considering a diverse range of insights makes us better investors. The Motley Fool has a disclosure policy.
Copyright 1995 - 2016 The Motley Fool, LLC. All rights reserved. The Motley Fool has a disclosure policy.