No Recovery Yet for Macau's Beleaguered Gaming Market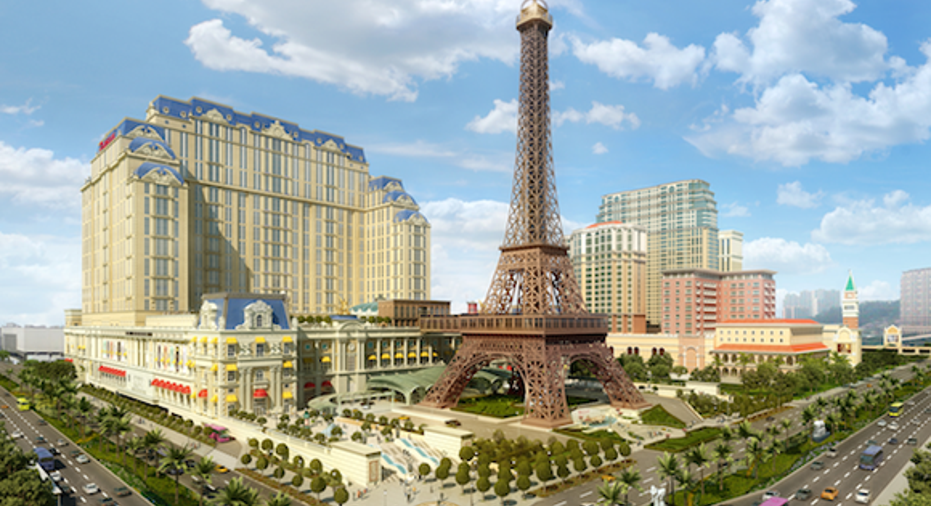 The Parisian, Las Vegas Sands' resort in Macau set to open late in 2016. Image source: Las Vegas Sands.
There was a little light in the October gaming figures coming out of Macau, but the recently reported numbers from November poured cold water all over a recovery thesis. Gaming revenue dropped 32.3% from a year ago last month to just $2 billion, its lowest figure of the year, and is now down 35.3% for the full year.
To be fair, October did contain Golden Week, when many Chinese businesses are closed and people take vacations to places like Macau. If you average October and November together, you get results that are about flat with gaming revenue since June. But that's about the only good thing I can say about the numbers.
The decline of Macau Below is a chart showing just how fast Macau's gaming market has fallen apart. The decline has been driven by a crackdown on corruption in China, junkets going out of business, and a slow Chinese economy, which have all had a negative impact on VIP gaming.
Data source: Macau Gaming Inspection and Coordination Bureau. Chart by author.
All gaming companies have been hurt by the decline, but Wynn Resorts and Melco Crown have taken the brunt of it on the stock market. Wynn catered primarily to VIP players and when they stopped coming to Macau the company's revenue tumbled. And Melco Crown gets almost all of its revenue in Macau, only recently adding a stake in a small resort in the Philippines.
The headline numbers are important, but it's also worth looking at the figures driving Macau's decline.
Watch the VIP players flee Macau While the top-line gaming numbers are bad in Macau, the profitability numbers for gaming companies won't be nearly as bad. That's because VIP players can command discounts and perks that make them about a quarter as profitable as mass market players on each dollar bet. And mass market players aren't abandoning Macau nearly as quickly as VIPs are.
Data source: Macau Gaming Inspection and Coordination Bureau. Chart by author.
In fact, the third quarter of 2015 saw a sequential increase in mass market baccarat play, the best proxy for non-VIP gaming. This has played into the hands of Las Vegas Sands , which has built a business catered to the mass market and has more table games than Wynn Resorts or Melco Crown.
The waiting game continues in Macau These ups and downs in Macau's gaming market have become commonplace and they'll likely continue well into 2016. What I think we're seeing overall is a leveling off of demand and even some strength in the mass market right now. But there may still be a small decline in gaming in 2016.
Even a slowdown of the gaming decline would be a positive for gaming operators with Melco Crown recently opening a new resort and Wynn Resorts and Las Vegas Sands preparing to open new facilities next year. They need Macau's gaming revenue to hit bottom and actually start growing for those resorts to pay off long-term. I'm not sure we're there yet, but we may be getting closer to a bottom in Macau, especially in the all-important mass market.
The article No Recovery Yet for Macau's Beleaguered Gaming Market originally appeared on Fool.com.
Travis Hoium owns shares of Wynn Resorts, Limited. The Motley Fool has no position in any of the stocks mentioned. Try any of our Foolish newsletter services free for 30 days. We Fools may not all hold the same opinions, but we all believe that considering a diverse range of insights makes us better investors. The Motley Fool has a disclosure policy.
Copyright 1995 - 2015 The Motley Fool, LLC. All rights reserved. The Motley Fool has a disclosure policy.