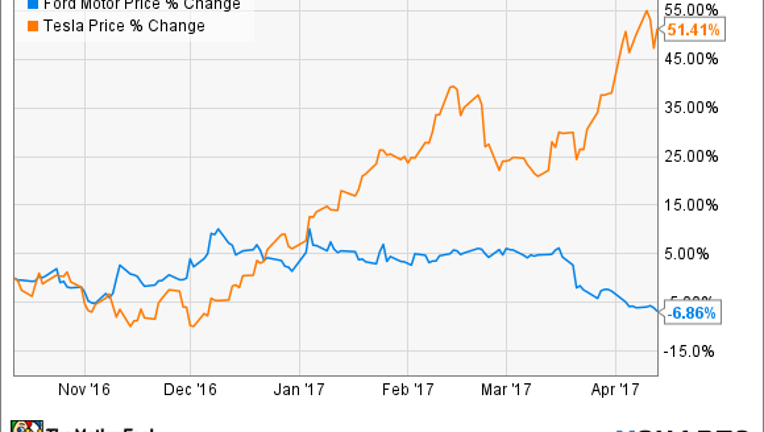 Elon Musk has a message for Tesla (NASDAQ: TSLA) investors: If you don't like the way he's running the company, maybe you should go buy Ford Motor Company (NYSE: F) instead.
Here's what he said:
As you can see, Musk was responding to a Reuters article from way back in June 2016. What's this about?
Tesla's stock price has risen sharply in recent months on the anticipated popularity of the company's next car, the Model 3 sedan. Image source: Tesla.
Hard questions about Tesla's corporate governance
Last June, shortly after Tesla made its offer to acquire solar panel maker SolarCity, an investor group sent a letter urging Tesla to add two independent directors to its board and to separate the roles of chairman and CEO. The investors also asked Tesla to assign two independent directors to form a special committee to review Tesla's agreement to purchase SolarCity and to change Tesla's corporate governance rules to forbid immediate family members from serving concurrently on Tesla's board.
That's what the original Reuters report was about. There was a second letter this week, from a group of five institutional shareholders, urging Tesla to have all of its directors run for reelection annually.
Clearly, Musk is irked. It's not hard to see why: Most of the proposals in the letter were direct shots at his leadership of Tesla and at his family. Kimbal Musk, Elon's brother, has been a member of Tesla's board for years, and SolarCity founders Peter and Lyndon Rive are Musk's cousins. SolarCity's CFO, Brad Buss, also joined Tesla's board after the acquisition.
Musk followed up the Ford tweet with another:
What is Musk really saying here?
With Tesla, you get what you get
I think Musk's message is one that we've heard before: If you don't like the way he runs Tesla, then maybe an investment in Tesla isn't for you.
There was a special meaning in his ironic recommendation of Ford. Ford, famously, is controlled by its founding family via a special class of stock with outsized voting power. That has annoyed corporate governance experts for decades. But the reality is that in recent times, the Ford family -- via its representative in senior management, Executive Chairman Bill Ford -- has been a good steward of the Blue Oval.
Of course, there was another meaning in his ironic recommendation: If you don't like Musk's management of Tesla, and the huge growth in Tesla's stock price recently, perhaps a more sedate investment like Ford is more your speed.
How Tesla and Ford have performed over the last six months. Data by YCharts.
Long story short: If you have any complaints about Chef Musk's cooking, he'd prefer that you eat elsewhere.
10 stocks we like better than TeslaWhen investing geniuses David and Tom Gardner have a stock tip, it can pay to listen. After all, the newsletter they have run for over a decade, Motley Fool Stock Advisor, has tripled the market.*
David and Tom just revealed what they believe are the 10 best stocks for investors to buy right now... and Tesla wasn't one of them! That's right -- they think these 10 stocks are even better buys.
Click here to learn about these picks!
*Stock Advisor returns as of April 3, 2017
John Rosevear owns shares of Ford. The Motley Fool owns shares of and recommends Ford and Tesla. The Motley Fool has a disclosure policy.