Nissan takes new step toward being Uber competitor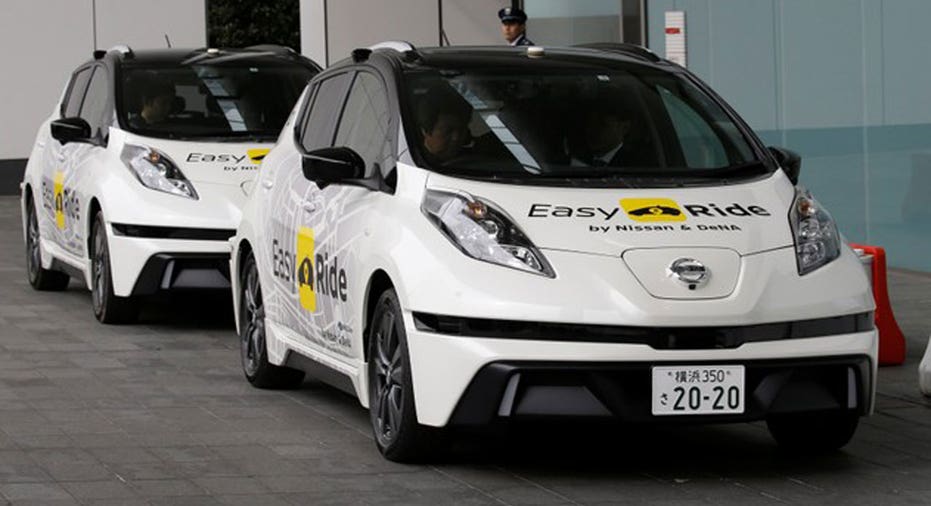 Facing a future in which self-driving cars may curb vehicle ownership, Nissan Motor Co is taking its first steps to becoming an operator of autonomous transportation services, hoping to break into a segment set to be dominated by Uber Technologies and other technology firms.
In partnership with Japanese mobile gaming platform operator DeNA Co, the automaker will begin public field tests of its Easy Ride service in Yokohama next month, becoming among the first major automakers anywhere to test ride-hailing software developed in-house, using its own fleet of self-driving electric cars.
Easy Ride, which Nissan plans to launch in Japan in the early 2020s, is meant to feel more like a concierge service on wheels, making - for example - restaurant recommendations while the car is on the move.
The announcement follows an agreement by Nissan and its automaking partners Renault SA and Mitsubishi Motors Corp earlier this month to explore future cooperation with Chinese transportation services conglomerate Didi Chuxing.
These moves mark a push by the automaker to avoid becoming the "Foxconn of the auto industry": a mere vehicle supplier to ride- and car-sharing companies.
"We realize that it's going to take time to become a service operator, but we want to enter into this segment by partnering with companies which are experts in the field," Nissan's chief executive, Hiroto Saikawa, told Reuters in an interview this month.
A person close to the deal has said that the agreement is intended to explore opportunities for Nissan and others to supply battery-electric cars to Didi Chuxing for a new electric car-sharing service it is setting up in China.
He noted however that Nissan and its alliance partners could explore a broader agreement, which might possibly involve Nissan providing self-driving taxi technology to the dominant Chinese ride-hailing service.
NICHE MARKET
Creating an upscale autonomous taxi service, rather than trying to beat other companies on price, could help Nissan against bigger competitors like Uber, market experts say.
"By doing something with a more premium feel, it could allow Nissan to charge more for its service and potentially relieve some of that profitability pressure they could face if they were to try to race to the bottom in terms of pricing," said Jeremy Carlson, automotive analyst at IHS Markit.
Automakers are looking for ways to profit from the rise of car-sharing services, which along with self-driving cars, are likely to lead to a decrease vehicle ownership and chip away at future profits.
IHS Markit expects global sales of autonomous vehicles will soar to more than 33 million units in 2040 from 51,000 in 2021, while Goldman Sachs has predicted that the ride-hailing market will grow eightfold by 2030 to be five times the current size of the taxi market.
Nissan has embraced new technologies, launching the Leaf, the world's first mass-market electric car, in 2010. The company was an early proponent of self-driving cars, pledging in 2013 that it would market fully autonomous cars in 2020.
Although it has been rolling out automated highway driving functions and self-parking capabilities in a growing number of its models, rivals ranging from Tesla Inc to Subaru Corp have installed increasingly advanced self-driving features in their cars.
GM and Daimler AG are building and expanding car- sharing services, and GM has said it plans to launch a self-driving taxi service next year.
Nissan also has its own car-sharing service using its ultra-compact battery electric models, but after years of trials, the service is available only in Yokohama, home to the automaker's headquarters.
After bringing in Ogi Redzic, who previously led the automotive business group of mapping data firm Here Technologies, to head Renault-Nissan's mobility services division in early 2016, Nissan in the past year or so has begun to gear up its strategy to compete in the new transportation area.
Its partner DeNA is one of the world's biggest social gaming networks with 30 million users. The company's expertise in developing real-time user interfaces and payment systems will help give shape to the taxi service platform.
The company already operates a user-sourced car-sharing app in Japan, and had been developing a self-driving taxi system with a Japanese robotics start-up before teaming up with Nissan.
(Additional reporting by Norihiko Shirouzu in BeijingEditing by Gerry Doyle)