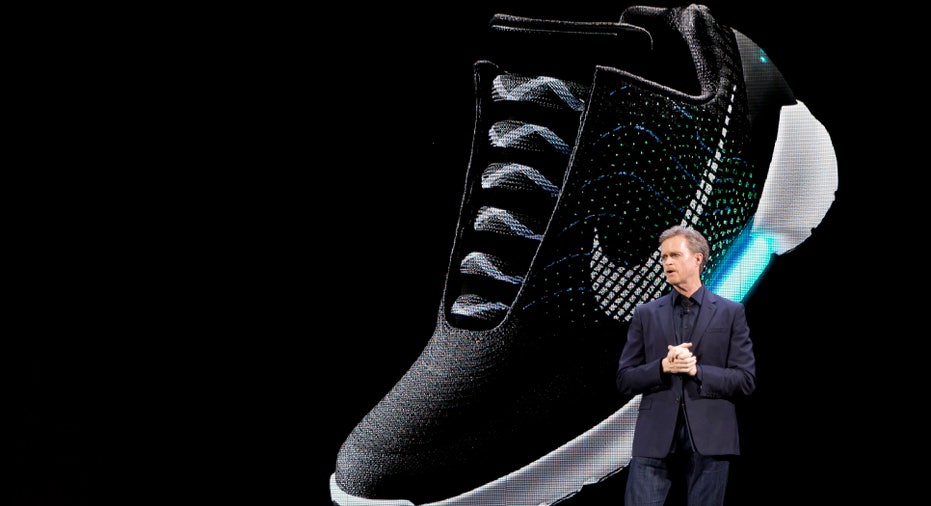 Nike Inc. said its revenue rose 7.7% and profit climbed in the latest quarter, helped by what the company said was robust growth across its business lines.
Still, shares fell 2.7% to $63.15 in recent after-hours trading as revenue was still shy of expectations.
The Beaverton, Ore., company said revenue increased to $8.03 billion for the three-month period ended Feb. 29, from $7.46 billion a year earlier. Analysts polled by Thomson Reuters expected revenue of $8.2 billion. Excluding currency fluctuations, revenue grew 14%.
The world's largest sportswear maker by revenue reported continued strength in North America and China. Revenue in North America grew 13%, while sales in its Greater China segment improved by 23%.
Nike's quarterly earnings report comes as most of the retail sportswear industry is facing a crunch, with the bankruptcy filing of Sports Authority Inc. shaking up the near-term forecast at Dick's Sporting Goods.
The athletic gear company said futures orders, which reflect products scheduled for delivery from March through July, rose 12% on a global basis, compared with an increase of 2% a year earlier and the 15% growth from the last quarter. Futures orders are closely watched by investors as a benchmark for demand for Nike products.
Excluding currency impacts, futures orders increased 17%, compared with a rise of 11% a year earlier and the 20% growth in the previous quarter.
Over all, Nike reported a profit of $950 million, or 55 cents a share, up from $791 million, or 45 cents a share, a year earlier. Analysts expected a per-share profit of 48 cents.
Gross margin was flat at 45.9% as higher average selling prices and growth in the higher-margin direct-to-consumer business were offset by negative currency impacts, higher warehousing costs and efforts to clear inventories in North America.
Nike has used expensive sponsorships to increase its market share in sports such as soccer and basketball. In the latest period, Nike increased such spending--called demand creation--by 10% to $804 million.
At quarter's end, inventories were $4.6 billion, up 8% from a year earlier.
Nike last week unveiled coming products, including its HyperAdapt Trainer 1.0 sneakers with self-lacing technology that the sportswear company plans to plans to sell later this year. Investors likely will be listening on the conference call for any details on the pricing of the shoe, which will be available for the 2016 holiday season, as well as any indication when the new products will affect Nike's bottom line.
Last fall Nike, the world's largest sportswear maker by sales, outlined plans to achieve $50 billion in revenue by 2020, more than one-third of which it hopes to generate from direct sales to consumers, up from about a fifth in 2015. Investors also likely will be listening for any comments on Nike's wholesale or direct-sales strategy.