New options for flu vaccination include needle-free and short needle products, stronger shots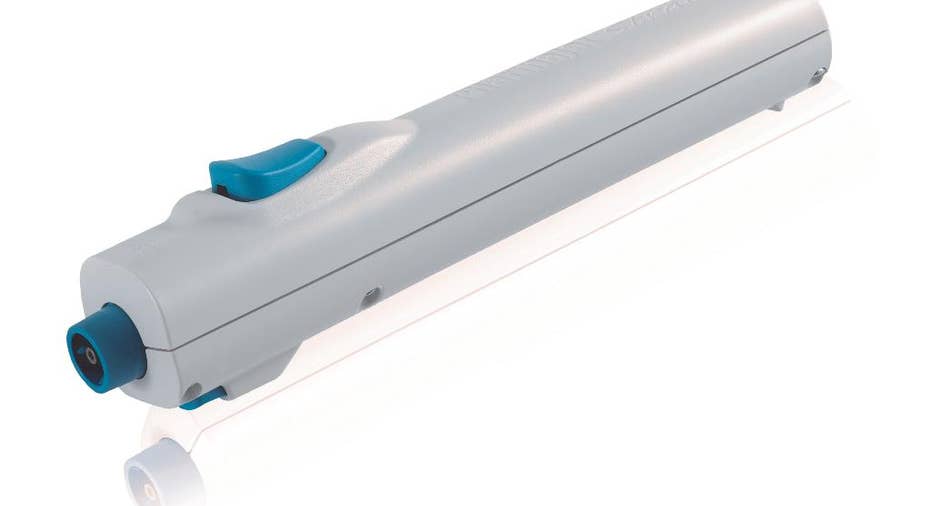 People planning on getting a flu shot this season have several options to discuss with their doctors.
Three vaccines may appeal to people squeamish about the inch-long needles typically used to give flu shots. Another option gives a high dosage for those needing extra protection. There's even a shot for people with egg allergies.
And for first time, most flu shots protect against four strains of the influenza virus — which kills about 25,000 Americans each year — instead of just three. That reduces the chance that vaccines won't protect against all the major strains circulating
That happened last year, making the already-prepared vaccines only 23 percent effective. That's far below the typical 50-70 percent range.
Doctors recommend everyone aged 6 months and older get a flu vaccine. To determine the best option, people can talk to a health care professional or visit www.flu.gov .
Dr. Amesh Adalja, a member of the public health committee at the Infectious Diseases Society of America, recommends people get a vaccine covering four flu strains, or, if they're seniors, a high-dose vaccine.
But doctors say people shouldn't delay getting vaccinated because their preferred option isn't available immediately, though. It takes two weeks after vaccination to build up immunity.
Most flu vaccines, which can be taken by nearly everyone, are covered by private and government health insurance. And prices range between $32 and $40 at major drugstore chains for those paying out of pocket.
"Even healthy people can get very sick from the flu," said Dr. Bruce Hirsch, an infectious disease specialist at North Shore University Hospital Long Island Jewish Health System in New York, adding that "getting a flu shot is helping protect the people around them."
Here are this year's options:
HAVE A NEEDLE PHOBIA?
— FluMist, MedImmune's quadrivalent nasal spray vaccine, is approved for people ages two to 49. It's made from live, weakened, influenza virus, rather than killed virus like other vaccines.
Because of the remote chance FluMist could trigger the flu in vulnerable people, it's not recommended for anyone who has a weakened immune system or lives with someone who does; people with diabetes or heart, kidney or lungs conditions; pregnant or nursing women, children ages two to 17 who've taken aspirin; or anyone with a severe egg allergy. Because there's no needle involved, it's preferred by parents, Hirsch said.
— Afluria, CSL Behring's trivalent vaccine, is approved for ages 5 and up and can be given through a needleless injection system called Stratis that is made by Pharmajet. Stratis pushes vaccine fluid through skin in one-tenth of a second, faster than a needle injection. That may appeal to people who dislike needles, but Hirsch noted that it can still be painful.
— Fluzone maker Sanofi SA is shipping both a "trivalent" vaccine that protects against three strains and is approved for ages 6 months and up, and a "quadrivalent" vaccine that protects against four strains and is approved for ages 18 through 64. The latter comes with a new "microinjection" system with a needle that's 6/100ths of an inch.
NEED EXTRA PROTECTION?
— Sanofi also sells High-Dose Fluzone for people 65 and older. The vaccine stimulates the immune system to produce more antibodies against the flu, so it's believed to be more effective. Seniors may consider this option since they are more likely to develop life-threatening complications from flu because their immune systems have waned. Many also have chronic health problems.
— GlaxoSmithKline's Fluarix and FluLaval shots, which are approved for ages 3 and up, all protect against four strains this year for the first time instead of three.
EGG ALLERGIES?
— Flublok, Protein Sciences Corp.'s genetically engineered vaccine, is approved for anyone 18 or older. It's designed for people with an egg allergy who can't get traditional vaccines made by incubating influenza virus in eggs for several months. Egg allergy is rare, affecting just 0.2 percent to 4 percent of children, studies show.
Flublok is manufactured inside caterpillar cells, based on the genetic code for a flu virus surface protein. It contains more active ingredient than traditional shots. That boosted protection about 30 percent over a traditional flu vaccine in a recent Protein Sciences study in patients ages 50 and older.
Adalja, of the Infectious Diseases Society, calls the vaccine the "wave of the future," because the technology allows production in several weeks — fast enough to change which flu strains are targeted during flu season. That would be crucial if pandemic flu strikes or, early in flu season, it's found the main strains circulating aren't included in existing vaccines.
OTHER OPTIONS
— Novartis AG shipped two trivalent vaccines: Fluvirin for people 4 and older, and Flucelvax, which is grown rapidly in live cells, for people 18 and older. That new technology also allows much-faster production than incubating influenza viruses in eggs, which would be useful during a pandemic.
___
Follow Linda A. Johnson at https://twitter.com/lindaj_onpharma