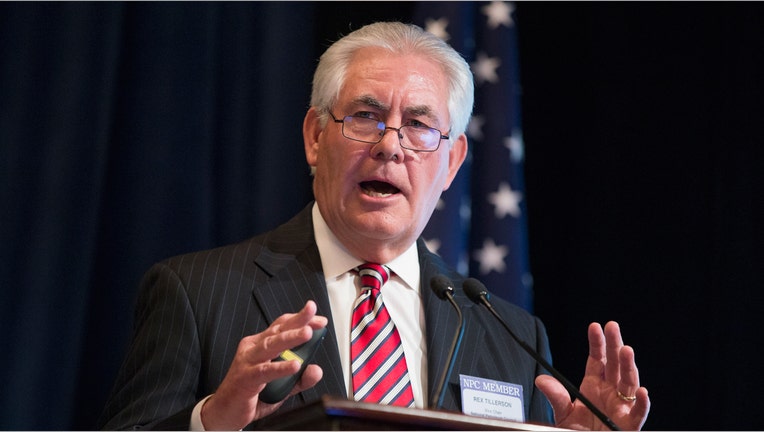 President-elect Donald Trump's selection of Rex Tillerson as his secretary of state complicates the challenges facing Exxon Mobil, which now must speed a transition to a new leader while managing the intense scrutiny Mr. Tillerson's new public role could bring to the oil and gas giant.
While the U.S. hasn't seen a chief executive as powerful as Mr. Tillerson go straight from the boardroom to a presidential cabinet in decades, the election in 2000 of former Vice President Dick Cheney, a former Halliburton chief executive, provides a recent parallel.
Halliburton became a political lightning rod after the U.S.-led invasion of Iraq in 2003, when the company won billions in contracts to work Iraq oil fields and support the U.S. military. A Halliburton spokeswoman declined to comment Tuesday.
Exxon could face similar tests as Mr. Tillerson leads a Trump diplomatic team that will make decisions on such foreign policy issues as sanctions on Russia, human-rights abuses in resource-rich countries and climate change, experts said.
Although Exxon hasn't formally announced a successor to Mr. Tillerson, Darren Woods, 51 years old, emerged as Mr. Tillerson's heir apparent last December when he was appointed president of the company and took a seat on the board.
Succession planning is serious business at Exxon, and Mr. Tillerson, chairman and chief executive since 2006, is supposed to retire in March when he turns 65, according to company rules.
"The board of directors of Exxon Mobil Corporation congratulates Rex W. Tillerson, chairman and chief executive officer, on his nomination for the position of U.S. secretary of state," Suzanne McCarron, Exxon's vice president of public and government affairs, said Tuesday. "The board will be meeting shortly regarding transition."
Exxon declined further comment.
Far from worried, investors have reacted with glee to news of Mr. Tillerson's secretary of state candidacy. Exxon shares rose 2% to $92.80 Tuesday as the president-elect officially announced Mr. Tillerson as his choice.
"This won't faze the company in the least as their succession planning is among the most rigorous in the industry," said Les Csorba, an executive recruiter at Heidrick & Struggles International Inc. in Houston who also helped manage national security appointments in the administration of President George H.W. Bush.
The appointment of a major American chief executive to a cabinet post isn't without precedent, according to historians, who point to former Secretary of Defense Robert McNamara, a former president of Ford Motor Co., and former Secretary of Defense Charles Wilson, a former chief executive of General Motors Co.
Mr. Wilson's stock holdings in GM became a point of conflict during confirmation hearings in 1953, during which he famously told members of Congress he hadn't seen any conflict because he thought that "what was good for our country was good for General Motors, and vice versa."
The business background of those appointees was less controversial because American corporations occupied a different place in American society at that time.
"McNamara himself, as the principal architect of an unsuccessful Vietnam War strategy, may have elevated public and political skepticism about CEOs in Cabinet positions," said Donald Hafner, a professor of history at Boston College.
Exxon, by contrast, now confronts some of the biggest political and business obstacles it has faced since its origins as part of the 1911 breakup of John D. Rockefeller's Standard Oil Co.
Exxon has struggled to find enough new oil and gas after three big bets made by Mr. Tillerson have failed thus far to deliver on their promise. It suffered a serious setback when the U.S. and its allies imposed economic sanctions on Russia in 2014, after Mr. Tillerson brokered a major Arctic drilling deal with the country in 2011.
The company also poured billions into Canada's oil sands over the last decade but in October told investors it recognized as many as 4.6 billion barrels of future reserves, primarily in Canada, may no longer be profitable to produce at today's prices.
And it got into the shale drilling boom late with a purchase of XTO Energy Inc. valued at $31 billion when it was announced in 2009.
Earlier this year, Exxon lost the sterling triple-A credit rating from Standard & Poor's it had held since before the Great Depression. Last year, it failed to replace all of the oil and gas reserves that it produced for the first time in more than two decades.
If the Trump administration lifts sanctions on Russia and Exxon reboots its energy partnership with Rosneft, the company stands to reap billions in profits.
Back in the U.S., however, Exxon is embroiled in several disputes, including an investigation opened earlier this year by the U.S. Securities and Exchange Commission over how Exxon accounts for its oil and gas reserves and communicates with investors about climate change.
Exxon is also in a protracted legal battle with state attorneys general in New York, Massachusetts and elsewhere over investigations that Democratic officials have started into Exxon's history of climate research and how it discloses information about the business risk of climate change in its reports to shareholders and regulators.
While Mr. Woods's expected ascension to the chief executive role isn't yet official, and still must be approved by the company's board, Exxon has consistently promoted from within its ranks, elevating future leaders to the role of president before they take over.
Mr. Woods is a 24-year Exxon employee with an engineering degree from Texas A&M University. He rose up the ranks in the oil giant's vast refining and chemical business. Mr. Tillerson had moved up through the company's exploration and oil-pumping side.
While executives at the company's headquarters in Irving, Texas take pride in taking a long view of their businesses, Mr. Tillerson's successor will have to steer Exxon through short-term headwinds as fierce as any since the Exxon Valdez oil spill in Alaska in 1989.
Mr. Woods couldn't be reached for comment Tuesday.
--Christopher M. Matthews contributed to this article.