New eurozone chief urges speed in strengthening euro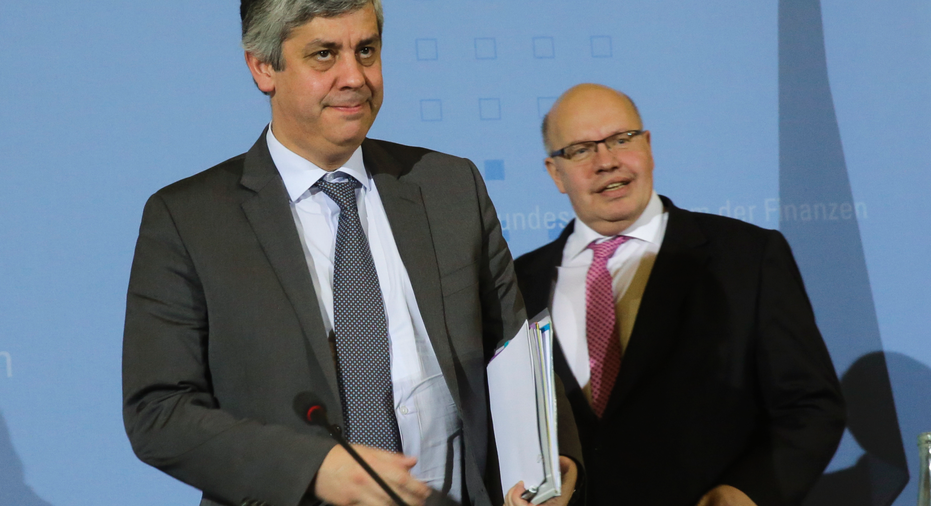 Europe needs to use a "unique window of opportunity" in the coming months to strengthen the continent's common currency, the new leader of the 19-nation eurozone's finance ministers said Wednesday.
Portuguese Finance Minister Mario Centeno traveled to Germany, Europe's biggest economy, on his first official trip since taking over as head of the eurogroup last weekend. In a nod to long-standing German concerns about bailing out struggling countries, he declared that "we cannot create a transfer union" — which, he said, no one wants anyway.
"We have a common agenda to strengthen our common currency," Centeno told reporters after meeting Germany's acting finance minister, Peter Altmaier. "I see now a unique window of opportunity before us in the coming months that we really need to grasp."
Recent elections have produced pro-European governments in major countries "with a clear mandate to deepen the European monetary union," he said, while the eurozone's economic situation is good. "These good times won't last forever," Centeno added.
"Strong euro-area institutions" are needed and the role of the currency zone's rescue fund, the European Stability Mechanism, should be reinforced in future crisis management, Centeno said.
He also said he sees "efficiency gains from setting up in the future a euro-area finance minister" who would be accountable to parliaments.
Germany has given a mixed response so far to the idea of a eurozone finance minister. At a separate event in Berlin Wednesday, Chancellor Angela Merkel said that "the question is what the job actually is." She added that she would be "very skeptical" about combining the eurogroup presidency with the job of the EU commissioner for finance.
Altmaier, who is also Merkel's chief of staff, stressed that although Germany has only a caretaker government it is able to "take every decision that is required in order to do the daily business." But he said it's important to get a "stable and reliable new government" as soon as possible.
"In order to subscribe to reforms that will last for many, many years, it is important to have the backing of a majority in parliament and in government," he said.