New eurozone chief is unafraid to challenge convention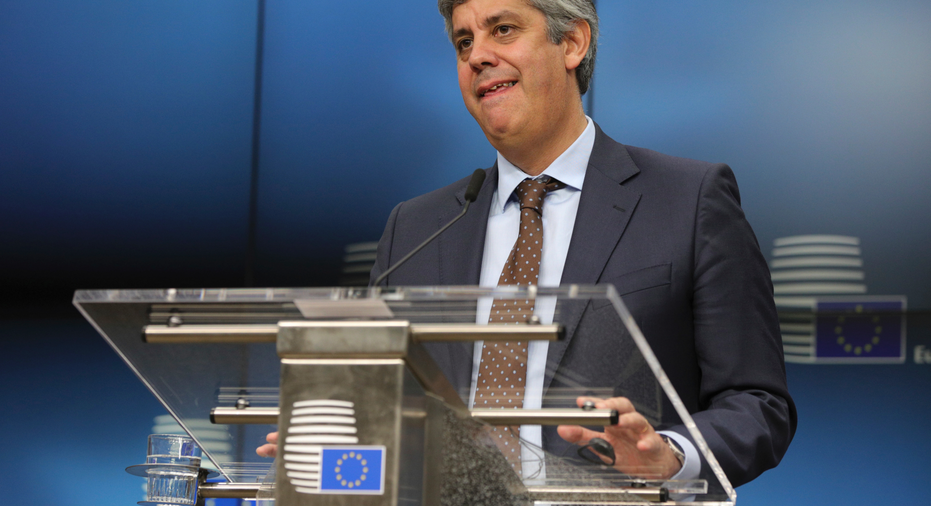 When he played rugby as a student at Lisbon University, Mario Centeno earned a reputation for being quick on his feet.
That talent has proved invaluable as Portugal's finance minister for the past couple of years — while having to keep the moderate Socialist government's radical allies from the left happy, Centeno has also had to keep a firm hand on spending.
The success of those policies has catapulted Centeno in less than two years from academic obscurity to president of the so-called eurogroup, the body that brings together the single currency bloc's 19 finance ministers and which has been at the forefront of the region's financial firefighting efforts in the past few years of continental debt crises.
In an election involving his peers Monday, Centeno saw off three rivals and will succeed Jeroen Dijsselbloem, the Dutchman who has led the eurogroup for five years, on Jan. 13.
Portugal was one of the four eurozone countries that had to be bailed out in the past few years. In 2011, it needed a 78 billion-euro ($93 billion) rescue when bond market investors balked at lending the country any more money given the weak state of its public finances. In return for the money, Portugal's bailout lenders insisted on deep cuts in public spending along with higher taxes and lower pensions in order to get the budget deficit down.
Austerity was Europe's recipe for recovery, but it pitched Portugal and others into a deep recession — Portugal's economy shrank for three straight years after the bailout.
By reversing some of those austerity measures and by going for growth, Centeno has shown he is not afraid to go against conventional thinking.
At first glance, his gamble appears to have paid off, and won him broad praise — as well as the presidency of the eurogroup.
Since Centeno took up his post when the Socialist government came to power in December 2015, Portugal's deficit has fallen to 2 percent, the lowest in more than 40 years. The government is predicting growth of 2.6 percent this year — the country's best performance in 10 years. The unemployment rate is down to an almost 10-year low of 8.5 percent, after peaking at a record 16.2 percent in 2013. The success has allowed socialists across Europe to tell their austerity-minded political rivals, "I told you so."
Centeno's critics note he has reaped the rewards of the previous center-right government's drive to save money during the bailout period, which ended in 2014. Also, Portugal is profiting from an unanticipated surge in tourism in light of the terror attacks in rival destinations. Furthermore, the strong recovery across the eurozone is boosting demand for Portuguese goods.
Portugal still faces tough challenges. Government debt remains very high at around 130 percent of annual GDP, and the financing of pensions and health care for its aging population will require some deep reforms. Corporate and household debt remain high too.
Centeno, 50, was an unknown quantity when Prime Minister Antonio Costa appointed him almost two years ago. Admired in academic circles, Centeno was a Lisbon University professor who gained his Master's degree at Harvard University and became an analyst at Portugal's central bank.
At government events, he became known among the Portuguese for his sometimes goofy smile and uncomfortable body language. He won sympathy, however, for being self-effacing and modest.
Centeno says his five years at Harvard from 1995 to 2000 deeply changed his views.
"It was a revolution in the way I saw the economy," he told Portuguese news magazine Visao. "I became much more sensitive to the relationship between economics and people."
Making labor markets more flexible — seen by many as key to Europe's long-term prospects — is one of his goals, though in Portugal it has largely remained out of his reach due to a long-standing sense of entitlement among workers. The government also cannot afford to upset the Communist Party and radical Left Bloc, which push trade union rights.
When the Socialist government took charge Centeno scrapped some of the most unpopular austerity measures, dismissing European warnings that the policies could spell financial disaster. He restored government workers' pay levels, cut taxes for low-income families, increased the lowest state pensions, and brought back four public holidays that had been abolished. He also approved a return to the civil servants' traditional 35-hour working week, down from 40 hours, and cut sales tax on restaurant meals to 13 percent from 23 percent.
Centeno is no rebel though. He has made sure public spending is kept on a tight leash and has slashed public investment — a step some fear could jeopardize future growth. Steep increases in income tax for the middle class have stayed in place, too.
But as Centeno has grown more politically savvy, he has proved agile enough to deflect criticism.
His aim as eurogroup president, he said, is to "generate consensus" — as he has done by melding the demands of the Portuguese government's radical partners for workers' rights with those of a eurozone determined to cut debt.