Netgear, Inc. Goes 4 for 4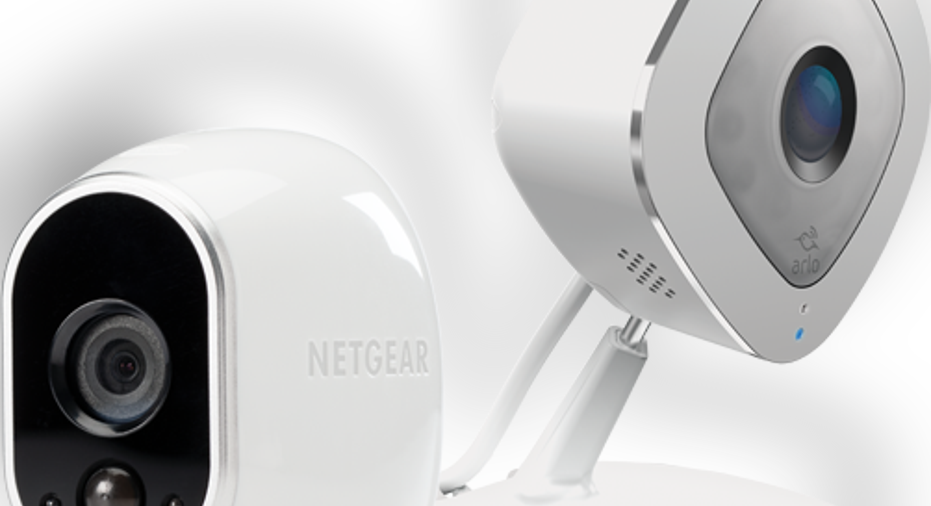 Netgear's Arlo wireless security cameras enjoyed continued success in Q1. Image source: Netgear.
Netgear's growth may not look overwhelmingly impressive on the surface. But the networking hardware company justeasily outpaced revenue and earnings expectations for the fourth consecutive quarter. With shares up around 10% as of this writing, it's apparent the market is more than happy.
Let's take a closer look at what Netgear achieved in its latest quarter:
Netgear results: The raw numbers
| | Q1 2016 Actual | Q1 2015 Actual | Growth (YOY) |
| --- | --- | --- | --- |
| Revenue | $310.3 million | $309.2 million | 0.4% |
| GAAP Net Income | $16.6 million | $8.0 million | 107.5% |
| GAAP Earnings Per Share | $0.50 | $0.23 | 117.4% |
Data source: Netgear.
What happened with Netgear this quarter?
On a non-GAAP (adjusted) basis -- which excludes items like stock-based compensation and restructuring expenses -- net income climbed 51% year over year, to $24.6 million. And after accounting for share repurchases over the past year, adjusted earnings per share increased 60.9%, to $0.74.
Adjusted operating margin rose 270 basis points, to 11.9%.
Netgear's guidance provided last quarter called for lower revenue of $290 million to $305 million, and adjusted operating margin in the range of 9.5% to 10.5%.
Revenue by geography:
Americas grew 11.5% year over year, to $193.9 million.
EMEA fell 27.6%, to $64.5 million.
Asia-Pacific grew 12.2%, to $51.9 million.
Revenue by segment:
The retail business unit continued to lead the way, with sales increasing 30.2%, to $157.5 million.
Commercial business unit sales declined 5.9%, to $68.4 million.
Service provider business unit sales dropped 27%, to $84.3 million -- which was actually better than expected in light of Netgear's previous actions to "realign resources" to drive profitability for the segment as it settles to a more realistic $75 million quarterly revenue run rate.
More specifically, according to CEO Patrick Lo during the subsequent conference call, this result was driven Netgear's "focus on providing premium Home WiFi solutions and unique animation for the smart home," namely through continued strong demand for its Arlo wireless security cameras and high-performance Nighthawk routers and switches.
The company repurchased 280,000 shares during the quarter, bringing total repurchases since Q4 2013 to 8.9 million shares.
What management had to sayLo elaborated:
Looking forwardFor the current quarter, Netgear expects revenue of $290 million to $305 million, representing growth of 0.4% to 5.6% from the same year-ago period, which accounts for both retail seasonality and the expected decline in service provider sales. Second-quarter adjusted operating margin is once again expected to be in the range of 9.5% to 10.5%.
In the end, though Netgear's top-line growth might look anemic as its service provider business continues to settle, it's hard to find anything not to like about this report as Netgear continues to deliver growth where it counts on the retail side. So even with shares now up more than 40% over the past year, I think investors should be happy with the direction of this promising business.
The article Netgear, Inc. Goes 4 for 4 originally appeared on Fool.com.
Steve Symington owns shares of Netgear. The Motley Fool recommends Netgear. Try any of our Foolish newsletter services free for 30 days. We Fools may not all hold the same opinions, but we all believe that considering a diverse range of insights makes us better investors. The Motley Fool has a disclosure policy.
Copyright 1995 - 2016 The Motley Fool, LLC. All rights reserved. The Motley Fool has a disclosure policy.