Netflix's 'House of Cards' halt a 'non-event for subscriber growth,' analyst says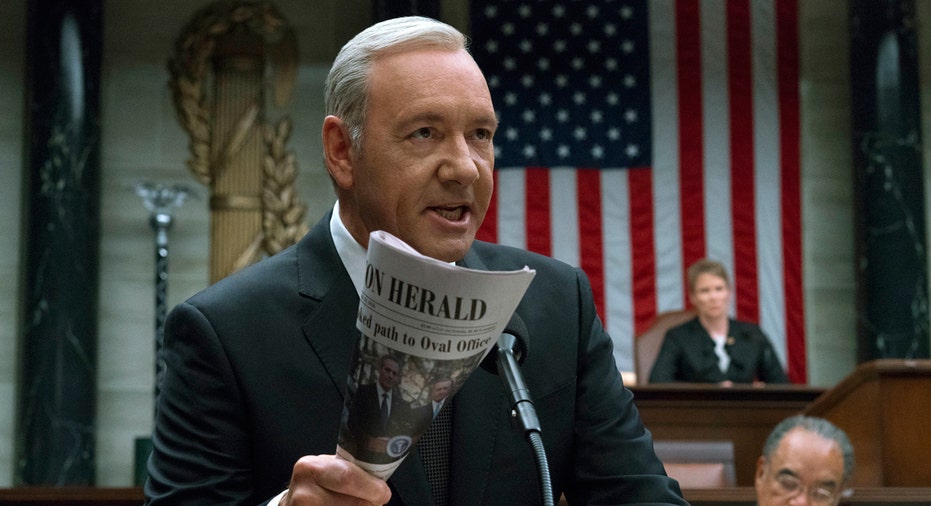 Netflix's (NASDAQ:NFLX) ability to attract new subscribers through its original content should remain strong despite the looming cancellation of its flagship series "House of Cards" amid a sexual assault allegation against star Kevin Spacey, a Wall Street analyst told FOX Business.
Once the centerpiece of Netflix's original content lineup, "House of Cards" was placed in limbo on Tuesday when the streaming giant halted production on its sixth and final season in order to "review the current situation." Spacey, the show's star and executive producer, stands accused of sexually assaulting actor Anthony Rapp after a 1986 party, when Rapp was just 14 years old.
The loss of "House of Cards" would have been a crippling blow to Netflix in past years, when the service was first making its headlong push into original content as a means of attracting customers. However, the addition of new hits like "Stranger Things" and "Narcos" has made it far easier for the company to cope should the series be canceled before its final season, according to Jefferies & Co. analyst John Janedis.
"At this point, I think pulling House of Cards will largely be a non-event for subscriber growth," Janedis told FOX Business. "If this was five year ago, when it was one of only a handful of originals, I think it would be a very different conversation. The reality is that the viewers in many cases have moved on to other originals that are much earlier on in their life cycle."
The allegation against Spacey arose at a time of strength for Netflix's business. The California-based company's stock is hovering near record levels since beating Wall Street's expectations for revenue its third fiscal quarter. Netflix's global subscriber base rose by 5.3 million to more than 109 million total paid subscribers. Shares have remained roughly flat since Rapp's interview with BuzzFeed News was published last Sunday.
Officials doubled down earlier this month on plans to expand Netflix's offerings. The service says it will spent up to $8 billion on original content in 2018 alone. Executives also announced price hikes for new and existing subscribers.
Netflix has also sought to diversity its offerings by inking new deals with known hitmakers like "Grey's Anatomy" creator Shonda Rhimes, the popular "MillarWorld" comic book universe and legendary talk show house David Letterman.
In a statement posted to his Twitter account, Spacey said he has no memory of the incident. However, the Oscar-winning actor said that if the encounter did occur as described, he "[owes] him the sincerest apology for what would have been deeply inappropriate drunken behavior, and I am sorry for the feelings he describes having carried with him all these years."
"House of Cards" has earned 53 Primetime Emmy Award nominations since its debut in 2013, including five consecutive "Outstanding Drama Series" nods. Spacey earned a Golden Globe for his portrayal of ruthless politician Frank Underwood.