Netflix's Adam Sandler Math Doesn't Make Sense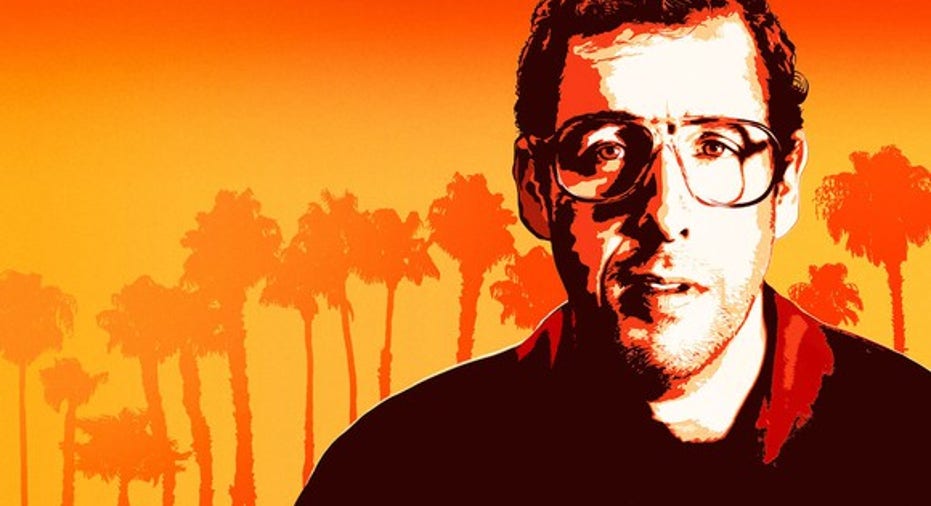 We're now two weeks removed from Netflix's(NASDAQ: NFLX)mixed quarterly report, but there's something that still doesn't sit right with me. The world's leading premium streaming platform was talking up the Adam Sandler contract that it recently doubled down on, and it apparently hit a pretty big milestone.
"Since the launch of The Ridiculous 6, Netflix members have spent more than half a billion hours enjoying the films of Adam Sandler," Netflix explains in last month's quarterly letter to shareholders.
"Sandy Wexler" is the third of eight movies in Netflix's deal. Image source: Netflix.
The ridiculous clicks
Five hundred million hours is a lot of time to spend doing anything, and in this case we're talking about Sandler movies on Netflix. Let's go over what this entails, because we're just three films into what is now an eight-flick deal with Sandler.
The Ridiculous 6 rolled out on Dec. 11, 2015.
The Do-Over hit Netflix on May 6, 2016.
Sandy Wexler became available on April 14, 2017.
Let's nix Sandy Wexler from this equation. The feature film was released just three days before Netflix pushed out its shareholder letter, and even if that 500 million figure was current enough to include that weekend, it's unlikely that the movie that just came out made much of a dent.
The Ridiculous 6 is two hours long. The Do-Over clocks in at 108 minutes. Netflix had fewer than 100 million streaming subscribers worldwide when the letter went out, so it's easy to work the math, rounding up to 100 million members. If every member saw both movies -- right through to the end credits -- we'd be looking at 380 million hours. Obviously 500 million hours is more than that, so Netflix is saying that the average streaming subscriber has viewed both movies more than once -- 1.3 times, to be exact.
It's a pretty ludicrous notion. The two movies have been blasted by movie critics, commanding Rotten Tomatoes scores of 0% for The Ridiculous 6 and 5% for The Do-Over. A whopping 50 of the 51 critics have panned the movies. Netflix member reviews have been kinder, but it's hard to imagine many of those viewers will watch more than once. The number of Netflix members that have taken the time to peck out actual positive comments on either film's page is in the hundreds.
I'm not suggesting that Netflix is lying. There's no benefit to fudging the numbers, and if the viewership for Sandler's movies wasn't substantial, Netflix wouldn't have extended its original four-movie deal to cover eight exclusive film releases. However, if 100 million members have spent 500 hours streaming Sandler's first two Netflix films, one can only imagine what else they will ultimately watch in volume when it's something that critics and members alike truly enjoy.
10 stocks we like better than NetflixWhen investing geniuses David and Tom Gardner have a stock tip, it can pay to listen. After all, the newsletter they have run for over a decade, Motley Fool Stock Advisor, has tripled the market.*
David and Tom just revealed what they believe are the 10 best stocks for investors to buy right now... and Netflix wasn't one of them! That's right -- they think these 10 stocks are even better buys.
Click here to learn about these picks!
*Stock Advisor returns as of April 3, 2017
Rick Munarriz owns shares of Netflix. The Motley Fool owns shares of and recommends Netflix. The Motley Fool has a disclosure policy.