Netflix, Inc. Adds 6.7 Million Subscribers in Q1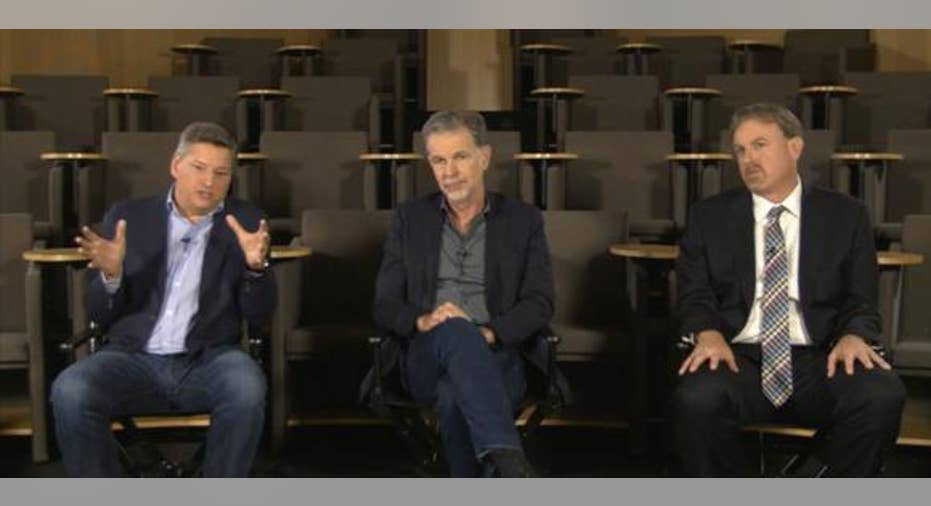 Left to right: Netflix content guru Ted Sarandos, CEO Reed Hastings, and CFO David Wells. Image Source: Netflix.
Netflix reported first-quarter 2016 results after the closing bell on Monday, April 18. Here's how the first report following a near-global expansion panned out.
Netflix Q1 results: The raw numbers
| | Q1 2016 Actuals | Q1 2015 Actuals | Growth (YOY) |
| --- | --- | --- | --- |
| Revenue | $1,958 million | $1,573 million | 24.5% |
| Total streaming subscribers (paid) | 77.7 million | 59.6 million | 30.4% |
| Free cash flow | ($261 million) | ($163 million) | N/A |
| GAAP net income | $27.7 million | $23.7 million | 16.9% |
| GAAP EPS | $0.06 | $0.05 | 20% |
Source: Netflix.
What happened with Netflix this quarter? In January, the streaming video service expanded into another 130 markets. Given that Netflix gives new subscribers the first 30 days for free, this report includes about half a quarter's worth of revenue-bearing results from these new territories.
The company met or beat its own guidance targets across the board. Domestic streaming additions came in 27% stronger than expected as management underestimated the subscriber-attracting powers of the quarter's original content premieres. International additions were 12% above guidance, arguably for the same reason. That's a grand total of 6.7 million net new subscribers.
About half of the report was spent discussing Netflix's many content productions and technology improvements. The letter underscored a hasty release schedule that has seen at least one new title each week since mid-January. The current quarter will see the debut of original talk show Chelsea, a French-language drama titled Marseilles, and nine new shows for children. On the product side, 4K streaming is reportedly catching on while the company is busy launching high-color HDR streaming and more efficient video encoding.
The DVD service continued to shrink. That operation now serves 4.7 million members to produce a contribution profit of $71 million. That's down from 4.9 million subscribers and an $80 million profit in the previous quarter.
Looking ahead, Netflix offered detailed guidance for the second quarter. As always, the company underscored that these estimates represent "our actual internal forecast at the time we report."
The domestic streaming service should see 0.5 million net new subscribers this quarter, roughly in line with first-quarter performances in recent years. The end of grandfathered price-increase protections are putting a cap on this figure, as management expects a few customers to cancel rather than swallow the increase.
Internationally, Netflix expects 2 million net additions. This is down from the previous year, where a tremendously successful launch in Australia and New Zealand produced a sharp one-time spike.
Domestic margins are seen staying flat in the second quarter because of a large slate of content releases and the corresponding marketing campaigns. Operating margins should go back to steady improvements in the third quarter, as the release schedule slows down a bit.
What management had to say Management kept coming back to the nature of competition, both in the earnings letter and the live interview. It's not necessarily about beating rivals like Amazon.com or Hulu, but more a quest to win the "moments of truth" when a consumer has spare time to spend. That could mean reading a book, watching traditional TV, playing a game, or myriad other options.
Having several competitors in the streaming video market should only expand the total market over time, rather than divide a small pie between many rivals.
"You know, Hulu is doing some great work, Amazon is, HBO, and Showtime," Netflix CEO Reed Hastings said. "There are so many competitors and everyone is working hard to build the best content. And so we are seeing growth in the overall Internet TV market -- of course, that's displacing linear TV -- and it's natural that everybody's coming in as they realize that the future is Internet TV."
Looking ahead The story of Netflix as a global service is only getting started. As Hastings pointed out in the interview, advertising-based video services tend to collect something like 20% of their revenues from the U.S. market and 80% from abroad. For Netflix, the domestic market still stands for 61% of incoming revenues. In other words, there is a lot of potential growth left to explore.
On that note, the broad launch to 130 new markets was largely done exclusively in English, requiring an international credit card to submit payments. That works out to a very elite minority market in many territories. The company will strive to add websites and services in local languages, supported by a wider range of popular payment options, and with more locally produced content on tap.
Ironing out all of these wrinkles will take time. Meanwhile, management plans to raise more capital via fresh debt in late 2016 or early 2017, in order to manage the cash flow needs of a growing original production slate.
Investors apparently shrugged off the solid results to focus on relatively modest second-quarter guidance. Netflix shares quickly fell as much as 14.8% in after-hours trading, but stabilized around an 8% drop later on.
The article Netflix, Inc. Adds 6.7 Million Subscribers in Q1 originally appeared on Fool.com.
Anders Bylund owns shares of NFLX. The Motley Fool owns shares of and recommends AMZN and NFLX. Try any of our Foolish newsletter services free for 30 days. We Fools may not all hold the same opinions, but we all believe that considering a diverse range of insights makes us better investors. The Motley Fool has a disclosure policy.
Copyright 1995 - 2016 The Motley Fool, LLC. All rights reserved. The Motley Fool has a disclosure policy.