NCR Sees Software and Services Grow, but Hardware Weighs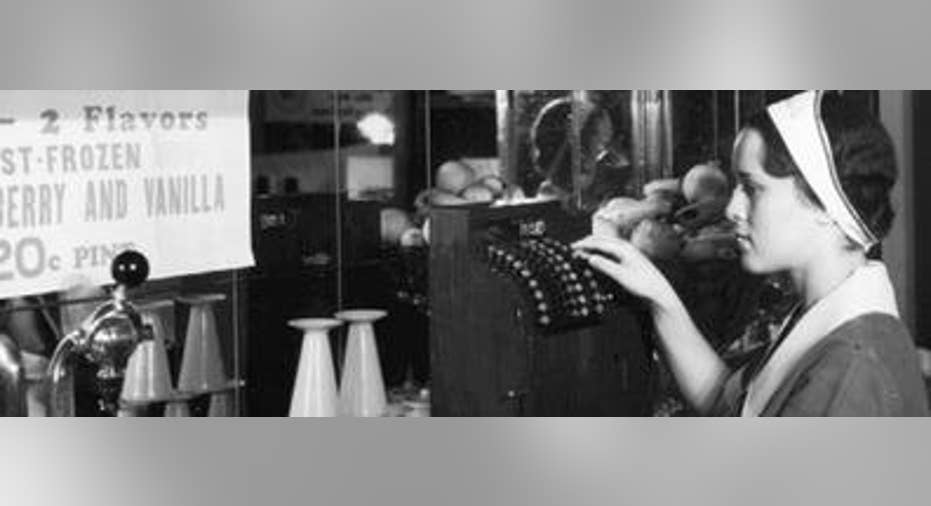 Image: NCR.
The first cash registers are now antiques, but pioneering cash-register company NCR has evolved into a consumer transaction technology specialist. By offering software, hardware, and services to help businesses accept payments, NCR handles almost 550 million transactions every day. Coming into its first-quarter financial report, NCR investors were prepared to see the company's top- and bottom-line results fall back somewhat from year-ago levels. Although NCR's sales came in a bit worse than most expected, earnings fared a bit better, and the company gave some signs of a better future ahead. Let's take a closer look at how NCR fared and what we're likely to see from the transaction technology company for the rest of the year and beyond.
NCR rings up its resultsNCR's fourth-quarter report included results that were mixed from investors' point of view. Revenue declined 2% to $1.44 billion, falling short of the $1.46 billion that most investors had expected to see. GAAP net income fell by nearly half to $21 million, but after making allowances for certain items, adjusted earnings of $0.38 per share were a nickel higher than the consensus forecast among investors.
NCR's different businesses gave very different pictures of the company's overall success. Services revenue jumped 4% to become the biggest contributor to NCR's overall top line, and when you look at sales growth on a currency-neutral basis, that growth rate doubles to 8%. Software revenue eased upward by 1%, with currency impacts holding the rate back by two percentage points. Yet the bad news came from the Hardware area, where revenue dropped 11% on a dollar basis and 9% on a constant-currency basis.
Yet investors also had to become familiar with NCR's new way of reporting numbers. Gone were separate figures for the Hospitality, Financial Services, Retail Solutions, and Emerging Industries segments. That change took effect at the beginning of 2016, and NCR chose instead to look at managing its business on a solution basis rather than looking at individual lines of business.
CEO Bill Nuti was happy with NCR's overall performance. "Our first quarter results either met or exceeded our expectations," Nuti said, and he called out the company's self-checkout business and successes in its business transformation initiatives as helping to drive growth. New product introductions and macroeconomic challenges contributed to the hardware segment's lagging performance in the CEO's eyes.
Can NCR register better results in the future?NCR still thinks that it can keep growing more quickly. In Nuti's words, "We remain excited about the growing Omni-Channel market and our customers' focus on solving for the issues they are facing." As long as customers remain interested in streamlining and improving their transaction handling, NCR should be able to find ways to meet those needs and boost revenue and profits.
NCR did manage to boost its full-year guidance to some extent. Revenue projections jumped $150 million from previous calls, with NCR now expecting $6.25 billion to $6.35 billion in sales. NCR also boosted its earnings guidance by a nickel to a range of $2.25 to $2.35 per share on a GAAP basis and $2.90 to $3 per share on an adjusted basis. The company kept its free cash flow projections of $425 million to $475 million unchanged.
Yet second-quarter guidance was somewhat mixed. Revenue of $1.56 billion to $1.58 billion would be above what investors were looking to see. However, adjusted earnings of $0.60 to $0.65 are well below the $0.71 per share forecast among those following the stock.
NCR's stock didn't move in the after-hours market following the announcement, and the company's results don't suggest an obvious large move in either direction. If NCR can capitalize on its efforts to capture all the various channels that its customers use to get paid, then it will be in a better position to give shareholders the stock-price gains they crave.
The article NCR Sees Software and Services Grow, but Hardware Weighs originally appeared on Fool.com.
Dan Caplinger has no position in any stocks mentioned. The Motley Fool recommends NCR. Try any of our Foolish newsletter services free for 30 days. We Fools may not all hold the same opinions, but we all believe that considering a diverse range of insights makes us better investors. The Motley Fool has a disclosure policy.
Copyright 1995 - 2016 The Motley Fool, LLC. All rights reserved. The Motley Fool has a disclosure policy.