NBC says no culture of harassment in its news division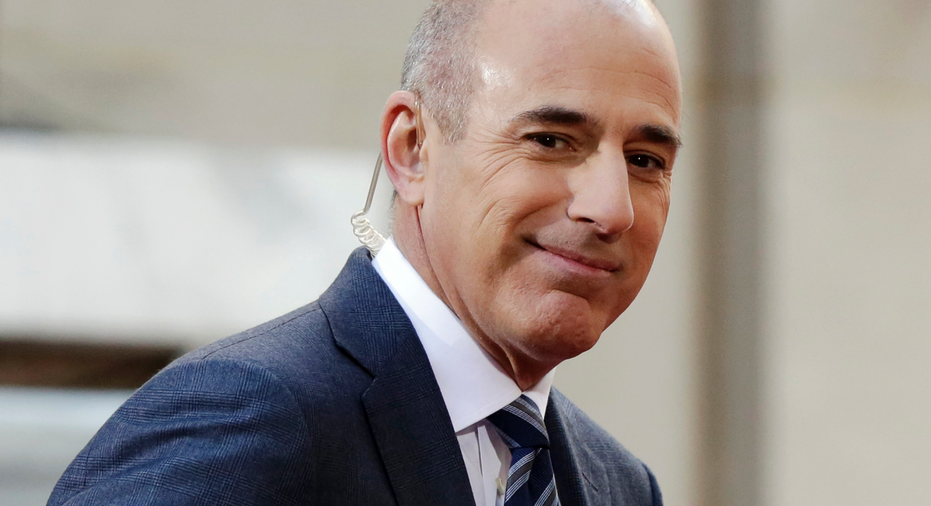 NBC's internal investigation following Matt Lauer's firing says it doesn't believe there is a culture of sexual harassment at the news division and that current news executives weren't aware of the former "Today" show anchor's behavior until the complaint that doomed him.
Investigators also said more needs to be done to ensure that the more than 2,000 employees at NBC News can talk about bad behavior without fearing retaliation, leading NBC News Chairman Andy Lack to establish a way this can be done outside the company.
Despite releasing the report publicly, NBC was criticized for not allowing outsiders to look at its practices. Some suggested it damages the report's credibility.
"No one is going to be fully candid when speaking to management for fear of losing their jobs," said Eleanor McManus, a co-founder of Press Forward, an organization of women who worked in the news industry and experienced sexual misconduct.
"News organizations, journalists and media all hold corporations, governments and individuals to higher standards in similar instances, so it's concerning that NBC would not choose to follow those same standards itself."
The review by lawyers means "that care was taken at every step — to avoid liability," said Jennifer Drobac, an Indiana University professor and expert in employment law. "If this investigation also promotes a safer work environment, then that is an added benefit for all."
NBC Universal's general counsel, Kimberley Harris, conducted the investigation. Harris' report was primarily concerned with Lauer, and no specific complaints about others were discussed. There was no mention of a former NBC News employee's accusation last month that former "Nightly News" anchor Tom Brokaw made unwanted advances on her, which he has denied.
NBC said the work of its all-female investigative team was reviewed and approved by two outside firms.
"NBC Universal's investigation was thorough, objective and conducted at the corporate level, outside the News division," said Hilary Smith, network spokeswoman.
Lauer was fired in November after it was found he had an inappropriate sexual relationship with another NBC employee. Three additional women subsequently complained about Lauer.
Investigators found no evidence that anyone "in position of authority" at NBC News knew that Lauer had sexual relationships with others in the company until the Nov. 27 complaint by a woman about an affair that began at the 2014 Winter Olympics. Still, two of the four women who complained about Lauer said they believed someone in management knew about his behavior.
Former "Today" anchor Ann Curry had said in a news interview that she had gone to management to say they should watch Lauer after another woman had told her Lauer had harassed her. But NBC's report said Curry declined to reveal to investigators whom she spoke to and that no current or past managers interviewed by investigators said they'd spoken to her about the issue.
Curry was not immediately available to clarify that on Wednesday.
The report said Lauer, who is married, was flirtatious and engaged in sexual banter in the office. Several women said he had complimented them on their appearance in a sexually suggestive way.
Investigators threw cold water on a published report that a button allowed Lauer to lock his office door without getting up from his desk. The button closed the door, but didn't lock it, the report said.
Some of the 68 people interviewed said they were aware of other rumored extramarital affairs in the news division. Most were already known and dealt with; some are being looked into, the report said.
"The investigation team does not believe that there is a widespread or systemic pattern of behavior that violates company policy or a culture of harassment in the News Division," Harris' report said.
The report discussed reasons why some at NBC are reluctant to come forward with complaints — including glass-walled Human Resources offices that made them question whether their concerns would be kept quiet. In a memo to staff, Lack said employees can now bring misconduct reports to an outside law firm that has already helped NBC set up workplace training that has taken place since Lauer's firing.
"I am immensely proud of NBC News, its history and the work we do," Lack said. "But, stepping back from the investigation, that history also includes a time when people were not comfortable coming forward to voice complaints about repugnant behavior. That is not acceptable."
Lack said more than 80 percent of the staff had undergone new training in workplace behavior since Lauer's firing, and that all employees are expected to be done by June 30.
The former NBC News reporter who accused Brokaw of misconduct, Linda Vester, wrote in The Washington Post on Wednesday that NBC should have gone outside the company for its investigation. Vester also said a letter supporting Brokaw that circulated among NBC News employees — and was signed by the likes of Rachel Maddow and Andrea Mitchell — could have a chilling effect.
"NBC News's actions had the effect of communicating to other victims that they wouldn't be believed and would be better off staying silent," Vester wrote.