Navy Green-Lights Development of New Helicopter-Airplane Hybrid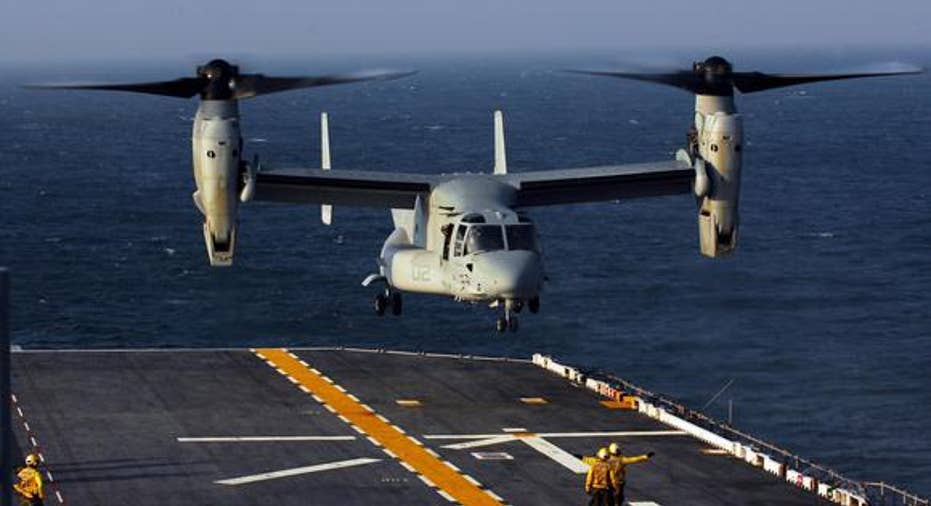 The Textron-Boeing MV-22 Osprey already knows its way around an aircraft carrier. That could soon come in handy. Image source: U.S. Marine Corps.
Jointly built by helicoptering powerhouses Boeing and Textron , the V-22 Osprey is a marvel of engineering. Launching and landing vertically, flying at speeds in excess of 300 mph and as high as five miles in the sky, the Osprey can carry up to 32 troops (or 15 tons of cargo) into combat, to battlefields as far as 1,000 miles distant.
The Osprey is so popular that, according to the plane-counters at Flightglobal World Air Forces 2016, the U.S. Air Force has acquired 42 of these helicopter/airplane hybrids already, with eight more on order. The Marines like the Osprey even more, having put 222 Marine variant MV-22s into service -- with a further 107 on the way.
And now, the Navy wants some Ospreys of its own.
Long a fan of Sikorsky's Seahawk family of aircraft (of which it owns nearly 500), the U.S. Navy recently awardedTextron's Bell-Boeing Joint Project Office $151.3 million in funds to develop a "Navy variant" of the V-22, to be designated CMV-22B. The Navy has askedTextron and Boeing to add "extended range" and "high frequency beyond line-of-sight radio" to the base model MV-22, resulting in an aero-helo hybrid that can perform cargo-carrying functions over long distances at sea and support special forces operations as well.
Follow the moneyThe money train won't stop there. Assuming Textron and Boeing are up to the task, the Navy says it's ready to buy as many as 44 CMV-22Bs for its fleet. How much money will this generate for the contractors involved?
According to data from the mil-tech analysts at BGA-Aeroweb, your average MV-22 Osprey costs about $71.9 million "flyaway" (i.e., inclusive of all equipment, and in particular including the cost of two Rolls-Royce AE1107Cengines, which make up 6% of the aircraft's total cost). Times 44 units, that works out to nearly $3.2 billion worth of new revenue for Textron and Boeing. (Minus a few dollars subcontracted out to Rolls-Royce, of course.)
What does it mean to investors?For providing the engines to power the Navy's new Ospreys, Rolls-Royce can expect to earn just over $203 million -- a not-inconsequential sum, to be sure, but probably not enough money to get the stock out of its current difficulties. Boeing and Textron's share of the loot, on the other hand, promises to be much more substantial.
Subtract Rolls' $203 million, but add back in the value of the development contract awarded to Boeing and Textron, and we're still looking at about $3.2 billion in revenue going to Boeing and Textron. Assuming a roughly equal split between the two joint venture partners, $1.6 billion in rev works out to 1.7% of the business Boeing does in a year. And reportedly, the Navy is looking to take possession of these aircraft ASAP, so the money should be forthcoming pretty quickly.
What should really get investors' attention, though, is what this contract could do for Textron.
According to data from S&P Global Market Intelligence, all four of Textron's major business divisions combined did only $13.4 billion in business last year. Textron's share of the Navy Osprey contract, therefore, could cover nearly 12% of the money Textron makes in a year. What's more, the impact would be especially keenly felt in the company's Bell helicopter division -- only Textron's third-largest division at present, but easily its most profitable, with an 11.6% operating profit margin.
Long story short, this single contract win could produce $185 million in profits for Textron, or nearly $0.68 per share. Viewed in that light, while this contract is clearly a win for Textron's joint venture with Boeing, it's an even clearer win for Textron, period.
The article Navy Green-Lights Development of New Helicopter-Airplane Hybrid originally appeared on Fool.com.
Rich Smithdoes not own shares of, nor is he short, any company named above. You can find him onMotley Fool CAPS, publicly pontificating under the handleTMFDitty, where he's currently ranked No. 315 out of more than 75,000 rated members.The Motley Fool has no position in any of the stocks mentioned. Try any of our Foolish newsletter services free for 30 days. We Fools may not all hold the same opinions, but we all believe that considering a diverse range of insights makes us better investors. The Motley Fool has a disclosure policy.
Copyright 1995 - 2016 The Motley Fool, LLC. All rights reserved. The Motley Fool has a disclosure policy.