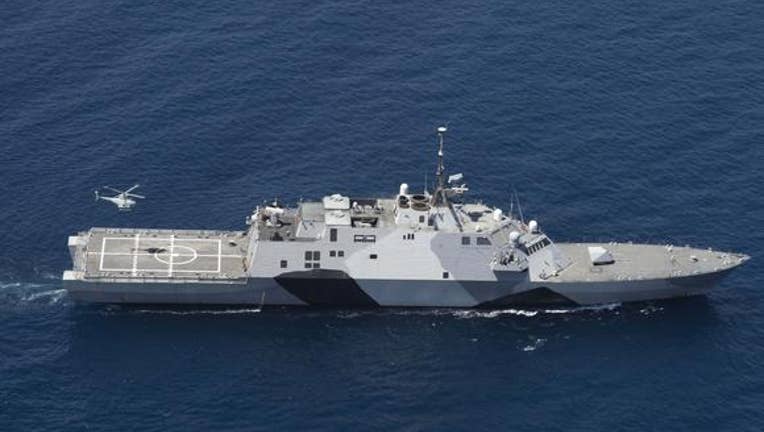 LOCKHEED MARTIN'S USSFREEDOM-class Littoral Combat Ships have been breaking down with disturbing frequency of late. IMAGE SOURCE:LOCKHEED MARTIN.
The U.S. Navy intends to buy 32 Littoral Combat Ships for its battle fleet.
General Dynamics has already built a few. Austal and Lockheed Martin have built a few more, and been hired to build most of the rest. By and large, the program is making decent headway -- but every once in a while, it seems the Littoral Combat Ship program is being run by the gang that couldn't shoot straight.
Take the Freedom-class LCS vessels, for example. Over the past six months, two such ships, the USS Fort Worth (LCS 3) and the USS Milwaukee (LCS 5), have suffered engine breakdowns -- the Fort Worth while in port in Singapore, and the Milwaukee during its maiden voyage. According to the Navy, faulty maintenance was the culprit behind the Fort Worth's failure, while Milwaukee seems to have fallen victim to bad software that wrecked its engine.
Now two ships may not sound like a lot, but consider: So far, there are only six LCSes in service. That means that one-third of the LCS fleet has broken down in the past six months -- and two-thirds of the Freedom-class. (A second LCS variant, the Independence-class built by Austal and General Dynamics, has been somewhat less troublesome.)
In a February statement, the Navy announced that it would refuse to accept Lockheed Martin's Freedom-class vessel, the USS Detroit (LCS 7, due for delivery later this year), until convinced that Lockheed has fixed whatever glitch sidelined the Milwaukee.
How bad news is this for Lockheed Martin?That said, the Navy appears to remain confident (or at least optimistic) that the problems will be fixed. Last month, on the final day of the government's fiscal first quarter, the Pentagon announced that it has awarded Lockheed Martin $564 million in additional funds to begin construction of yet another Freedom-class LCS, designated LCS 25. Separately, the Pentagon awarded an equal sum -- $564 million -- to Austal to begin work on the Independence-class LCS 26.
With these contracts in hand, the Navy is now committed to buying more than 80% of the LCSes included in its most recent plan for a 32-ship fleet. Once the final six contracts (for LCSes 27-32) have been awarded, it will be time for the Navy's contractors to switch over to building a new variant of the LCS, to be designated a "frigate."
What happens next?Contracts on that one remain up for grabs, and could prove especially lucrative for the winner if the Navy proceeds, as seems likely, with picking just one LCS variant to serve as the basis for all 20 frigate-class vessels to be built. Up until the Freedoms hit their recent run of bad luck, I'd have bet good money that Lockheed Martin was the favorite to win that 20-ship contract.
Now, I'm no longer so sure. If things keep going the way they have been, Lockheed Martin just may have given Austal the opening it needs to "cut out" the frigate business, and carry it away.
The article Navy Floats the Littoral Combat Ship Builders Another $1.1 Billion originally appeared on Fool.com.
Fool contributorRich Smithdoes not own shares of, nor is he short, any company named above. You can find him onMotley Fool CAPS, publicly pontificating under the handleTMFDitty, where he's currently ranked No. 315 out of more than 75,000 rated members.The Motley Fool has no position in any of the stocks mentioned. Try any of our Foolish newsletter services free for 30 days. We Fools may not all hold the same opinions, but we all believe that considering a diverse range of insights makes us better investors. The Motley Fool has a disclosure policy.
Copyright 1995 - 2016 The Motley Fool, LLC. All rights reserved. The Motley Fool has a disclosure policy.