National Oilwell Varco, Inc.'s Financial Results Finally Bounce Higher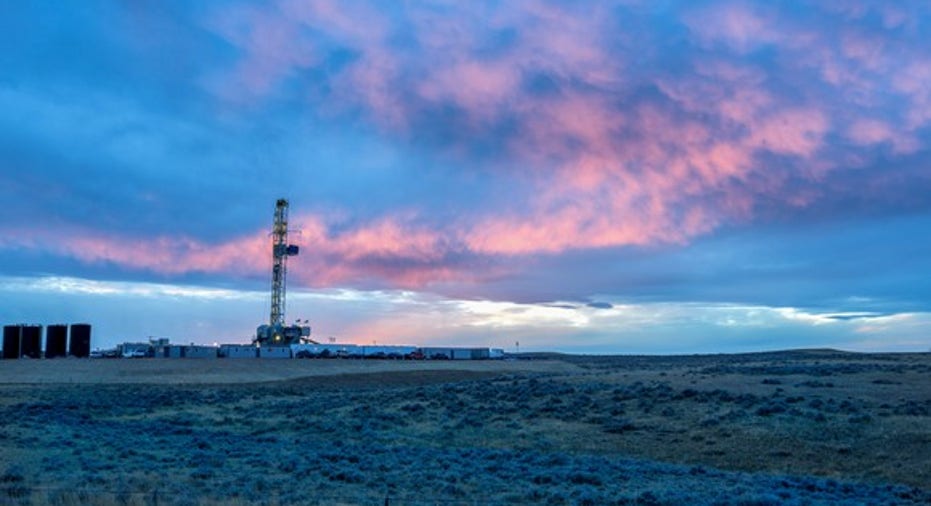 It has been a rough past few years for National Oilwell-Varco (NYSE: NOV), as the prolonged downturn in the oil market had pushed its revenue down in every single quarter since late 2014. That streak, however, has finally come to an end after the oil-field equipment maker reported a sequential increase in revenue during the fourth quarter. That result was one of the several encouraging signs during the quarter, which suggests that the worst might finally be over.
Drilling down into the results
For the quarter, National Oilwell Varco reported revenue of $1.69 billion. While that was up 3% from the third quarter, sales are still down 38% from the year-ago quarter. Meanwhile, the company reported an adjusted net loss of $57 million, or $0.15 per share. That is a narrower loss than last quarter's $0.34 per share but still a far cry from the year-ago adjusted profit of $0.23 per share. Driving the improvement in profitability was a combination of higher sales and a 190-basis-point increase in adjusted EBITDA margins thanks to lower costs.
Here's a breakdown of its financial results by segment.
| Segment | Q4 2016 Revenue | Q3 2016 Revenue | Q4 2016 Adjusted EBITDA | Q3 2016 Adjusted EBITDA |
| --- | --- | --- | --- | --- |
| Rig Systems | $426 million | $470 million | $57 million | $50 million |
| Rig Aftermarket | $339 million | $322 million | $80 million | $81 million |
| Wellbore Technologies | $531 million | $526 million | $20 million | $26 million |
| Completion & Production Systems | $602 million | $543 million | $69 million | $43 million |
Data source: National Oilwell Varco.
As that chart shows, three of the company's four segments reported a sequential increase in revenue while two improved on the bottom line.
The rig system's performance was mixed overall but about as expected. Revenue sank 9%, which was in line with guidance while operating profit, surprisingly, increased 14% sequentially. Meanwhile, the company recorded $115 million of new orders during the quarter, though it shipped out $324 million from the backlog, which stood out at $2.49 billion at the end of last year. Ideally, we would like to see the company book more orders than it shipped.
Rig aftermarket revenue also increased sequentially, up 5%, which was better than guidance as the company expected a single-digit decline. However, earnings did slip, which was as anticipated due to product mix.
Wellbore technologies revenue was up 1%, versus an expected single-digit decline. Meanwhile, adjusted EBITDA slumped 23% from last quarter, which was below guidance for flat segment earnings.
Finally, completion and production services revenue jumped 11%, which was even better than guidance of mid-single-digit growth. Those stronger sales, as well as additional cost savings, fueled a 60% sequential increase in earnings. This segment also recorded $370 million in new orders versus $358 million of sales shipped out, resulting in a 1% increase in the backlog to $818 million.
Image source: Getty Images.
What to make of the results?
National Oilwell Varco's fourth-quarter results were a welcome improvement from prior quarters. CEO Clay Williams noted in the press release that the company was "very encouraged" by the results because "revenues increased for the first time since the downturn began in late 2014." Williams also pointed out that margins widened due to the company's efforts to cut costs and improve efficiencies, enabling it to generate $153 million of operating cash flow during the quarter.
One other thing Williams pointed out was the noticeable shift in where the company gets the bulk of its sales:
This change from offshore to onshore is most noticeable in the performance of rig systems versus the completion and production solutions. Rig systems sales continue to decline because customers are not buying new offshore rigs, which is evidenced by the fact that new orders remain well below sales out of the backlog. Contrast this with new orders in the completion and production solutions segment, which are outpacing sales from the backlog.
The driver of this shift is the significant drop in drilling breakeven costs onshore. For example, shale drillers like Encana (NYSE: ECA) have pushed their breakeven costs well below $50 a barrel for a growing portion of their remaining drillable locations. In fact, half of Encana's 20,000 drilling locations can earn premium drilling returns, which are those it defines as able to achieve a 35% after-tax rate of return at $50 oil. Contrast this with offshore, where crude needs to move above $60 a barrel to mark the inflection point required to incentivize oil producers to ramp up investments. That is a level crude might not breach for another year, meaning National Oilwell Varco's offshore-focused businesses could remain under pressure for quite some time. However, Williams stated in the press release that, given rising demand for its onshore-focused equipment, the company "look[s] forward to a brighter year ahead."
Investor takeaway
National Oilwell Varco's financial results finally took a step forward this quarter, primarily due to the rebound in onshore drilling in North American shale plays. This rebound is expected to continue to gain momentum in 2017 due to the lower break-even level compared to offshore drilling. That said, as oil continues moving higher, the offshore sector should reach a pivot point and start recovering as well. Bottom line, it appears that the long-awaited oil market recovery has begun.
Find out why National Oilwell Varco is one of the 10 best stocks to buy now
Motley Fool co-founders Tom and David Gardner have spent more than a decade beating the market. (In fact, the newsletter they run, Motley Fool Stock Advisor, has tripled the market!*)
Tom and David just revealed their ten top stock picks for investors to buy right now. National Oilwell Varco is on the list -- but there are nine others you may be overlooking.
Click here to get access to the full list!
*Stock Advisor returns as of February 6, 2017
Matt DiLallo owns shares of National Oilwell Varco. The Motley Fool owns shares of and recommends National Oilwell Varco. The Motley Fool has a disclosure policy.