Nasdaq's Greifeld Strikes Nerve at DOJ Over NYSE Comments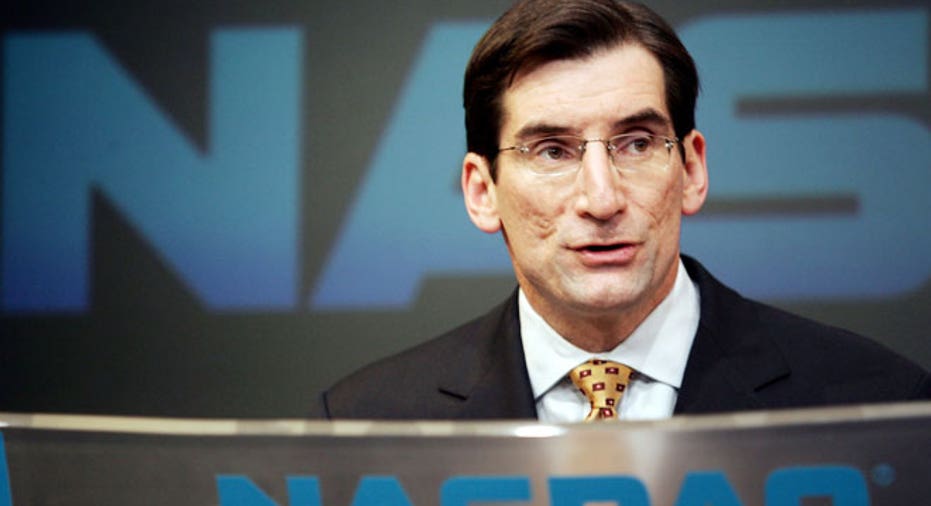 Nasdaq Chief Robert Greifeld has struck a raw nerve with officials in the Justice Department's anti-trust division over some recent comments suggesting that regulators are likely to give the green light to his proposed takeover of the New York Stock Exchange, the FOX Business Network has learned.
In response, Nasdaq has issued an unusual statement late Wednesday designed to mollify critics at the DOJ, stating that the exchange "is working closely with the Department of Justice," adding that the "NASDAQ OMX makes no comment on the specifics of these discussions or how they are progressing, has received no assurances from the Department of Justice as to the timing or outcome of the review. Comments made by NASDAQ OMX concerning the impact of potential remedies on NASDAQ OMX are based solely upon the views of NASDAQ OMX."
Anti-trust regulators are weighing whether the potential combination of the Nasdaq and the NYSE, the two largest stock exchanges, may violate anti-trust laws since nearly every American company has its stock "listed" to trade on either of the exchanges, thus a combination as envisioned by the Nasdaq might constitute a monopoly.
As reported, the Nasdaq has announced that it intends on making a tender offer to NYSE shareholders to buy the Big Board, and thus break up the NYSE's planned merger with Germany's Deutsche Borse. The Nasdaq is bidding on the NYSE with the Intercontinental Exchange, but the deal would effectively be killed without the DOJ's blessing that it doesn't violate anti-trust laws.
The problem for Greifeld is that earlier in the week he made remarks in a meeting with NYSE shareholders suggesting to some in the room that the DOJ was soon likely to approve the transaction even before it finished its investigation. FBN was first to report that Greifeld and Nasdaq were hoping to soon receive some positive feedback from the DOJ, which would clear the way for them to attempt their bid for the NYSE.
Officials in the Justice Department's anti-trust division have made it no secret that they thought Greifeld's remarks were off base, telling lawyers working on the deal that their decision on the legality of the potential Nasdaq/NYSE combination wasn't complete, and may not be complete until after the NYSE holds a shareholder vote on its planned merger with the Deutsche Borse in July, according to people close to the matter. The Justice Department had no comment on the matter.
Nasdaq officials are hoping for a decision by the Justice Department before the July vote so shareholders know where DOJ stands on the matter. Meanwhile, Nasdaq spokesman Frank DeMaria wouldn't deny that the Nasdaq officials are trying to appease officials at the Justice Department because of Greifeld's recent statements. "We are just trying to ensure the information out there is consistent," DeMaria said. "No comment beyond that."