Mystery Buyer Orders 2 Gigantic Airbus A380 Aircraft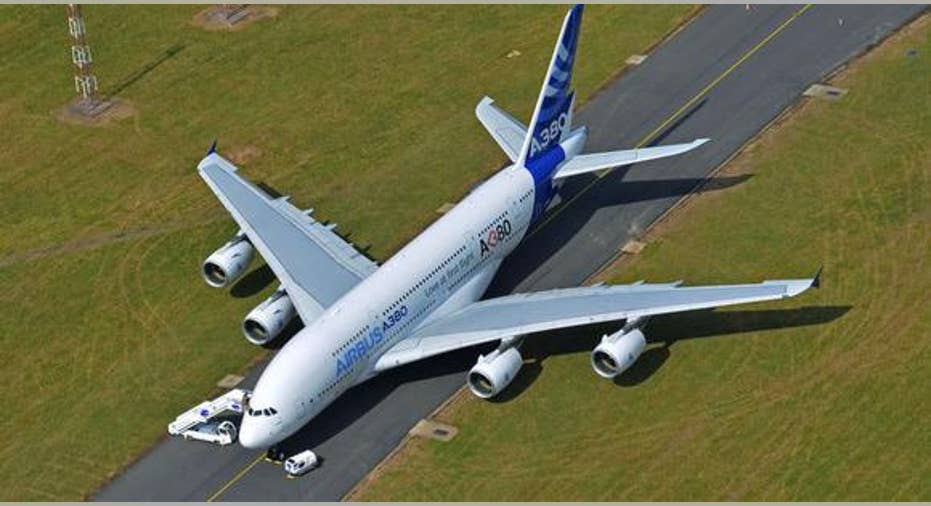 After three years in the pilot's seat, Airbus appears destined to play second fiddle to Boeing this year.
As we saw earlier this week, Boeing stole a march on Airbus in March, racking up 69 new airplane orders for the month, and growing its total orders for 2016 so far to 140 airplanes (gross) and 122 (net of a handful of cancellations).
Airbus' A380 is a gigantic airplane -- but still not big enough to lift Airbus' sales on its own. Image source: Airbus.
In contrast, Airbus' sales performance has been positively -- or rather, almost negatively -- anemic. As recorded in the company's just-released update on orders received last month, Airbus sold only 14 planes in March.
Granted, two of these were very big birds indeed -- A380 super-jumbo airliners like the one pictured above, ordered by an unidentified buyer. Most of the company's sales, though, were for far smaller (and less revenue-rich) A320 Family aircraft -- seven A320neos bound for the Czech Republic, and one single A319 bought by a private purchaser. Rounding out the month, Airbus announced that its own Defence and Space unit will take possession of four A330-200s to be converted into Multi-Role Tanker Transports for military use.
And that isn't even the worst news. Tallying up all its news for the year to date -- new orders and cancellations alike -- Airbus came to the disheartening conclusion that over the first three months of this year, it has added a net of only 10 plane orders in 2016.
Translation: So far, Boeing is outselling its rival by better than 12-to-1.
Dry statisticsTo wit, here's how Airbus' order book for the year currently stands:
14 widebody A330-900 airplanes (and four smaller A330-200 widebodies, drafted into military service)
Seven A320neo ("new engine option") single-aisle jets
Four A320ceos ("current engine option")
Two A380 super-jumbos
The one A319neo bought by the aforementioned private party
Add 'em up, and that's 32 gross plane orders year to date. However, Airbus has also suffered 22 plane order cancellations this year -- 13 for A320 Family planes (leaving the company with a net deficit of single-aisle orders), seven for A330s, and two for A380s.
Which, of course, negates the success of Airbus booking two A380 orders last month.
Back to the future on backlogIt may seem hard to imagine that this story could get any bleaker for Airbus. Yet it can.
At the same time as Airbus has added 10 plane orders to its backlog in the first three months of this year, the company has delivered a total of 125 aircraft to its customers. On one hand, that's good news. After all, when Airbus delivers an airplane to a customer, that's when it gets paid.
On the other hand, these deliveries do have a deleterious effect on the company's backlog of future work to be done, which now stands at just 6,716 planes. With 125 planes rolling off the backlog conveyor belt, while only 10 net new orders were added to the front end, Airbus' order backlog has declined by 115 airplanes.
And so it's official: As of this writing, the backlogs of both Boeing and Airbus are shrinking.
Ponder that somber fact as you consider whether the old trope that air travel always grows over time, and airplane demand grows with it, still holds water.
The article Mystery Buyer Orders 2 Gigantic Airbus A380 Aircraft originally appeared on Fool.com.
Rich Smithdoes not own shares of, nor is he short, any company named above. You can find him onMotley Fool CAPS, publicly pontificating under the handleTMFDitty, where he's currently ranked No. 280 out of more than 75,000 rated members.The Motley Fool has no position in any of the stocks mentioned. Try any of our Foolish newsletter services free for 30 days. We Fools may not all hold the same opinions, but we all believe that considering a diverse range of insights makes us better investors. The Motley Fool has a disclosure policy.
Copyright 1995 - 2016 The Motley Fool, LLC. All rights reserved. The Motley Fool has a disclosure policy.