My Biggest Money Regret of 2015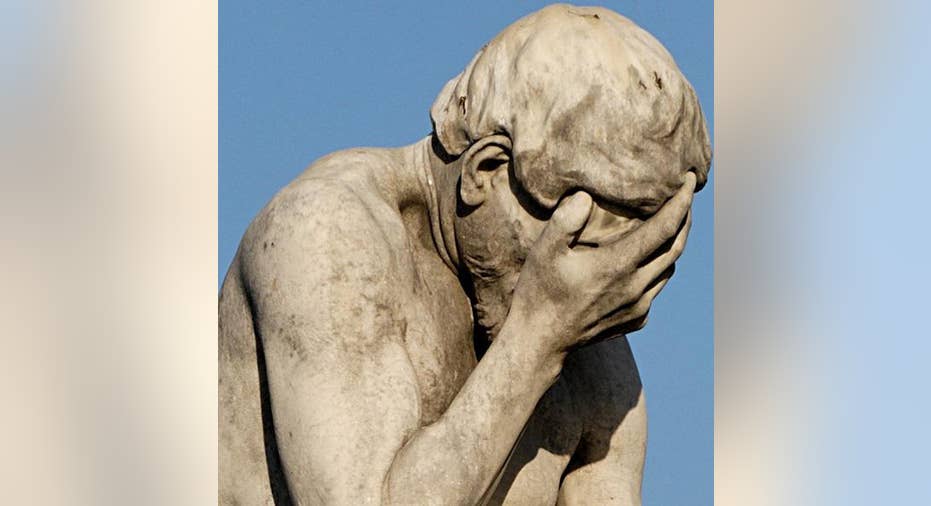 I know how you feel, big guy.
"I made at least one major mistake of commission and several lesser ones that also hurt. I will tell you more about these later. Furthermore, I made some errors of omission, sucking my thumb when new facts came in that should have caused me to re-examine my thinking and promptly take action." -- Warren Buffett, 2008 letter to shareholders
We all make mistakes -- it's a reality of the human condition. As the end of 2015 approaches and I look back at my numerous money mistakes this year, a few stand out. Let's take a closer look at them, and then finish up with my one biggest regret of the year. It may surprise you.
No. 3 regret: Ignoringthe short-term risks and going "big" too quicklySince I'm 25 years from retirement, I can afford to make some mistakes. However, I made -- to channel my inner Buffett -- a major mistake of commission early this year, investing a lot of money in a handful of 3D-printing stocks. It wasn't the first time I'd invested in the industry, having started buying shares in 2012, but it was by far my largest investment at one time, more than doubling my total investment in the sector.
Things have turned out badly so far, and it's not clear that I'll ever recoup all of my losses. While I'm not throwing good money after bad, I'm not throwing the baby out with the bathwater, either -- the industry remains ripe for growth and full of potential.
In other words, investing in 3D printing wasn't my mistake: Investing too much, too quickly, was where I screwed up. The lesson? Patience with speculative growth opportunities such as 3D printing. I may not get in on the proverbial ground floor, but I'll also not have the building collapse on me, as it has so far.
No. 2 regret: Building an argument on assumptions that can change overnightThis one hurts a lot. Recently,Kinder Morgan management stated that the company would produce more than enough cash in 2016 to support its dividend, which was yielding a sky-high 12% rate at recent stock prices. I bought shares for what I thought was a steal based on that announcement, even though the company still hadn't released its final capital plans for next year or committed that the dividend wouldn't be changed.
Short version: The stock continued to fall, and then management announced that it was going to cut the dividend by 75%. In between the time I bought and the announcement -- just a handful of days, mind you -- I lost more than 20% of my initial investment.
Kinder Morgan isn't at risk, and it willproduce all of that cash flow next year. It just won't use it to pay the dividend, instead keeping more cash for capital investment and as a margin of safety. Prudent moves, and probably smart long-term, but nonetheless it led me to invest on bad assumptions that I reached.
But here's why I reallyregret choosing to trust that management would continue to pay the same fat dividend: I publicly stated that I thought the dividend was safe. It hurts bad enough when you cause yourself financial harm, but when a public prediction goes wrong so quickly, that's a bitter pill to swallow.
Don't get me wrong: People need to be responsible for their own investing actions, and my analysis shouldn't be anyone's (even my own) sole source of investing advice. But that doesn't make the short-term results any easier to accept.
I'm firm in my belief that Kinder Morgan will work out as a fantastic long-term investment, and it is a relatively safe company to invest in, even with the short-term volatility of its stock price. But I do regret taking so bold a stance before the company announced a firm commitment on its dividend.
No. 1 regret: I should have saved more moneyI think everyone faces the challenge of putting enough money away for the future, while also enjoying life today. I'm also very blessed to have a career that provides my family with a high standard of living and immense personal freedom.
Yet as the calendar gets ready to turn to 2016, I admit that I'm going to fall short of putting the maximum contribution I can into my 401(k) this year. Compound that with the losses I've taken on the 3D printing industry, as well as Kinder Morgan and a handful of other energy stocks, and I've largely gone backwards at meeting my retirement and wealth-building goals this year.
But with that regret comes a lesson: Good years and bad years come and go. It's theprocessthat matters. I'll sit down with my wife over the next few weeks and identify ways to boost my retirement savings in 2016. If I do this every year, it will make a huge difference when retirement comes.
Don't dwell. Learn and apply.Dwelling on mistakes is unhealthy, but so is ignoring them outright. Learn from your regrets -- what did you do wrong? What could you have done differently? What can you change going forward?
The path of success is often littered with the lessons learned from our biggest failures. I'll be sure to have more regrets in a year, but I'll also have some new lessons. And that will more than make up the difference.
The article My Biggest Money Regret of 2015 originally appeared on Fool.com.
Jason Hall owns shares of Kinder Morgan. The Motley Fool owns shares of and recommends Kinder Morgan. Try any of our Foolish newsletter services free for 30 days. We Fools may not all hold the same opinions, but we all believe that considering a diverse range of insights makes us better investors. The Motley Fool has a disclosure policy.
Copyright 1995 - 2015 The Motley Fool, LLC. All rights reserved. The Motley Fool has a disclosure policy.