My 2 Biggest Investing Mistakes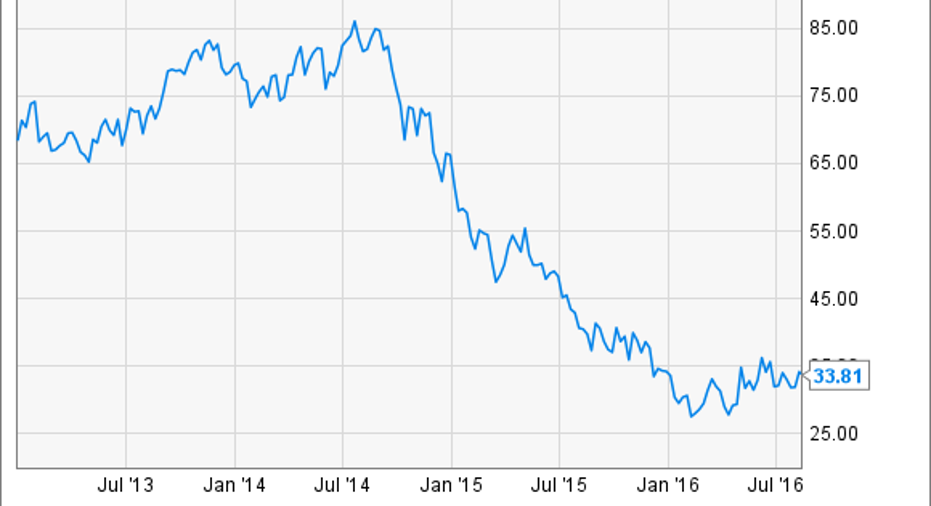 Image source: Getty Images.
It's always difficult to admit mistakes, especially in the world of investing. One thing that separates great investors from average investors is the ability to throw in the towel when it's clear that an investing thesis was just plain wrong. Doubling down on a bad idea is a surefire way to lose a lot of money, violating Warren Buffett's famous Rule No. 1 of investing.
I always try to ensure that every investment that I make comes with a substantial margin of safety. I don't follow a hard and fast rule. Instead, I attempt to make conservative assumptions and then pay a price that allows me room for error. That wiggle room is what turns a major mistake into a minor one in the event that I'm wrong.
I've mostly avoided major errors in the five years that I've been investing in stocks. But there are two cases, National Oilwell Varco (NYSE: NOV) and Textainer Group (NYSE: TGH), where I only recently came to the conclusion that I was way off base. I sold both positions for big losses, and I learned a few lessons along the way.
The danger of peak earnings
I first bought shares of National Oilwell Varco a little over three years ago for roughly $70 per share. The company had been doing extremely well for years, growing revenue through acquisitions and consistently posting operating margins between 15% and 20%. Varco earned $5.83 per share in 2012, meaning that I paid about 12 times earnings. I thought that was a pretty good deal for a great company.
Fast-forward to today, and Varco is suffering from major declines in revenue and posting substantial losses. The company's backlog of orders is drying up amid the worst oil industry downturn since last century, with new orders barely trickling in. Varco's dividend, which I thought was fairly safe when I first bought the stock, has been slashed, and the stock has tumbled by more than 50%.
My thesis was that Varco was protected to a degree from a downturn in the oil industry because its business doesn't depend directly on oil prices. That turned out to be wrong. As oil prices fell, Varco's customers struggled to keep the lights on, delaying purchases of replacement parts and cannibalizing existing equipment in an effort to preserve cash. Varco wasn't immune to the cyclical nature of the oil industry.
I bought a few more times as Varco's stock fell, doubling down on a flawed idea, before finally selling my remaining stake in early August for less than half the price I originally paid. Varco isn't a bad company; it's a good company operating in a terrible environment. My mistake was that I valued the stock based on peak earnings. I paid a reasonable price based on the assumption that the company's record earnings would continue. That was dumb.
The lesson here is simple: When dealing with a cyclical industry, slapping a multiple on a company's peak earnings and calling it a day is the fastest way to overpay for a stock. Instead, investors should try to average the company's results over the cycle and insist on paying a reasonable price based on that average. Never forget that the good times don't last forever.
Chasing yield
Textainer, a company that leases intermodal containers to its clients, piqued my interest because of its generous dividend yield. I first bought shares in the middle of 2015 for around $28 per share, after the stock had fallen a bit from its all-time high. At the time, Textainer paid a $0.47 quarterly dividend, putting the yield at an impressive 6.7%. The company had the earnings to back it up, with EPS of $3.32 in 2014.
Like Varco, Textainer operates in a cyclical industry, and I failed to adequately account for that. Earnings took a dive as container prices plummeted and Textainer was forced to take inventory impairment charges. The company's utilization rate has remained high, but Textainer's results have been terrible nonetheless. Textainer cut its dividend in half in late 2015, an event that should have caused me to dump the stock. Instead, I bought more. The dividend was cut again earlier this month to just $0.03 per share, prompting me to sell my entire stake.
Textainer's business seems simple: Buy containers and lease them out. But it's clear now that this industry is outside my circle of competence. I was overconfident, and it came back to bite me. I also chased yield, with the main reason for buying the stock being its dividend. I failed to accurately determine how sustainable that dividend was and stuck around even after a major dividend cut. The lesson: stick with what you know, and don't overpay for an enticing dividend.
Thankfully, these two mistakes have been overwhelmed by investments that have worked out well over the past five years. But they still sting. The good news is that the lessons learned will make me a better investor, and I hope they make you a better investor as well.
A secret billion-dollar stock opportunity The world's biggest tech company forgot to show you something, but a few Wall Street analysts and the Fool didn't miss a beat: There's a small company that's powering their brand-new gadgets and the coming revolution in technology. And we think its stock price has nearly unlimited room to run for early in-the-know investors! To be one of them, just click here.
Timothy Green has no position in any stocks mentioned. The Motley Fool owns shares of and recommends National Oilwell Varco. The Motley Fool recommends Textainer Group. Try any of our Foolish newsletter services free for 30 days. We Fools may not all hold the same opinions, but we all believe that considering a diverse range of insights makes us better investors. The Motley Fool has a disclosure policy.