Musk Faces Cash Squeeze At Firms Slated to Merge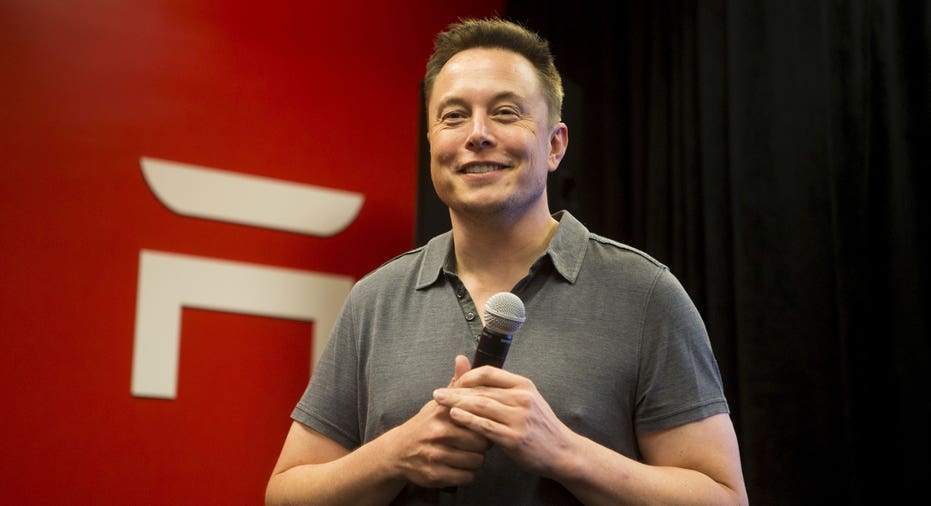 Two pillars of Elon Musk's empire are facing financial crunches as the entrepreneur seeks to combine the two companies through a controversial acquisition.
Tesla Motors, which makes electric cars, disclosed in a securities filing Wednesday that it has to pay $422 million to its bondholders in the third quarter, and that it will raise additional money by the end of the year. The purpose of the additional capital, among other things, is to support its proposed merger with home-solar company SolarCity. Mr. Musk is the chairman of both companies.
The filing also revealed that in recent weeks, 15 institutional investors passed on either acquiring SolarCity or injecting equity into it. The company is having difficulty tapping the public markets amid the proposed merger and is facing a liquidity squeeze, the filing indicated. SolarCity's cash declined to $146 million on June 30, from $421 million a year earlier, the company has reported.
Mr. Musk ignited controversy in June when he proposed combining the two companies. Detractors characterized the proposal as a bailout for SolarCity. Mr. Musk said the deal will save money and create a more diverse company focused on batteries, solar energy, automobiles and heavier vehicles.
In an interview Wednesday, Mr. Musk said that he had envisioned Tesla's role in solar energy back in 2006 when he laid out his initial plan for the auto maker. The combination of the companies, he said, is intended to remove conflicts of interest created when the separate entities do business with one another.
A Tesla spokeswoman said the merger was "the best way for Tesla to bring an integrated clean energy product to market."
Last week, Mr. Musk and his cousins -- SolarCity Chief Executive Lyndon Rive and its technology chief, Peter Rive -- disclosed they would together buy more than 80% of a $124 million SolarCity bond issue. The bonds will pay an annual interest rate of 6.5% and mature in 18 months.
Mr. Musk said he bought half of the SolarCity bonds "as a show of faith in the company."
Before the bond deal was announced, SolarCity's advisers had asked Tesla to "consider providing SolarCity with short-term financing" amid the pending merger deal, according to Wednesday's filing. Mr. Musk said the bond sale was a better option.
"SolarCity needs emergency funds to keep operating, and without the debt they issued to insiders they wouldn't be able to cover their working capital," said Gordon Johnson, a managing director at Axiom Capital Management Inc.
In its 10-year history, SolarCity has notched total revenue of just $1.5 billion, while amassing $3 billion in debt. Because the company's operating costs are high and its profit margins are thin, it depends on issuing debt. SolarCity has a $250 million term loan due Dec. 31, and $55 million in bonds coming due between Sept. 3 and the end of the year.
Tesla's debt-to-equity ratio was 145.5% as of June 30, and SolarCity's was 375.6%, according to FactSet
Tesla said in Wednesday's filing it could issue up to 15 million shares to pay SolarCity shareholders to acquire their company. The filing said the stock-swap offer now values SolarCity at $24.16 a share, or roughly $2.4 billion based on Tesla's closing stock price June 21, before its offer was disclosed. Shareholders of both companies are likely to vote on the proposed deal in October.
Tesla has been able to regularly tap various sources of capital to sustain its operations. In the second quarter, it raised $1.7 billion from an equity offering, and its reserves also benefited from hundreds of thousands of $1,000 refundable deposits for its coming Model 3 vehicle.
Tesla's core business has burned more than $3 billion in cash dating back to late 2014. It has issued equity or convertible debt every year since its initial public offering in 2010.
In the Wednesday filing, Tesla said it would again tap debt or equity markets by the end of 2016 to cover its costs of merging with SolarCity, developing a cheaper electric car, producing batteries and expanding retail operations.
The filing indicated that Tesla's board of directors began seriously considering an acquisition of SolarCity following a board meeting on May 31. Earlier, in February, Mr. Musk suggested to Lyndon Rive, SolarCity's CEO, that they should consider a combination. But the Tesla board, at a Feb. 29 meeting, rejected the idea because of "the potential impact on Tesla management's time and resources," the filing said.
On June 21, Tesla announced on its blog that it had made a preliminary proposal to SolarCity. By the first week of July, SolarCity's liquidity had deteriorated further, the filing showed. At a July 6 meeting, representatives of SolarCity's outside counsel and bankers discussed SolarCity's options and its "near-term operational and liquidity position," the filing said.
At that meeting, the advisers also discussed another development. "Certain lenders appeared to be delaying funding certain financings of SolarCity as a result of the announcement of the Tesla proposal and that SolarCity was unable to access the equity capital markets as it regularly did as a result of the pending Tesla proposal," the filing said.
Between June 21 and SolarCity's ultimate acceptance of Tesla's offer, SolarCity's advisers considered 15 potential suitors, including one private-equity firm and several financial counterparties, according to the filing. By July 21, all the potential suitors except one had backed away, the filing said.
The next day, the final suitor dropped out as well because "it did not believe that it was in a position to make an acquisition proposal within the range of Tesla's original proposal," according to the filing.
--Cassandra Sweet contributed to this article.