Mulvaney hawks Trump budget on Capitol Hill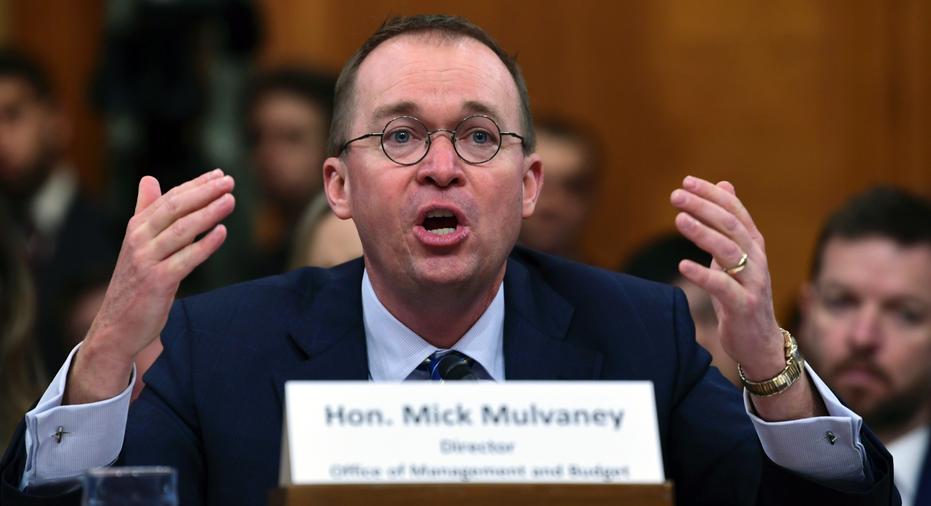 The White House budget director came to Capitol Hill on Tuesday to sell President Donald Trump's budget, but the administration's allies in the Senate preferred to talk about last year's tax cut rather than the trillion-dollar deficits contained in the new spending plan.
The president's budget for the first time acknowledges that the Republican tax overhaul would add billions to the deficit and not "pay for itself" with economic growth and higher revenues.
But Republicans talked about a series of bonuses and wage increases announced by companies whose taxes were cut by the tax bill, Trump's signature accomplishment in the GOP-controlled Congress.
"In all my years in the United States Senate, I have never seen such positive results, just because we pass the tax bill, so soon," gushed Sen. Charles Grassley, R-Iowa, at a Budget Committee hearing.
Panel Democrats were having none of it.
"The tax reform legislation Trump signed into law a few weeks ago provides 83 percent of the benefits to the top 1 percent, raises taxes on millions of middle-class families, and drives up the deficit," said Sen. Bernie Sanders, I-Vt., who aligns with Democrats.
The flood of red ink in Trump's budget — likely to reach perhaps $1.2 trillion in the fiscal year starting in October — represents a sharp increase after last year's $666 billion deficit.
Office of Management and Budget Director Mick Mulvaney didn't talk much about the deficit in his two-hour appearance.
"I would rather bring you numbers that are true and honest, that set forth a better picture of our fiscal condition, than lie to you and tell you the budget would balance in 10 years," he said.
At one point, it even sounded like Mulvaney, who served three terms in Congress as a member of the tea party, opposed the very plan he came to Capitol Hill to hawk.
The senior Democrat on the panel, Sen. Patty Murray of Washington, asked Mulvaney: "If you were in Congress would you have voted for this budget that you're presenting?"
Mulvaney responded: "As a member of Congress ... I probably would have found enough shortcomings in this to vote against it, as did many members of this committee."
His office later clarified that though Murray asked about Trump's latest budget, Mulvaney's response referred to last week's budget-busting spending agreement, which added about $300 billion to the Pentagon and government agencies over two years.
That measure, approved early Friday, rewrote Trump's new budget even before it was officially submitted.
Mulvaney drafted the $4.4 trillion budget plan released Monday. It would cut social safety net programs and greatly boost military spending, while putting the government on track to run trillion-dollar deficits for the next few years.
Trump's budget revived his calls for big cuts to programs that benefit the poor and middle class, such as food stamps, housing subsidies and student loans. Retirement benefits would remain mostly untouched, as Trump has pledged, though Medicare providers would absorb about $500 billion in cuts — a nearly 6 percent reduction. Some beneficiaries of Social Security's disability program would have to re-enter the workforce under proposed changes to eligibility rules.
Trump's plan was dead before it landed. It came just three days after the president signed the bipartisan agreement that set broad parameters for spending over the next two years. That deal rendered Trump's proposed 10-year, $1.7 trillion cuts to agencies such as the departments of Health and Human Services, Agriculture and Housing and Urban Development even more unrealistic.
"The good news is this budget is going nowhere," Sanders said.
Trump also is proposing work requirements for several federal programs, including housing subsidies, food stamps and Medicaid. Such ideas have backing from powerful figures in Congress, including Republican House Speaker Paul Ryan of Wisconsin, who promises action on a "workforce development" agenda this year.
Trump's plan aims at other familiar targets. It would eliminate the Corporation for Public Broadcasting, the National Endowment for the Arts and National Endowment for the Humanities, and the Institute of Museum and Library Services. The administration wants NASA out of the International Space Station by 2025 and private businesses running the orbiting outpost instead.
But the cuts would be far from enough to make up for the plummeting tax revenue projected in the budget.
Trump's plan sees a 2019 deficit of $984 billion, though Mulvaney admits $1.2 trillion is more plausible after last week's congressional budget pact and $90 billion worth of disaster aid is tacked on. That would be more than double the 2019 deficit the administration promised last year.
All told, the new budget sees accumulating deficits of $7.2 trillion over the coming decade; Trump's plan last year projected a 10-year shortfall of $3.2 trillion. And that's assuming Trump's rosy economic predictions come true and Congress follows through — in an election year — with politically toxic cuts to social programs, farm subsidies and Medicare providers.