MSC Industrial Direct Co. Inc. Provides Some New Year Cheer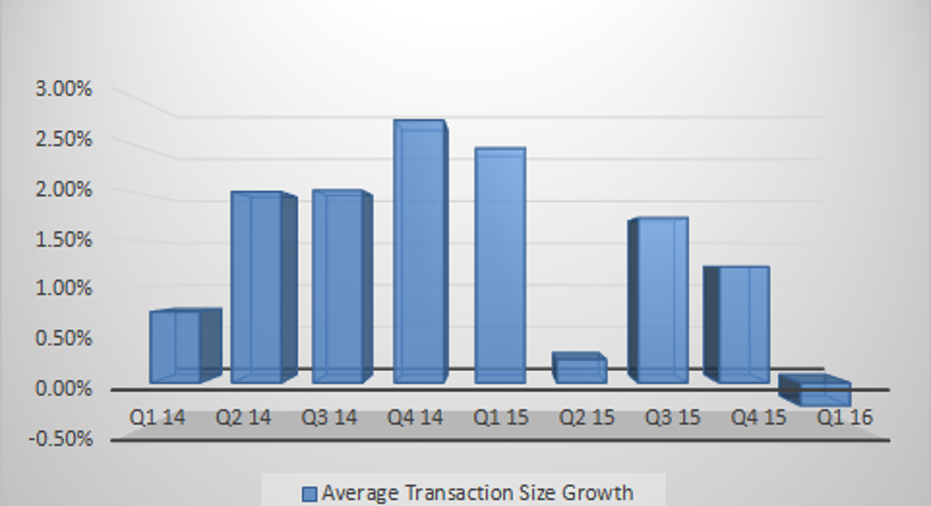 MSC Industrial Direct Co. cheered a depressed market by releasing a set of first-quarter results not quite as bad as many investors had feared. Consequently, the stock rose about6.6% on a day when the S&P 500 fell nearly 1.5%.Is it a sign of a recovery in the manufacturing sector, or is it more a story of MSC Industrial's execution in the quarter? Let's take a look at the results to find out.
MSC Industrial Direct's earnings: The raw numbersA look at the headline numbers:
Revenue of $707 million, close to the midpoint of guidance of $702 million to $714 million
Gross margin of 45.1%, at the top end of guidance of 44.7% to 45.1%
Operating income margin of 12.8% compared to 12.9% in last year's first quarter
Operating expenses of $228.6 compared to guidance of $228.8 million
Earnings per share of $0.89 compared to guidance of $0.85 to $0.89
The tax rate of 38.2% was a bit lower than the 38.4%forecast, but it wasn't a significant contributingfactor toward EPS. In short, MSC Industrial managed to outperform some difficult end markets, particularly as most of the macro data got weaker as the quarter progressed.
Execution was strong in the quarter, with management claiming market share gains.They also highlightedgross margin stabilization and better-than-forecast operating expenses as indications of good execution in the quarter.
Weakening trendsThat said, there were signs of deterioration in the business. For example, average transaction size of $414 was flat sequentially and declined on a year-on-year basis -- particularly disappointing as the first quarter tends to see a sequential improvement in transaction size.
SOURCE: MSC INDUSTRIAL DIRECT CO. PRESENTATIONS. YEAR-OVER-YEAR COMPARISONS.
In addition, its non-manufacturing sales (around 30% of total sales) growth continues to decline even as manufacturing sales growth has been in negative territory for the last two quarters.
SOURCE: MSC INDUSTRIAL DIRECT CO. PRESENTATIONS. YEAR-OVER-YEAR COMPARISONS.
Moreover, the company's e-commerce declined sequentially for the second quarter running, falling from $412 million in the fourth quarter to $403 million in the first quarter.
All these trends speak to a weakening price environment and, on the earnings call, CEO Erik Gershwind confirmed the company wouldn't be hiking prices in the near term:
A positive noteThe one bright note that captured analysts' attention was the performance of average daily sales, or ADS, in the quarter. As you can see in the chart below, the decline of 1.5% in December was relatively better than the 5.9% fall in November. To be clear, the company's first quarter ended on Nov. 28, so the relatively better performance in December isn't captured in the recently reported quarter.
SOURCE: MSC INDUSTRIAL DIRECT CO. PRESENTATIONS. YEAR-OVER-YEAR COMPARISONS.
However, don't get too excited by December and the coming quarter's outlook. CFO Rustom Jilla attributed 250 basis points, or 2.5%, of the December ADS to the "favorable impact of the holidays falling on Friday this year as opposed to last year when they fell on a Thursday." Meaning that last year contained two more bridge weekends, so customers may have chosen not to work a full Friday.
Moreover, guidance for second-quarter ADS is for a 2% to 4% decline, and this includes the positive figures from December. Later, Jilla confirmed that this meant January and February ADS would be down 4%.
Looking aheadAll told, it was a good report under the circumstances. There weren't many signs of improvement in MSC's end markets, but market share gains and cost management initiatives appear to be offsetting a weakening sales environment. It was a good quarter of execution and management is positioning the company for improved performance when its end markets turn up.
The article MSC Industrial Direct Co. Inc. Provides Some New Year Cheer originally appeared on Fool.com.
Lee Samaha has no position in any stocks mentioned. The Motley Fool owns shares of and recommends MSC Industrial Direct. Try any of our Foolish newsletter services free for 30 days. We Fools may not all hold the same opinions, but we all believe that considering a diverse range of insights makes us better investors. The Motley Fool has a disclosure policy.
Copyright 1995 - 2016 The Motley Fool, LLC. All rights reserved. The Motley Fool has a disclosure policy.