MSC Industrial Direct and the Green Shoots of Recovery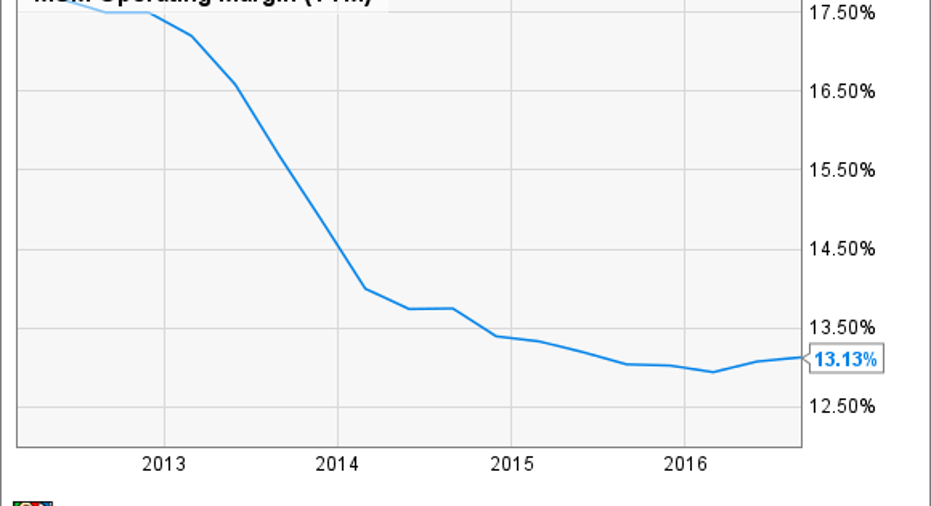 It's been a long time coming, but it finally looks like the U.S. is coming out of an industrial recession. At least it does if the latest results from MSC Industrial Direct(NYSE: MSM) are anything to go by. Industrial supply companies tend to have short sales cycles -- rendering them useful as bellwethers of change -- and MSC Industrial's positive earnings and outlook suggest the industrial sector may have bottomed. Let's take a closer look at the report.
Image source: Getty Images.
MSC Industrial Direct first-quarter earnings: The raw numbers
Across a range of metrics, MSC Industrial reported a better-than-expected quarter:
Net sales of $686.3 million came in at the high end of guidance for $676 million to $688 million.
Gross margin of 45% was in the middle of guidance for 44.8% to 45.2%.
Operating expenses of $218.1 million were better than expectations for $219.2 million.
Diluted EPS of $0.95 came in above the high end of the guidance range of $0.90 to $0.94.
As you can see, the headline numbers were good -- but more than that, there's evidence that MSC Industrial's results mark a turning of the corner in the industrial sector.
For the second quarter of 2017, management forecasts the following:
Net sales are expected to be in the range of $688 million to $701 million, representing a return to growth of 0.6% to 2.5%.
Average daily sales are expected to also return to growth, with a 1.5% increase compared to the same quarter of last year.
Diluted EPS is forecast to be in the range of $0.86 to $0.90, representing an increase of 7.5% to 12.5%.
The second quarter of MSC Industrial's fiscal 2017 looks like it will mark an inflection point in the company's fortunes, and further evidence suggests it could be sustainable.
Further analysis of the earnings report
The budding shoots of recovery are best seen in the last bar of the chart below. In fact, the last time the company reported positive year-over-year growth in average daily sales was in June 2015. In a sense, it confirms the cautious optimism given in December by another industrial supply company,WESCO International. Back then, WESCO CEO John Engel called for a "modest improvement in our end markets."
It might be time for analysts to upgrade expectations at peers such as Fastenaland W.W. Grainger.
Data source: MSC Industrial Direct presentations. Chart by author.
Moreover, management's commentary indicated that the cycle is turning up. For example, MSC recorded a higher mix of sales from products related to capital spending -- such as machinery and machine tool accessories.
This is important because it indicates a growing level of confidence among customers. Manufacturers typically cut capital spending in a slowdown, then aggressively increase it when the recovery comes. It's early days, but on the earnings call, management spoke of the possibility of higher-margin consumables sales increasing in the future -- as they typically do when customers start making capital spending again.
In a welcome development, CEO Erik Gershwind said, "We are certainly more positive than even a few short months ago. Even so, we would need to see sustained increases in order activity before we declare that the environment has turned." Furthermore, management even spoke of the possibility of making price increases -- a sure sign of an improvement in market conditions -- if conditions remain on a positive trend.
MSM Operating Margin (TTM) data by YCharts.
Looking ahead
If this truly proves to be an inflection point in MSC Industrial's end markets, then investors should look forward to more increases in average daily sales, possibly supported by price increases in the future. Such things would surely help increase margins, as would an increase in consumables sales.
Meanwhile, management believes it's making market share gains, and provided peers like Fastenal, WESCO, and Grainger also report signs of improvement, investors can look forward to abetter operational year for MSC Industrial.
10 stocks we like better than MSC Industrial Direct When investing geniuses David and Tom Gardner have a stock tip, it can pay to listen. After all, the newsletter they have run for over a decade, Motley Fool Stock Advisor, has tripled the market.*
David and Tom just revealed what they believe are the 10 best stocks for investors to buy right now...and MSC Industrial Direct wasn't one of them! That's right -- they think these 10 stocks are even better buys.
Click here to learn about these picks!
*Stock Advisor returns as of January 4, 2017.
Lee Samaha has no position in any stocks mentioned. The Motley Fool owns shares of and recommends MSC Industrial Direct. The Motley Fool recommends Wesco International. The Motley Fool has a disclosure policy.