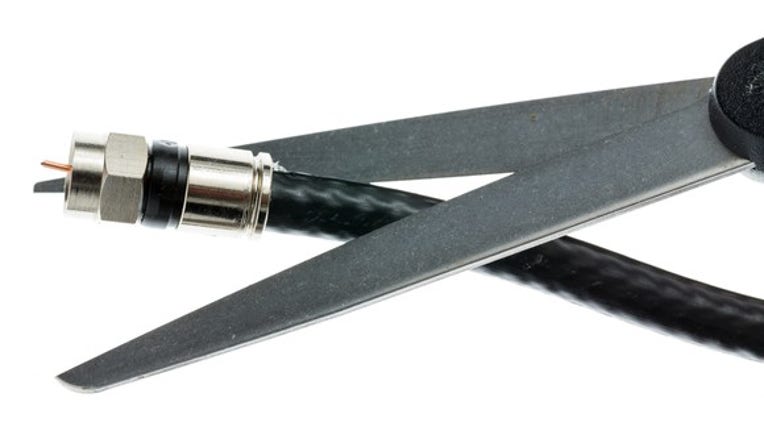 The cord-cutting trend isn't going away anytime soon. At least that's what an analysis of major pay-TV providers indicates, according to a new report from MoffettNathanson's Craig Moffett.
Pay-TV providers lost about 762,000 subscribers in the first quarter, exhibiting an acceleration in the year-over-year decline. While some providers, such asComcast (NASDAQ: CMCSA), were able to buck the trend, other major cable providers, such asCharter Communications (NASDAQ: CHTR), certainly did not. Meanwhile, other providers, such asAT&T (NYSE: T) and DISH Network (NASDAQ: DISH), have turned to over-the-top offers to curb subscriber losses and attract a different breed of subscriber.
Overall, however, the industry is bleeding subscribers, as many consumers are able to get all the entertainment they want from standalone services such asNetflix (NASDAQ: NFLX), Hulu, and HBO Now. The state of pay TV is only getting worse.
Image source: Getty Images
A breakdown of pay-TV subscriber losses
The following table shows a breakdown of the major industry players' subscriber gains and losses.
*Virtual multichannel video programming (VMVPD) distributors.Source: MoffettNathanson
The losses are widespread across cable, satellite, and telecom companies. Few companies have been able to buck the trend.
Comcast has had success marketing its X1 set top box, which it says helps retain customers. On the flip side, Charter says its retention policy is negatively affecting subscriber losses for legacy Time Warner Cable subscribers, which were already relatively high. AT&T, meanwhile, is focused on growing its DirecTV business, although subscriber growth for the satellite-TV provider suddenly fell to zero following the release of DirecTV Now.
DirecTV Now and other VMVPDs are attracting some of the cord cutters, but not enough to make up the difference in losses of traditional cable. Moreover, despite the growing number of VMVPD options, Moffett estimates that losses are still accelerating when one includes their subscriber numbers.
Source: MoffettNathanson.
What about the cord-nevers?
Just as bad as the pay-TV defectors are the number of new households being formed that never sign up for cable. Moffett points out U.S. census data showing 157,000 new homes formed in the first quarter and 500,000 in the past year. Many of those new homes are formed by millennials, which are notoriously not interested in subscribing to pay TV. But the biggest deciding factor for millennials isn't the price of cable TV; it's the quality and convenience of programming from over-the-top services such as Netflix.
Netflix, Hulu, and HBO Now are available anytime, anywhere, on any device. Cable TV requires a television, you can only stream some channels on mobile or your computer, some channels don't work if you leave your house, and sometimes specific programs (such as NFL football) are blocked on some devices (such as smartphones) but not others (such as computers). It's not a pleasant user experience.
Moreover, the quality of programming available from these a la carte options is drastically improving. Viewers widely consider Netflix's original shows to be the best in the industry. HBO comes in second, and it's also available a la carte. With only so many hours in the day to watch television, many consumers don't have the need for anything besides a couple of the best television networks.
With a lack of gross additions from new households and a fall-off in retention rates, cable companies are struggling more than ever to combat cord-cutting.
10 stocks we like better than ComcastWhen investing geniuses David and Tom Gardner have a stock tip, it can pay to listen. After all, the newsletter they have run for over a decade, Motley Fool Stock Advisor, has tripled the market.*
David and Tom just revealed what they believe are the 10 best stocks for investors to buy right now... and Comcast wasn't one of them! That's right -- they think these 10 stocks are even better buys.
Click here to learn about these picks!
*Stock Advisor returns as of May 1, 2017
Adam Levy owns shares of Verizon Communications. The Motley Fool owns shares of and recommends Netflix and Verizon Communications. The Motley Fool has a disclosure policy.