More Innovation, Less Regulation: 2 Biotech Stocks That Could Soar in 2017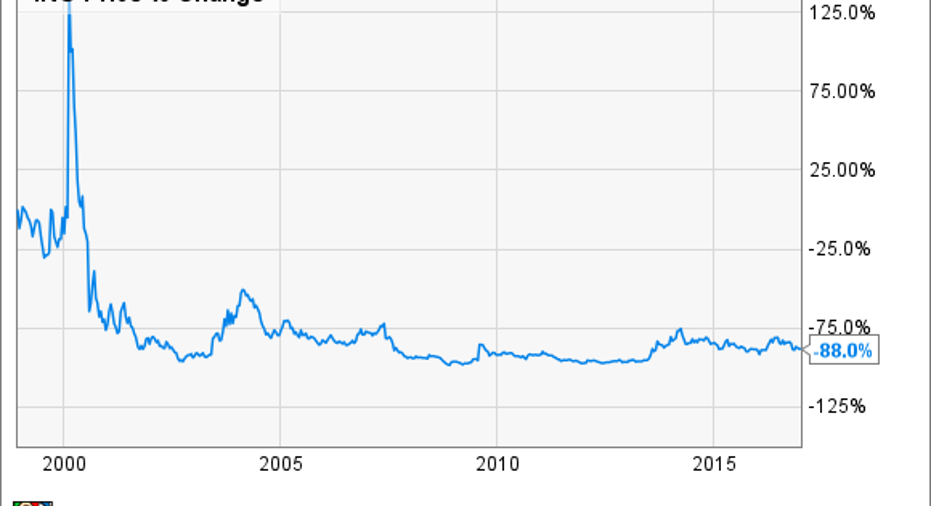 President-elect Donald Trump's views on the FDA and its role as a gatekeeper for new medicines remain shrouded in mystery roughly two weeks before his inauguration. But the decision to include the controversial billionaire and PayPal co-founder Peter Thiel in his transition team does offer some insight that may help biotech investors position themselves for the coming sea change.
Image Source: Flickr via Disney
According to various reports, Thiel was instrumental in advancing the candidacy of the staunch libertarianJim O'Neill for the next commissioner of theFood and Drug Administration last month. The short story is that O'Neill is a policy guru who's previously floated the radical idea of allowing the free market, and not the FDA, to assess the effectiveness of new medicines.Trump thus appears deadly serious about reducing the FDA's regulatory rigor as a way to boost innovation in the biotech industry.
If unprecedented levels of deregulation for the pharmaceutical industry are indeed coming down the pike, I think investors may want to ratchet up their appetite for risk by checking out small biotechs likeAmarin Corp. (NASDAQ: AMRN) andInovio Pharmaceuticals (NASDAQ: INO)right now. Here's why.
Trump's plan to tamp down the FDA's regulatory powers would be welcome news for this biopharma
Amarin is a small-cap Irish biopharma that sells the FDA-approved omega-3 medication Vascepa, indicated for patients with severely elevated triglyceride levels. The reason this stock is worth checking out right now is because Vascepa's tremendous commercial potential has undeniably been hampered by the FDA's current regulatory guidelines.
Since the drug's launch in 2013, for example, Vascepa has made respectable inroads into both the prescription omega-3 and non-statin prescription lipid therapy markets. But the drug still has a long way to go before it comes close to maxing out its commercial potential in either of these multi-billion dollar markets:
Image Source: Amarin Corp.
The backstory is that the FDA initially rejected the drug's supplemental new drug application, which would have included patients with only moderately high triglycerides in its list of approved uses, which slowed its commercial uptake. After a lengthy court battle, Amarin eventually won the right to talk to doctors about off-label uses for Vascepa, but the company still has to stay within the strict bounds of the drug's FDA-vetted clinical dataset.
The point is that Trump's plan to turn the industry on its head from a regulatory standpoint could open the door for Amarin to market Vascepa broadly within the vastlipid therapy market, without even having to complete its ongoing cardiovascular outcomes trial.
If effectiveness isn't an issue, this DNA vaccine maker is grossly undervalued
Inovio Pharmaceuticals is striving to bring the first DNA-based vaccine or immunotherapy to market in the United States. The problem is that Inovio's platform, along with all other DNA vaccines to date, hasn't produced the type of clear cut effectiveness that warrants approval.
To get over this hurdle, Inovio has introduced novel delivery methods, such as the Cellectra 5PSPimmunotherapy delivery device, and proposed the use of immune activators in conjunction with its DNA vaccines. However, the fact remains that this biotech has yet to advance even a single product candidate into late-stage development since its inception over 16 years ago, which certainly hasn't helped the performance of its share price:
How could a Trump-directed FDA change Inovio's outlook? Inovio has completed a Phase 2 trial for its lead product candidate, VGX-3100, as a treatment forcervicaldysplasia, where the vaccine produced a favorable safety profile and an intriguing efficacy signal.
So while it may sound outlandish to those who have watched the FDA repeatedly reject drugs with robust clinical programs, VGX-3100 may actually be good to go based on its Phase 2 safety data under a Trump administration.
The key is going to be Trump's ability to knock down the1962 Kefauver-Harris Amendment requiring drug manufacturers to demonstrate experimental products to be both safe and effective prior to approval. After all, his administration appears keen to transition to a regulatory framework that favors "real world" evidence of a drug's effectiveness -- evidence that people like Jim O'Neillbelieve can be gathered after a drug is already on the market.
Take-home message
While nothing is set in stone in terms of Trump's plans for the FDA,Jim O'Neill's candidacy for FDA commissioner is a sure sign that major changes are coming. And a weakened FDA would very likely be a boon for smaller companies like Amarin and Inovio that have struggled to meet the agency's standards in the past.
10 stocks we like better than Amarin When investing geniuses David and Tom Gardner have a stock tip, it can pay to listen. After all, the newsletter they have run for over a decade, Motley Fool Stock Advisor, has tripled the market.*
David and Tom just revealed what they believe are the 10 best stocks for investors to buy right now and Amarin wasn't one of them! That's right -- they think these 10 stocks are even better buys.
Click here to learn about these picks!
*Stock Advisor returns as of January 4, 2017
George Budwell has no position in any stocks mentioned. The Motley Fool owns shares of and recommends PayPal Holdings. The Motley Fool has a disclosure policy.