More Americans Behind on Car Payments as Sales Near Peak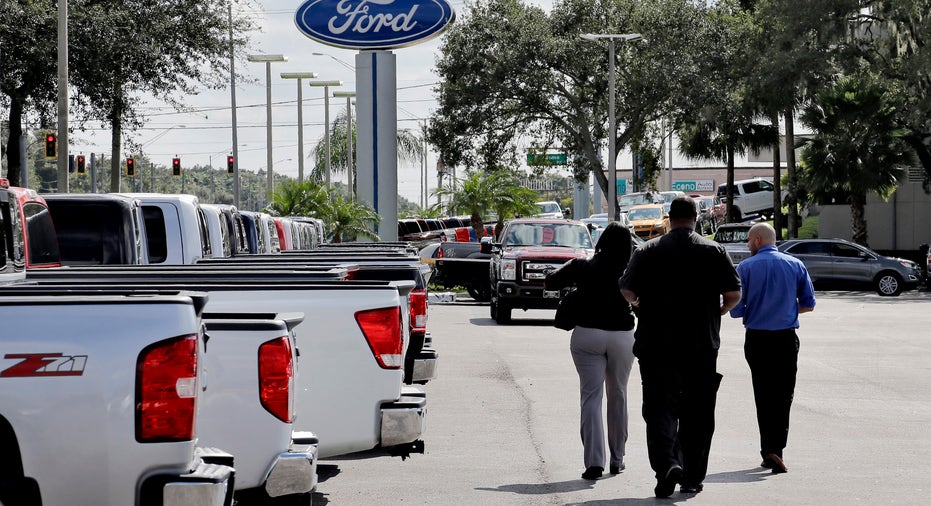 Auto sales, though still flirting with the possibility of another annual record, have begun to level off as consumers satisfy much of the pent-up demand that swelled during the recession. Another sign the market may be reaching its peak: more Americans are falling behind on their car payments.
As U.S. sales growth slows in 2016, summer demand is falling short of last year's blockbuster numbers. Industry-wide sales ticked 0.7% higher in July compared to the same month a year ago, according to Autodata. In July 2015, automakers reported a 5.3% increase in deliveries. General Motors (NYSE:GM), Ford (NYSE:F) and their fellow manufacturers will release August sales results on Thursday.
The slowing pace of sales has come at a time when loan delinquencies are on the rise in the $1 trillion auto-loan market. For subprime auto loans, delinquencies extending beyond 60 days jumped 17% last month, Fitch Ratings said in a recent report. The upswing is more pronounced for prime delinquencies, which were up 21% versus July 2015.
These trends haven't gone unnoticed by the banking industry. Speaking at a financial conference in June, J.P. Morgan Chase (NYSE:JPM) CEO Jamie Dimon referred to auto lending as "a little stretched," adding that his bank takes a careful approach to the market.
On the positive side, July's subprime delinquency rate of 4.59% is down from the record level of 5.16% seen earlier in the year. Fitch also holds a stable outlook for the auto subprime sector.
"The summer months typically produce weaker asset performance as consumers head for vacation," the credit-rating agency said in its report.
Jessica Caldwell, Edmunds.com's executive director of industry analysis, said risky lending was more prevalent when manufacturers offered big promotions. Delinquencies surfaced rather quickly when manufacturers were offering loans with 0% interest rates and no payments for one year.
Throughout the industry's current run of scorching sales, automakers have shown more restraint as they look to move cars off the lot.
"Manufacturers are not producing cars that they want to get out the door at any cost. If automakers wanted to increase incentives and sell more cars, they probably could. They're not maxed out on incentives," Caldwell said.
Higher delinquencies are largely a byproduct of an industry experiencing record sales levels, Caldwell added. "Eventually, you kind of run out of customers in the top credit tier, and automakers have to move down the chain."
The average length of a loan for new vehicles is roughly 68.9 months, according to Edmunds.com data. Bankrate.com's daily rate tracker posted a 2.99% rate for a 60-month loan.
Cheap gasoline, low interest rates and an improved employment picture continue to drive sales even higher. Also, used vehicle prices remain elevated despite expectations that values would decline as more leases expire, sending more used cars into the market. Manheim's Used Vehicle Value Index climbed for the fourth month in a row in July, and reached its highest level in five years.
Edmunds.com analysts are projecting that August sales volume will drop 2.5% year-over-year to 1.53 million new cars and trucks. Automakers will still manage a 1.1% improvement compared to July, and the seasonally adjusted annual rate is estimated to come in at healthy 17.2 million units. That would mark the second consecutive month with a SAAR of more than 17 million.
Edmunds.com's forecast also calls for full-year sales at a slightly higher level than 2015, when new-vehicle sales hit a new all-time high of 17.5 million.
Buyers are mostly upgrading to new SUVs and crossovers. Light-truck sales—including SUVs, trucks and vans—are up 9.1% so far this year, Autodata says, compared to a 7.7% decline for passenger cars.
The sharp decline in fuel prices is one of the driving forces behind growing SUV sales, as well as persistent demand for pickup trucks. GasBuddy.com says a gallon of gasoline will cost an average of $2.19 on Labor Day, down from $2.40 a gallon last year and $3.43 a gallon in 2014.