Moog Ekes Out an Earnings Win on Aerospace Strength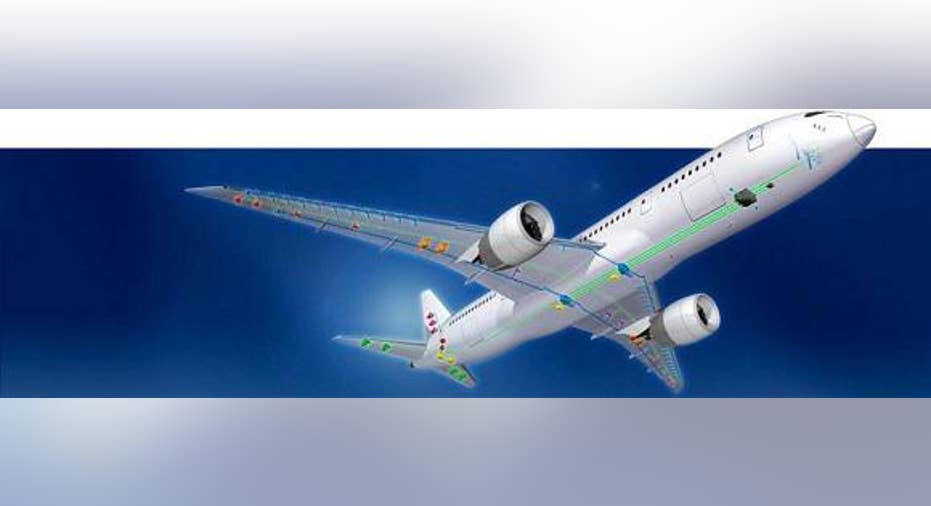 Image source: Moog.
Producers of components are always vulnerable to the conditions of the industry they supply, and Moog has had to deal with several headwinds in key customer groups it serves. Although the aerospace sector has done reasonably well lately, signs of topping out have emerged at some companies, and coming into Friday's fiscal second-quarter financial report, Moog investors expected flat earnings and a sizable decline in the bottom line. What Moog said wasn't as downbeat as that, and the company actually posted a respectable increase in earnings per share despite seeing falling sales. Let's look more closely at how Moog did this quarter and whether conditions are set to improve in the near future.
Moog works through tough times Moog's fiscal second-quarter results largely bounced back from a tough performance last quarter. Revenue was down 4% to $611.1 billion, but that wasn't quite as bad as investors had feared the company would report. Net income also declined, falling 3% to $31.1 million. But a drop in outstanding share count more than offset the drop in net income, and earnings per share rose to $0.85, beating the consensus forecast by a nickel per share.
A closer look at Moog's key segments showed few bright spots on the revenue front. The aircraft controls segment was the only one to post an increase in net sales, and it only managed a half-percent rise. The worst drops were in the components area, where revenue plunged by nearly a fifth, and space and defense controls with its 4.4% decline.
Interestingly, though, operating profits looked a lot different. For aircraft controls, segment operating profit fell 15%, and the same figure for components dropped by nearly half. Yet space and defense controls operating profit nearly tripled from year-ago levels, and medical devices also posted a 250% increase. The industrial systems segment had the least volatile performance, with sales falling less than 1% and operating profits posting a 5% gain.
Moog's explanations for the disparate performance also added color to the report. Sales to Airbus were strong in the controls arena, but Boeing sales dropped, as did business jet sales. For military aircraft sales, original-equipment manufacturer sales rose, but aftermarket sales fell. Sales of simulation and test products like flight training simulators jumped by double-digit percentages, but sales of components for the energy, industrial, and medical markets showed slowdowns in many programs. Lower demand for satellite controls hurt the space segment as well.
CEO John Scannell focused on the company's successes. "We came in at the high end of our guidance and had strong cash flow," Scannell said. "We're maintaining our sales and EPS forecast for the full year."
Can Moog fly higher?Scannell's comments indicate that Moog investors can continue to rely on past guidance from the company with respect to 2016 results. That includes a projected $2.47 billion forecast in revenue for the year. Meanwhile, full-year fiscal 2016 earnings should weigh in at $3.35 per share, with possible variance of $0.15 per share in either direction.
One key to Moog's success is to keep winning contracts. Earlier in April, the company said that its aircraft group won its bid to be a supplier for Northrop Grumman for the flight control systems for its Tern unmanned developmental aircraft. The project, which is part of a joint program between the Defense Advanced Research Projects Agency and the U.S. Office of Naval Research, involves having Moog design and make the flight control actuation system for the demonstration aircraft, including control electronics and accessories along with the physical actuators themselves. Demonstrating its ability to follow through on work like that is crucial to maintain Moog's reputation and keep its business moving forward.
Moog investors were happy with the company's performance, sending the stock up about 3% in morning trading following the announcement. Yet in the long run, Moog will need to try to do an even better job of tapping into the high demand for aerospace products as well as working toward broadening its target audience of buyers for its diverse offerings.
The article Moog Ekes Out an Earnings Win on Aerospace Strength originally appeared on Fool.com.
Dan Caplinger has no position in any stocks mentioned. The Motley Fool recommends Moog (A shares). Try any of our Foolish newsletter services free for 30 days. We Fools may not all hold the same opinions, but we all believe that considering a diverse range of insights makes us better investors. The Motley Fool has a disclosure policy.
Copyright 1995 - 2016 The Motley Fool, LLC. All rights reserved. The Motley Fool has a disclosure policy.