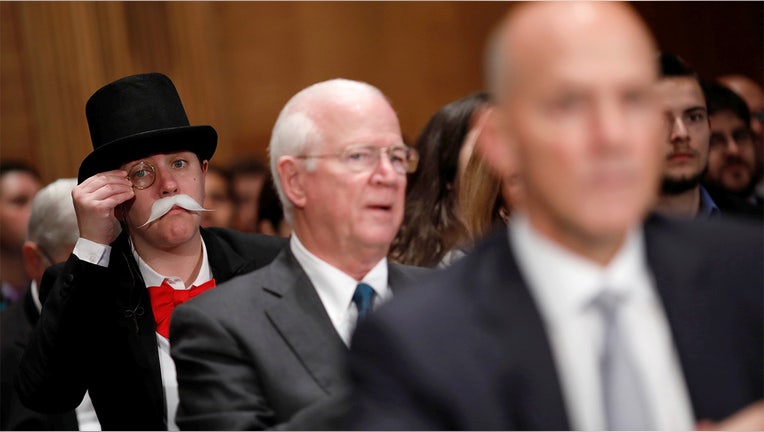 A consumer rights group sent the "Monopoly Man" to crash a Senate hearing with former Equifax CEO Richard Smith on Capitol Hill on Wednesday.
Clad in a suit, top hat and monocle, the "Monopoly Man" could be seen twirling a fake mustache as the Senate Banking Committee questioned Smith about the Equifax hack. The private information of tens of millions of Americans was exposed last month after the credit reporting agency experienced a breach.
Public Citizen, a nonprofit organization that advocates for consumer rights and government accountability, said it planned the stunt to "draw attention to forced arbitration rip-off clauses, used by Equifax, Wells Fargo and other financial companies to evade accountability and take advantage of consumers.
"Forced arbitration clauses buried in the fine print of take-it-or-leave-it contracts may be the single most important tool that predatory banks, payday lenders, credit card companies and other financial institutions have used to escape accountability for cheating and defrauding consumers," the group said in a press release.
Equifax drew widespread criticism in the days following the hack after watchdogs revealed the company included a forced arbitration clause in its fine print. The clause, which was later modified in response to the backlash, required consumers to waive their right to a class-action lawsuit if they signed up for credit monitoring after the hack.
Public Citizen said Amanda Werner, an arbitration campaign manager for the organization, dressed up as the Monopoly Man for the hearing. Previously, she played the role and handed out "Get Out of Jail Free" cards to Senate offices and attendees of a Wells Fargo hearing on Tuesday.