Monday Night Markets: Battle of the Backups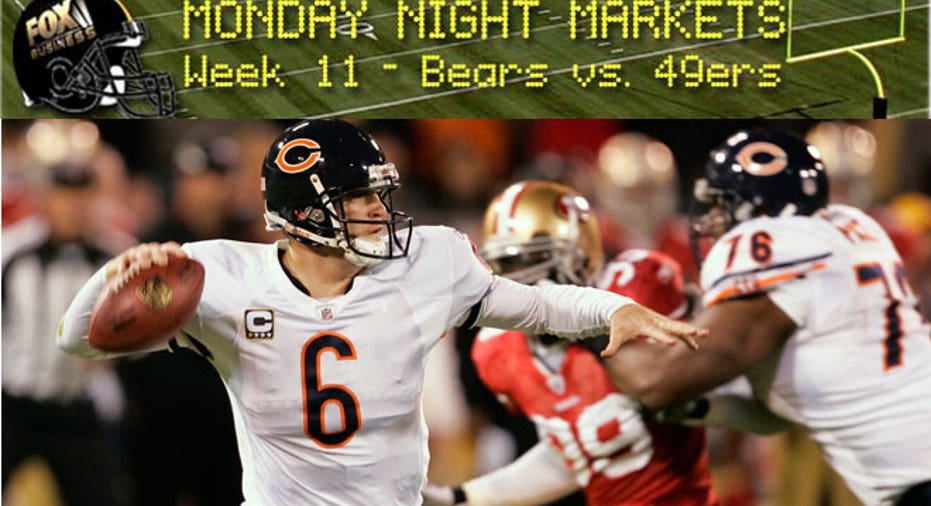 The NFL's 11th week concludes with the Chicago Bears (7-2) heading to Candlestick Park to take on the San Francisco 49ers (6-2-1).
Bears QB Jay Cutler is sidelined with a concussion this week and will be replaced by Jason Campbell, who was acquired in March after being benched by the Oakland Raiders in 2011. Campbell went 11 of 19 for 94 yards in relief of Cutler last week. Look for the Bears to give a heavy dose of RB Matt Forte to help take some of the pressure off Campbell.
Forte is averaging 4.7 yards per carry and while the 49ers run defense is fairly stout, allowing only 93.5 yards per game, the Rams put up 159 rushing yards on them last week. If the Bears can get the ground attack going it could open some downfield opportunities for WR Brandon Marshall.
One of the keys to the game will be how the Bears apply pressure to the 49ers, who also have a replacement QB. Look for DE Henry Melton who has been fairly quiet the past few weeks to get back to early season form, when he put up 5 sacks in the first 7 games. The Bears lead the league with 19 interceptions and will look for every opportunity to fluster a QB getting his first NFL start. With two solid defenses and backup quarterbacks going at it, field position may be one of the deciding factors. The Bears' Devin Hester is always a threat to break a long return and even if the 49ers punt out of bounds it should give Chicago some good field position to work from.
The 49ers are also without their starting QB Alex Smith, who is sidelined with a concussion. Second year man Colin Kaepernick will get the start after coming in for relief in last week's tie against St Louis. Kaepernick has a strong arm so look for Frisco to take its downfield shots to WRs Michael Crabtree and Randy Moss. Kaepernick is also a threat on the ground, putting up 66 yards on eight carries with one touchdown last week.
Like the Bears, expect to see a large dose of the running game from the 49ers, who will rely on heavily RB Frank Gore, who is averaging 5.4 yards per carry, to help take some pressure off Kaepernick. Defensively the 49ers are second in the league allowing only 292.1 yards per game and first in the league in points allowed, with only 14.1 points scored on average by opposing teams. One of the keys will be slowing down the Bears' pass rush, as Kaepernick's effectiveness dropped last week against San Diego blitz packages.
FOC Business has evaluated the win/loss and stock market statistics over the past 20 seasons of Monday night NFL games and come up with a Monday Night Markets (MNM) score for each team based on their record and the prior week's market activity. Let's take a look at what the markets have to say.
The Dow Industrials fell sharply, posting a 1.77% loss last week and falling for four consecutive weeks. The S&P 500 was down as well, closing out the week with a 1.45% loss and has been down for two straight weeks and 3 of the last 4. Late optimism that congressional leaders would work with the White House to avoid the fiscal cliff could not overcome earlier market jitters. Stocks were also under pressure after a surprise jump in weekly jobless claims and weak reports on manufacturing data.
Over the past 20 years, the Bears have played 28 Monday night games and based on our calculations have a Monday night rank of .538 when the Dow closes the prior week down, and .462 when the S&P 500 is down, giving them a MNM rank for this week of .500.
During the same 20-year period, the 49ers have played 36 Monday night games and have a rank of .529 when the Dow is down and .682 when the S&P 500 is down, giving them a MNM rank this week of .606.
Monday Night Markets picks the San Francisco 49ers at home over the Chicago Bears.
Week 11 FBN Staff Picks:
Bears @ 49ers
The Monday Night Markets (MNM) rank is derived by taking the number of games won during each market condition of up or down during a twenty-year period, over the total number of games played. Each result for the Dow and S&P are averaged to determine a final rank between 0 and 1.