Military Stocks Rally as France Vows 'Pitiless' War on ISIS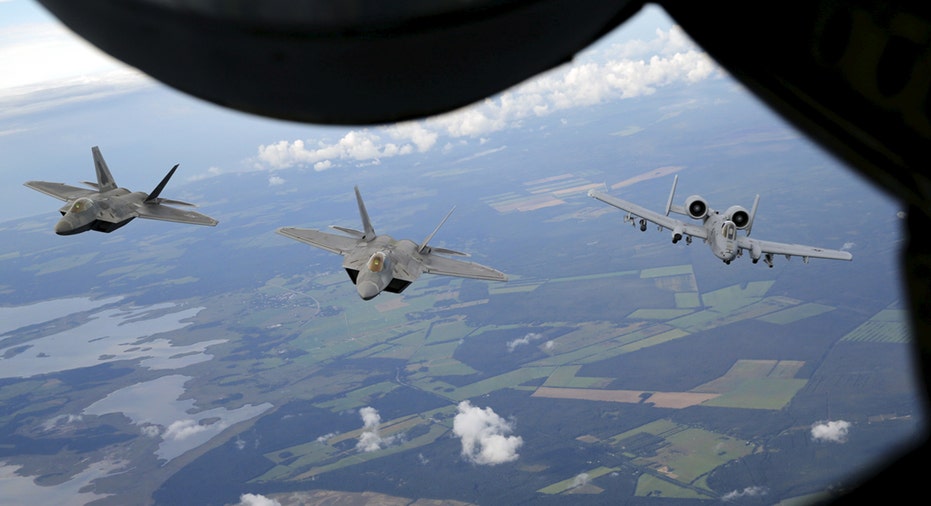 UPDATED
Defense contractors rallied on Wall Street amid calls for the U.S., France and their allies to step up military action targeting Islamic State terrorists following attacks in Paris on Friday.
Shares of aerospace and security giant Lockheed Martin (NYSE:LMT), which is leading the F-35 fighter jet project, rose 3.5% on Monday. Northrop Grumman (NYSE:NOC), whose Global Hawk drone recently completed its 500th flight, jumped 4.4% while Raytheon (NYSE:RTN), known for the Patriot and other missiles, was up 4.1%.
General Dynamics (NYSE:GD) and Boeing (NYSE:BA) also climbed in the first day of trading after the Paris attacks. The broader S&P 500 gained 1.5%.
During an address in front of the French congress in Versailles, President Francois Hollande announced that his country would increase security forces and freeze job cuts in defense through 2019 in response to the attacks, which killed at least 129 and wounded hundreds more. Hollande also indicated that he will prioritize spending on security over Europe's fiscal stability pact.
"France is at war," said Hollande, who also made remarks over the weekend in which he vowed that France will lead a "pitiless" war on ISIS. "The acts committed on Friday night in Paris and at the stadium are an act of war."
France conducted airstrikes on ISIS locations in the Syrian city of Raqqa over the weekend, and the nation plans to continue expanding the bombing campaign that began in September as part of a coalition led by the U.S.
President Barack Obama stood by his administration's strategy of leaning heavily on airstrikes against ISIS, adding that putting boots on the ground would be a "mistake."
"We have the right strategy and we're seeing it through," President Obama said in a press conference at the G20 summit in Turkey.
"There will be an intensification of the strategy we put forward, but the strategy that we are putting forward is the strategy that ultimately is going to work. But as I said from the start, it is going to take time."
Lockheed Martin and Northrop Grumman declined to weigh in on how the military response will impact the industry. A spokesperson for Raytheon did not immediately respond to a request for comment.