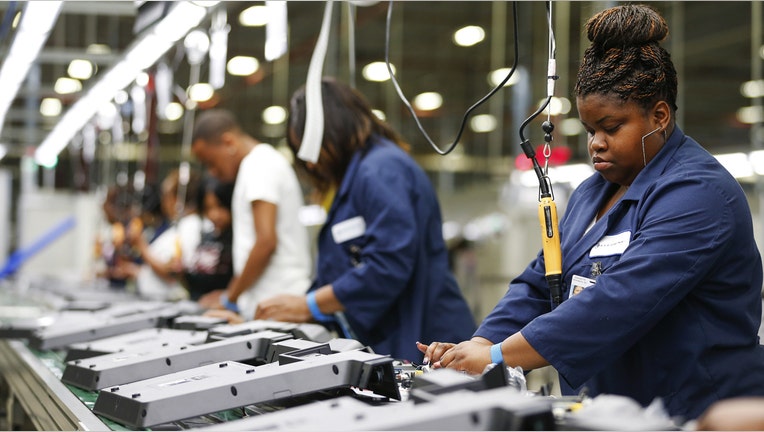 Factory activity across mid-Atlantic states turned lower in July, though higher customer orders and seasonal shutdowns suggest the latest slowdown may be temporary and that the sector is still on steady footing.
The Federal Reserve Bank of Philadelphia said its index of general business activity covering the regional factory sector fell to -2.9 from 4.7 in June.
The tip back into contraction was unexpected, though the index has hung close to the flat line, which separates expansion from contraction, in recent months. Economists surveyed by The Wall Street Journal expected the index to register at 3.5 this month.
While the Philadelphia Fed's broad activity gauge weakened from May, the report's details painted a more optimistic picture. New orders and shipments jumped during the month while employment rebounded, and factory owners signaled more optimism over future conditions.
"We assume the decline represents a knee-jerk reaction to the Brexit vote and the subsequent jump in the dollar," which makes exports more expensive, said Ian Shepherdson, chief economist at Pantheon Macroeconomics.
Mike Trebing, senior economic analyst at the Philadelphia Fed, said the "underlying statistics look much better" than the headline number. "We've had these occasions when the activity index has deviated from the subcomponents," he said, noting that the headline figure is based on a separate survey question and isn't a composite of the subindexes.
According to Mr. Trebing, uncertainty stemming from Brexit and the U.S. presidential election may have contributed to respondents' overall appraisal, and seasonal factors also figured in. "Seasonals are large in the summer months, especially in July and August," he said, noting that a quarter of firms reported shutdowns this month, when many factories retool for new product lines.
The Philadelphia Fed's report is the latest in a batch of monthly factory surveys conducted by regional Fed banks, meant to provide snapshots of the manufacturing sector's health ahead of the Institute of Supply Management's national reading. Demand for U.S. manufactured goods has resurfaced in recent months as headwinds have become less intense, though a still-strong U.S. dollar and still-low energy prices continue to put a lid on overall production.
Thursday's report follows the New York Fed's survey last week, which showed factory activity across the Empire state leveled off in July after climbing a month earlier. The results so far this month suggest economic and political uncertainty is clouding business outlooks and reflects lingering pressures factories still face.
But across the Philadelphia area, new orders -- a measure of customer demand -- jumped 15 points and back into positive territory this month. Shipments, in turn, also expanded, and employment snapped higher. More than three-quarters of the region's factories held payrolls steady, sending the survey's hiring gauge up nine points and near the flat line.
Business owners in July turned more optimistic about future business conditions, suggesting they see this month's slowdown as temporary. A gauge of general sentiment six months out gained four points to 33.7, close to the measure's five-year average. Nearly half of firms surveyed said they expect to ramp up activity in the coming months, predicting rising demand and planning for increased hiring -- positive news for factory workers who have yet to see meaningful hiring despite improving conditions.
Write to Lisa Beilfuss at lisa.beilfuss@wsj.com