Microsoft's Slack Rival Is Almost Ready for Prime Time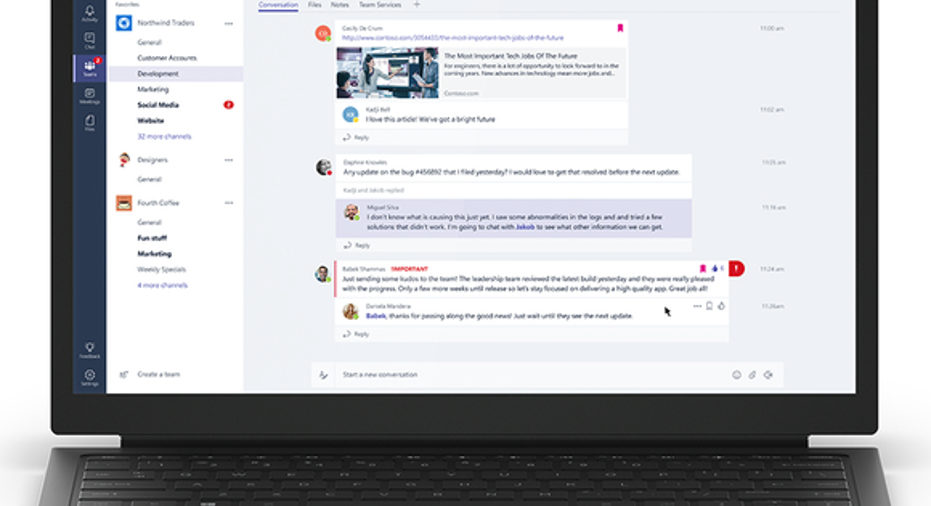 Watch out, Slack. Microsoft (NASDAQ: MSFT) is coming after you.
The software giant launched a Slack rival called Microsoft Teams in November, leveraging the stronger Microsoft brand instead of calling it Skype Teams, which Microsoft had been rumored to be considering. At the time, it was a limited launch with only a handful of customers being able to preview the offering. Microsoft is now ready to roll out Microsoft Teams with general availability, making good on its prior target of the first quarter of 2017 for general availability.
A week from today, Microsoft will host an online event to launch Microsoft Teams more broadly.
Microsoft Teams looks an awful lot like Slack. Image source: Microsoft.
Bundled pricing undercuts Slack
Microsoft Teams has a lot of potential, mostly thanks to Microsoft's already-strong position within enterprise productivity software. By including Microsoft Teams in certain bundles of Office 365 and promising deeper integrations with Office, the company can make a compelling pitch to enterprise customers. Combined with the fact that the interface is nearly identical, the switching costs for users would be fairly manageable as well since Microsoft Teams will feel familiar for Slack users.
In terms of pricing, here are the Office 365 plans that include Teams. The more expensive plans include many other features beyond Teams.
Data source: Microsoft.
Compare those prices with Slack's offerings (not including Slack's free tier).
Data source: Slack.
Considering how much more is included in the various Office 365 plans, Microsoft has the potential to deliver quite a bit of value compared to Slack, since Slack's prices only include its chat offering. To be clear, Slack is a great chat and collaboration tool, but Microsoft can appeal better to a limited IT budget while replicating many of the things that make Slack so good (which is also why investors should be relieved that Microsoft didn't spend $8 billion to acquire Slack). That's a key benefit of Microsoft's scale, since it has plenty of development resources and can compete aggressively, bundling Teams with a slew of other offerings.
Slack announced Slack Enterprise Grid in January, which is better equipped to handle the needs of larger organizations. Pricing information is not publicly listed, and prospective enterprise customers need to get in touch with Slack to negotiate rates.
It's also worth pointing out that Microsoft isn't the only tech giant that wants a piece of Slack's market share, so this market is only going to get more competitive.
10 stocks we like better than MicrosoftWhen investing geniuses David and Tom Gardner have a stock tip, it can pay to listen. After all, the newsletter they have run for over a decade, Motley Fool Stock Advisor, has tripled the market.*
David and Tom just revealed what they believe are the 10 best stocks for investors to buy right now... and Microsoft wasn't one of them! That's right -- they think these 10 stocks are even better buys.
Click here to learn about these picks!
*Stock Advisor returns as of February 6, 2017
Teresa Kersten is an employee of LinkedIn and is a member of The Motley Fool's board of directors. LinkedIn is owned by Microsoft. Evan Niu, CFA has no position in any stocks mentioned. The Motley Fool has no position in any of the stocks mentioned. The Motley Fool has a disclosure policy.