Microsoft Finally Waves the White Flag on Smartphones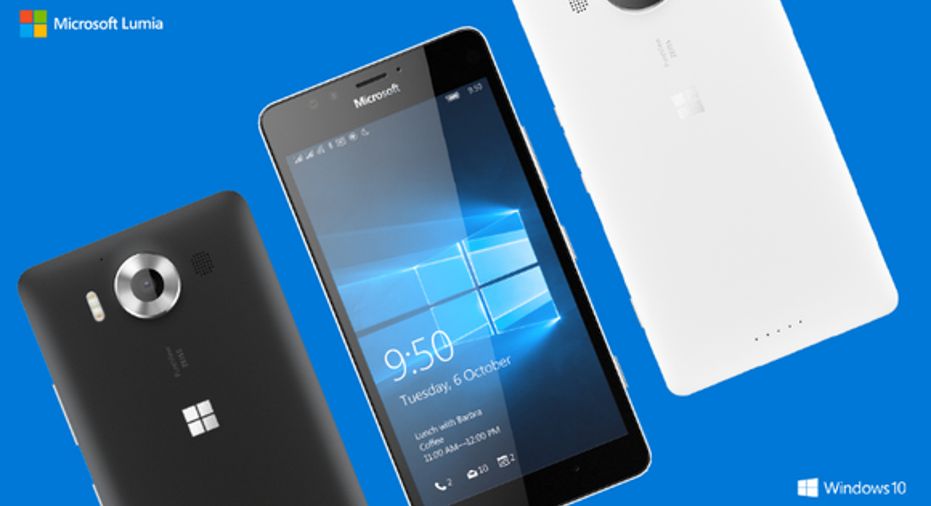 Although the company still sells phones on its website, Microsoft appears to be exiting the smartphone business. Image source: Microsoft.
In 2014,Nokiaeffectively exited the device market when its devices and services business sale toMicrosoftclosed for $7.2 billion. Nokia's high-end Lumia line and low-end, developing-market Asha line, along with Nokia president and CEO Stephen Elopand Nokia's manufacturing plants, supply chains, and employees, were included in the deal.
After dominating the handset market with nearly 50% market share in 2007, Nokia found itself unable to match the ascendance ofAppleandSamsung, and saw its market share drop to less than 5% in late 2012 as the close relationship with Microsoft and its Windows Phone operating system was unable to reverse Nokia's fortunes. "Microkia's" fortunes fared no better post-acquisition; new CEO Satya Nadella took a $7.6 billion writedown on the phone line and let go of 7,800 workers, most in the phone business.
Still, many felt Microsoft would continue to develop new phones to bolster its Windows Phone operating system. Today's announcement essentially slams the door on Windows becoming a viable third smartphone ecosystem.
Microsoft sells its remaining smartphone business
According to a report from The Verge, Microsoft is selling its feature-phone business to a division of Chinese manufacturer Foxconnfor $350 million. Foxconn has been aggressive about moving up the value chain in smartphones in order to profit from more than just assembly. Most notable was the deal with Canadian smartphone companyBlackBerryto design and distribute new BlackBerry models, with the newest models sporting Alphabet's Android operating system. With this deal, however, Foxconn will control the software in addition to the aforementioned design, assembly, and distribution.
After years of the Nokia brand being downplayed, it appears the name will be returning to devices. In the wake of Microsoft's announcement, Nokia revealed it would license its brand and IP to a Finnish company, AMD Global. Nokia, AMD Global, and Foxconn worked together to bring a tablet, the Nokia N1, to market in 2014. As a condition of the sale to Microsoft, though, Nokia was unable to enter the smartphone market until 2016.
Windows Phone isn't technically dead, but...
Microsoft hasn't officially thrown in the towel on its Windows Phone OS. The company specifically mentioned it would continue to develop the operating system, and to support phones currently using the operating system which are manufactured by Microsoft and its hardware partners.
However, the company continues to move away from former CEO Steve Ballmer's strategy of being a hardware and software firm like Apple. New CEO Satya Nadella has redefined the idea of "mobile-first" by working to profit from all mobile devices, not just the units his company manufactured.
These comments, combined with the writedown and the lack of new features or updates in nearly two years, point to a company expecting to wind down its smartphone operations. To be fair, Microsoft still has the ability to manufacture high-end phones, and rumors of the Surface Phone continue to be bandied about. But even if Microsoft is able to make a high-quality Surface Phone, it's unlikely to change WP's trajectory.
Without a huge change of strategy from its hardware partners, this is most likely the beginning of the end for the Windows Phone OS. But Microsoft should not expect these new Nokia phones to be hardware partners; the prior N1 tablet ran on Alphabet's Android operating system instead of Windows. It appears there's only room for two smartphone operating systems.
The article Microsoft Finally Waves the White Flag on Smartphones originally appeared on Fool.com.
Suzanne Frey, an executive at Alphabet, is a member of The Motley Fool's board of directors. Jamal Carnette owns shares of Apple and BlackBerry. The Motley Fool owns shares of and recommends Alphabet (A shares), Alphabet (C shares), and Apple. The Motley Fool owns shares of Microsoft and has the following options: long January 2018 $90 calls on Apple and short January 2018 $95 calls on Apple. Try any of our Foolish newsletter services free for 30 days. We Fools may not all hold the same opinions, but we all believe that considering a diverse range of insights makes us better investors. The Motley Fool has a disclosure policy.
Copyright 1995 - 2016 The Motley Fool, LLC. All rights reserved. The Motley Fool has a disclosure policy.